CT to FL Day 35
Jekyll Island, GA to Jacksonville Beach, FL

Christmas Day.... Merry Christmas!
We left Jekyll Island Marina this morning at 0730...still a bit windy so we with Saint Andrews Sound ahead of we opted to take an alternate route that avoids going out into the sound and avoid the breaking waves that Saint Andrewes is notorious for.
The alternate route was provided by Bob 423 ICW Cruising on Facebook and was a winner... there was plenty of water depth and no waves... THAKNS BOB!
We almost crossed paths with some friends Theresa and Peter Clarke aboard their sailboat "Dream Ketcher" they were just ahead of us on the ICW.... they were headed for downtown Jacksonville up the St.Johns River... we saw them on AIS all day and visually as we exited Sister's Creek into the St. Johns River... almost caught them...


We had one interesting experience today at the San Pablo-Atlantic Blvd Bridge on Pablo Creek... we had current running against us slowing us to about 4.5 knots... at this bridge the ICW narrows to the span of the bridge opening... currents can increase to over 5 knots and the turbulence that is created is incredible.... today it was running at around 6 knots against us at the bridge... I increased engine power to an RPM that would have pushed us about 7.5 knot with no current... SAILS bobbed around like a cork in the turbulence as we approached thh bridge, and as we passed between the bridge fenders, we slowed to 1 knot... felt like we were going to stop for a moment... I was just getting ready to give it more power when the speed slowly started to increase... we made it... he current is always an issue and today was the worst I have ever experienced there... Susan does not like this bridge...

With the current still raging against us we decided to stop earlier than planned... we had hoped to make it an anchorage near ICW Statue Mile 765... Pine Island Oxbow Anchorage... but with the current we would have arrived around 2000... TOO LATE...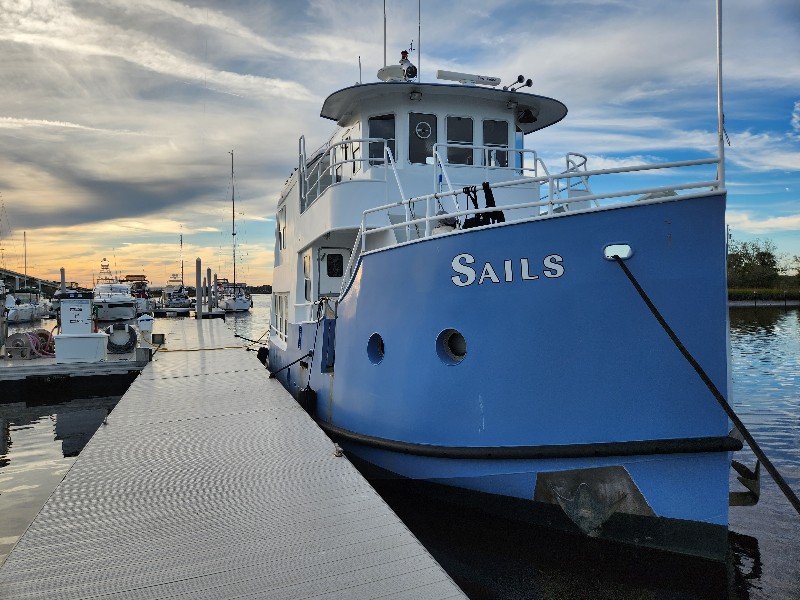 We arrived at our destination for night at Jacksonville Beach Marina at approximately 1545 and were secure on the dock with power at 1600... Our location for the night N30°17.368', W081°25.110'. We traveled today for 8.5 hours covering 57 nautical miles averaging 6.7 knots.


Posted at 5:32 PM