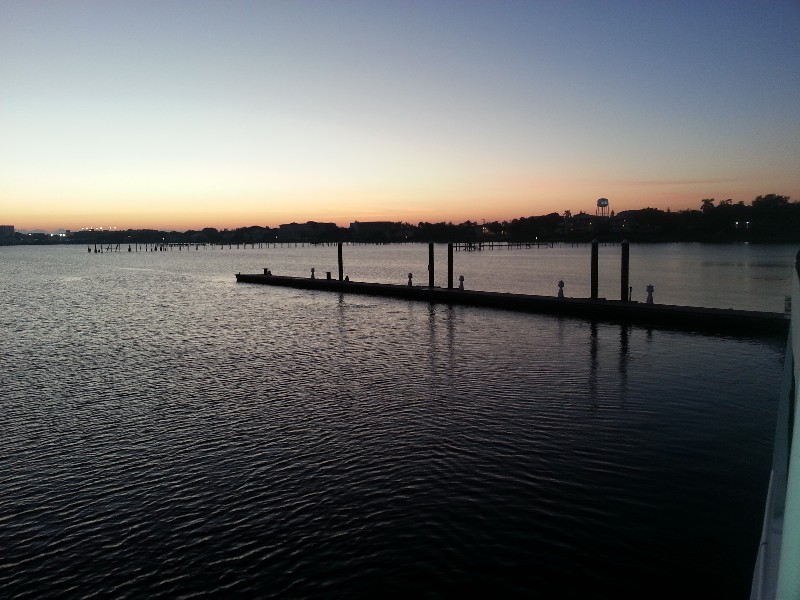 We departed just before sunrise this morning from Stuart City Docks at 0645 and headed west on the Okeechobee Waterway. A few minutes away we reached the Roosevelt Bridge. It is side-by-side with a high rise bridge and a railroad bridge.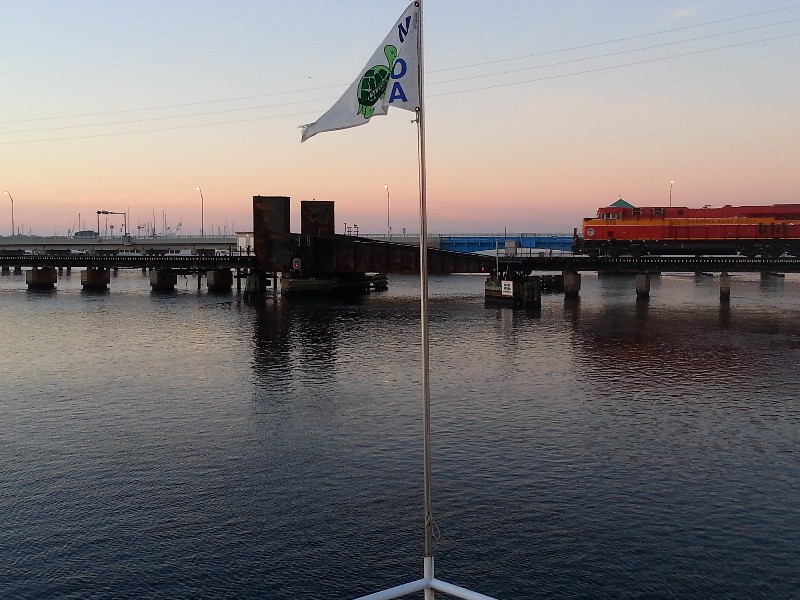 The railroad bridge is automated and closes when a train is approaching and this morning as we approached the railroad bridge was closing. We reached the bridges at 0655 and we waited 35 minutes for not one train but two trains to pass before railroad bridge opened and the Roosevelt Bridge opened for us to pass.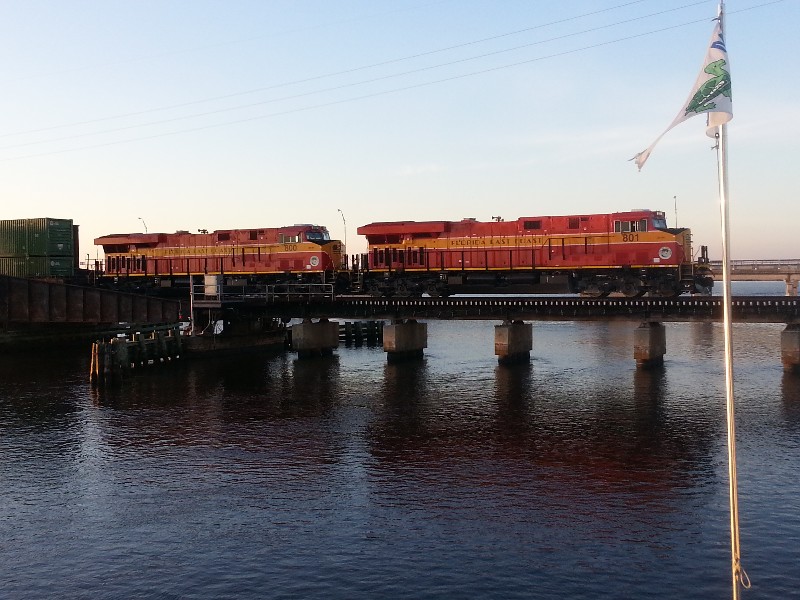 We would of taken this as a sign that the day was going to be much longer than planned.
Next obstacle of the day was the St.Lucie Lock. I hailed the lock 15 minutes before arrival to let them know we were approaching and gave them our ETA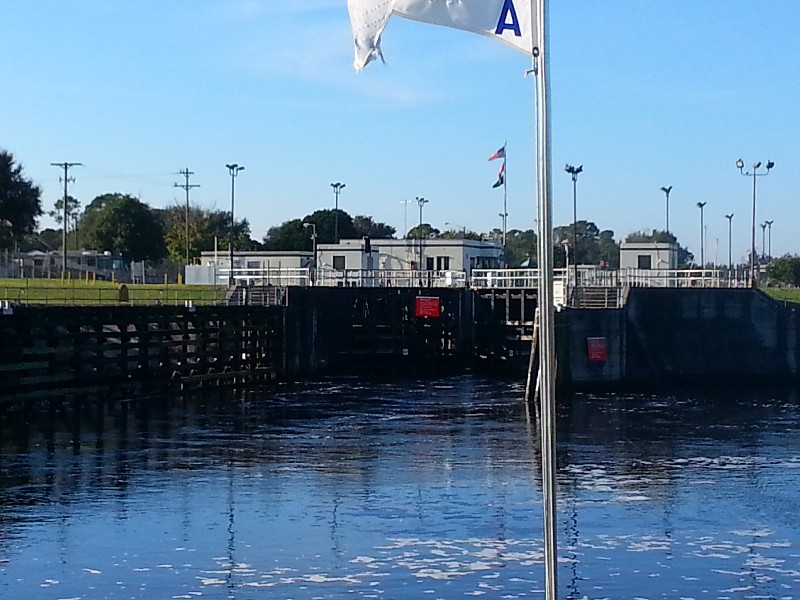 We arrived and instead of the lock being ready for west bound traffic he replied to my hails on the radio it would be about 15 minutes and to watch for the green light to enter. Another delay. We entered the lock at 0845 and it seemed to take much longer than I had remembered. 30 minutes after entering we exited with the lock raising us 14 feet.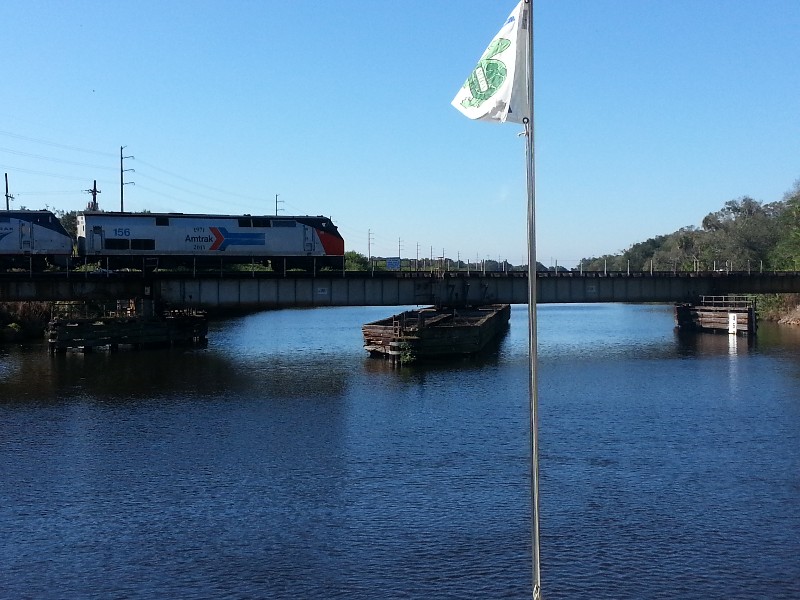 This is normally all we have to deal with till we reach the other side of Lake Okeechobee. Today this was not the case. We reached Indiantown Railroad Bridge to find it closed. Hailing the bridge we were told a train was coming and we would get an opening as soon the train passed. Another train... YIKES! 20 minutes later the train passes and we again heading west with our ETA to our destination getting later and later.
Thinking we were home free at this point we hit another obstacle. The Port Mayaka Lock gates were closed when we approached. The past few years this lock has been open and you just proceed through slowly with no delay. I hailed the lock and he said he would prepare the chamber and would hail us when we could enter. 10 minutes pass and we start to see the gates open and they are opening very very slowly. Another 10 minutes and we get the hail to enter. the gates take another 10 minutes to close behind us and another 15 minutes before the gates in front of us open for us to exit and proceed on to Lake Okeechobee.
Forecast for the lake was NW winds 10-15 knots and a light chop. This was very accurate wind speed but the seas were not really choppy at all. The 3 hour ride across the lake was very pleasant. Sun shinning and just enough wave to know we were on a boat. The type of waves that would easily rock you to sleep.
Quite a bit of boat traffic today going both directions but mostly east bound traffic is what we saw. Primarily sport fish type boats and only a couple of cruisers. There are a couple of power cats ahead of us but moving much faster so as soon as they passed they were soon out of sight.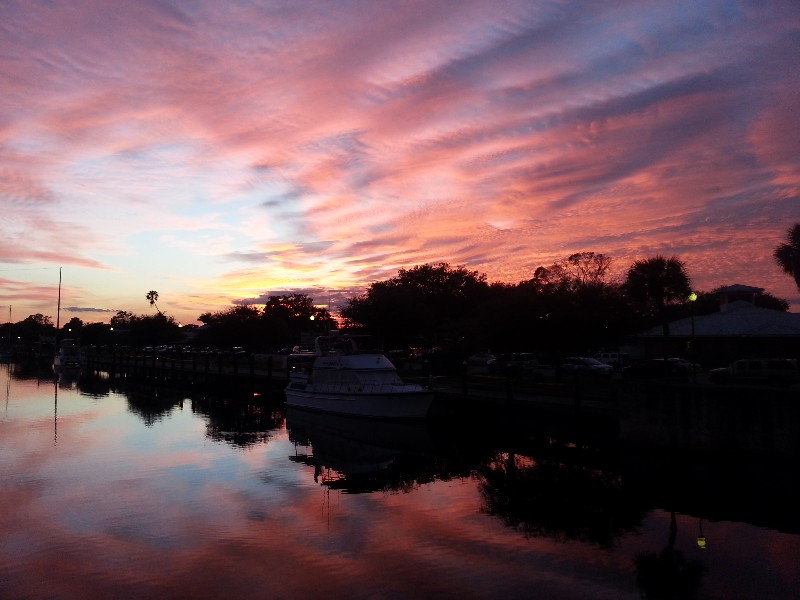 We got lucky with the Moore Haven Lock and were able to enter the lock with no delay at all and were through in 15 minutes. We had to have some luck today. We arrived to our destination at Riverhouse Marina at 1745 and had a tremendous show in the sky as the sunset kept getting more and more beautiful. Our location for the night
N26°49.863', W081°05.438'
. We traveled today for 11 hours covering 62.4 nautical miles averaging 5.8 knots.
After docking we discovered that there is a Christmas festival taking place at the park directly adjacent to docks and they are going to have fireworks tonight. Our luck did change.