CT to FL Day 26
Coca, FL to Stuart, FL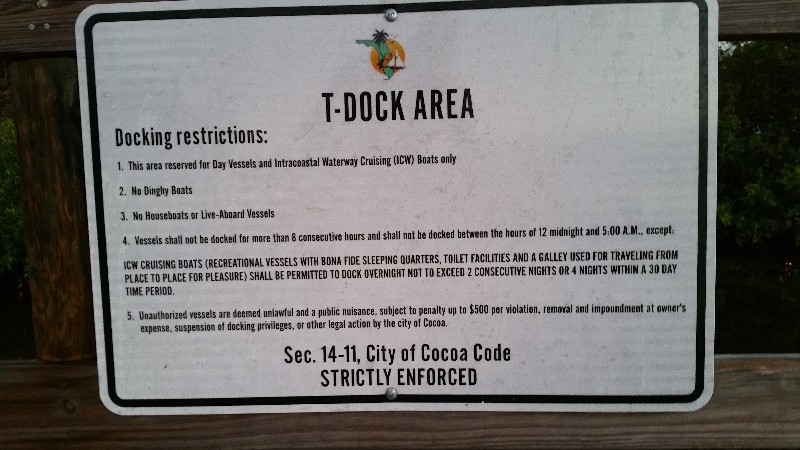 The town docks have a new sign posted which is favorable for cruisers... see photo.
Alarm went off at 0600 and I hit the snooze for 15 minutes... tired this morning... Lily woke me up at a little after 0400 wanting to go outside... I think I had just gone back to sleep when the alarm went off...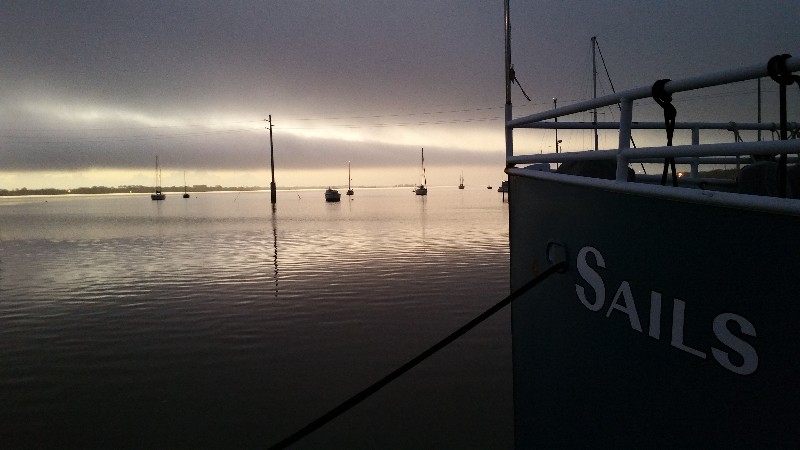 Even getting up a little later we got away for the dock at 0700 and headed back to ICW. The weather forecast was for fog and rain... low winds though. The pre dawn sky was not that great this morning. You could see the low hanging fog. WE did not get it right away but about 30 minutes later we got pea soup thick fog for about 2 hours... thankfully the sun finally burnt it away... can complain though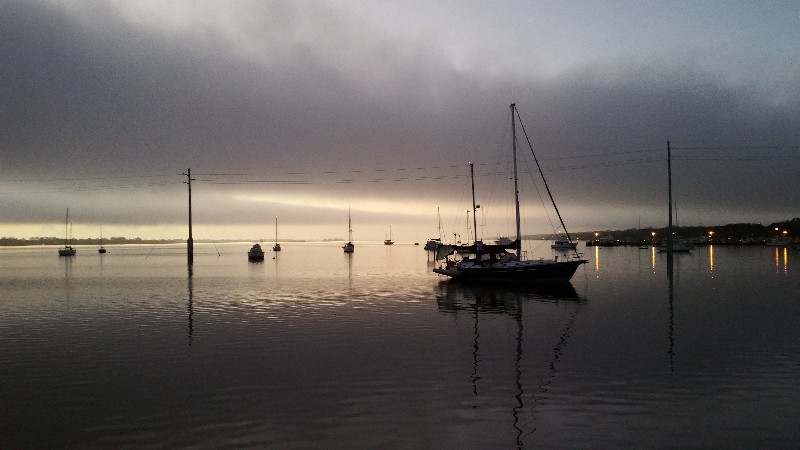 as this was the first real foggy day we have had the entire trip.

The small boats were back out in larger numbers for a Monday... and we had a few boats pass us and we passed a few sailboats today.

Had a little trouble from a bridge tender today at the Fort Pierce North Bridge. We do not need an opening as I normally put the antennas and mast down... however, today we arrived at the bridge just as it was opening for a large boat that had just passed us heading south. I followed him through the opening and I hailed the bridge tender after we cleared the bridge to let him know and I wished him a Merry Christmas. He responded with a lecture on how I was supposed to call him on the radio when I approach asking for an opening.... it was the law he said... I replied I did not need an opening and only required 21 feet clearance... he came back with I needed more than 21 with those antennas and mast... I replied I would have lowered them if the bridge had no already been open.... he replied... Yeah sure you would of lowered them... he was way out of line in my opinion and I made a phone call to the FL DOT and filed a complaint. About an hour later I get a phone call from the district manager for the bridge asking what had happened... I explained and the manager was outraged at what the bridge tender had done and said he was going down there personally to reprimand the bridge tender and thanked me for calling in a complaint. WOW... I was shocked that I got such a quick and positive response... figured it would go no where... jus make me feel better...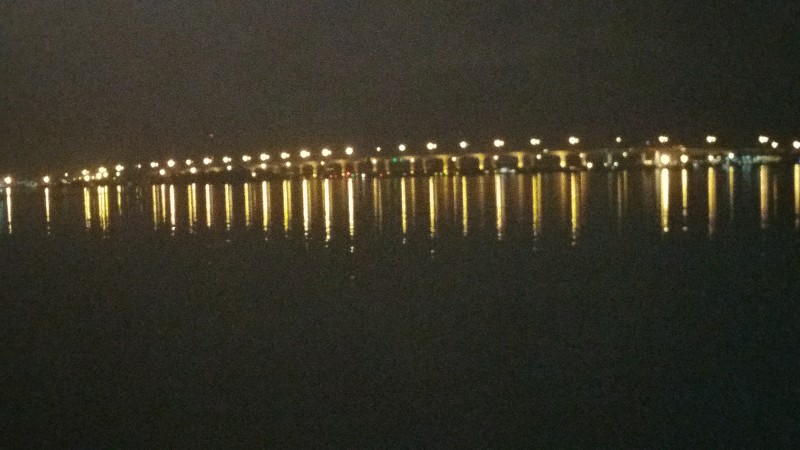 We were going to anchor in Fort Pierce but I was miles past it by the time I finished my first phone call to the FL DOT so we decided to continue on to Stuart. We arrived and were anchored at 1925 just west of the Sunset Bay Marina. Our location for the night N27°11.561', W080°15.999'. We traveled today for 11 hours and 25 minutes covering 85.2 nautical miles averaging 6.9 knots.