FL to CT Day 14
Hilton Head Island, SC to Charleston, SC

During the night the winds and rain had subsided. The forecast was for NE winds 20-25 knots switching to E winds at 20-25 knots... looking outside the winds did not appear to be blowing at all... this would be a nice change... :)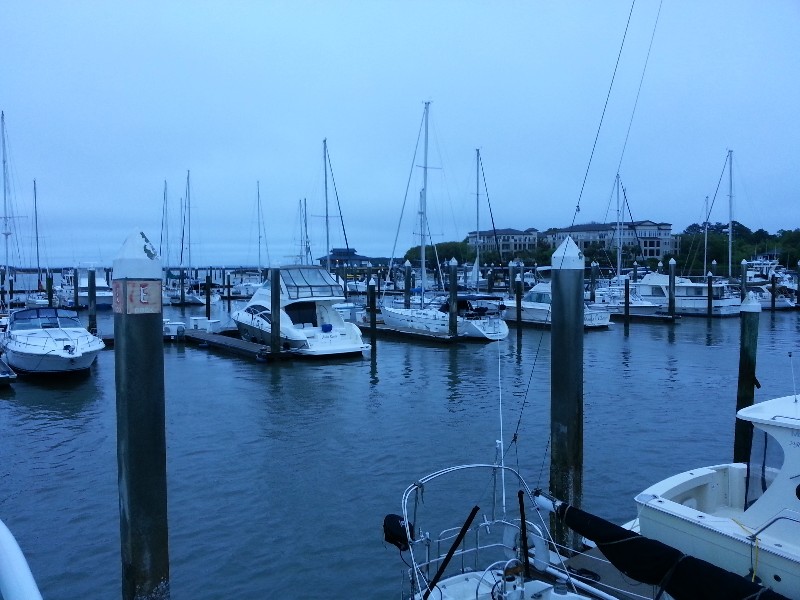 We departed from the docks at 0745 and headed out toward Port Royal Sound... 30 minutes underway the winds started picking up... blowing 15-20 knots and the they were almost out of the north rather than NE which would of been blowing directly down the sound.
An hour out and we were fully out into Port Royal Sound... and the waves were nothing compared to what we had anticipated after 3 days of NE winds over 25 knots... 2 footers and a long period between peaks... almost a swell compared to the steep short waves we had had the last couple of days... Hallelujah!
The satellite radar showed the area as clear of rain but we were getting this very heavy misty rain... looked like fog... it accumulated on the windows to the point it might as well have been raining.
We did see some boat traffic today... in fact one of them that was heading north hailed us as they passed to switch up to channel 17... he said Hello neighbor!.... Huh? it was one of the boats that was docked together us in Stamford last summer... 48' SeaRay named "Inspiration"... he was really surprised to run into us in the middle of nowhere South Carolina... we chatted for bit and he was soon out of sight moving much faster than us... small world!
We had current against us just about the entire day... slowing us down to 4.5 knots at times... did not see any boost until we hit the Stono River about an hour before we stopped... then we jumped up to almost 9 knots... nice way to end the day.
We pulled in to St. John's Yacht Harbor just before Charleston at approximately 1845. Traveling to day for 11 hours covering 70.7 nautical miles averaging 6.4 knots. Our approximate location for the night is N32°45.303', W080°00.667'.