CT to FL Day 13
Elizabeth City, NC to Belhaven, NC

We departed from the Jennet Brothers Docks in Elizabeth City at 0600.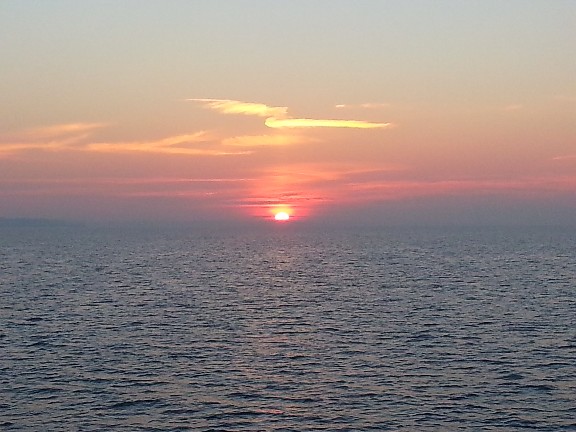 We immediately had to hail the Elizabeth City Bridge for an opening. No delays for the bridge and we were underway out the Pasquotank River toward the Albemarle Sound and saw an awesome sunrise. This trip we have experienced some of the best sunrises and sunsets in a long time.
The forecast was for 5-10 knot winds and 1 foot seas... again the forecast was all wrong... it was glass smooth calm and winds were maybe 5 knots at times but most of the day there was no wind. Absolutely, the best day of cruising we have had so far... bright and sunny and flat calm.
We did see quite a bit more boat traffic that were definitely moving south... two SeaRay type boats passed us in the Alligator River... and we heard them talking too several others as they moved south passing everyone... at least they were courteous and gave us a no wake pass.
Destination for the night planned to be Belhaven, NC... a new town dock that is free.... no power or water but the price is right. We arrived to Belhaven just after sunset so we were not quite sure of the exact location of the docks but had directions to it from ActiveCaptain. Sunset was at 1641 so by the time we reached the area where the dock was it was nearly dark... had to use the spotlight to locate it... no lighting on the dock at all and it's located north of town and basically in the middle of no where... we walked Beecha up the dock and as far as the nearest street... the dock is in a large field and a lot of reeds and saw grass... very well built dock and very new... did have evidence that there is a sea gull problem as the docks were stained with sea gull poop... but it had been recently cleaned off... just the white stains remained.
We were securely docked at the dock at 1730. We traveled today for 11.5 hours covering 76 nautical miles averaging 6.6 knots. We are located at N35°32.533', W076°37.823'.