SC to CT Day 15
Atlantic City, NJ to New York, NY

Woke at around 0600 and checked weather forecast... plans were to go from Atlantic City to Manasquan, NJ inside via the NJICW... weather forecast showed some decrease in the winds and seas from yesterday... we decided to run outside in the Atlantic.
We left the dock at 0700 and headed out the Absecon Inlet... it was still a bit rough... especially the inlet but we had opposing wind and current stirring things up a bit... once we turned north headed up the coast it settled down... 3 to 4 ft swell directly on the stern... was a pleasant ride... still rolling and pitching as yesterday but nearly as much.
Running inside we would have ran 9 hours and made it to Manasquan around 1600... outside we passed Manasquan Inlet at 1400 so much faster running outside and the waves did settle down. Only thing missing was a current boost.
We considered going all the way to Stamford today but checking currents in New York at the time we would arrive were not in our favor... we have hit Hell Gate at full Ebb current nearly 5 knots against us.... NOT! We decided to anchoring New York City and anchor behind the Statue Of Liberty off Liberty State Park and go through the East River and Hell Gate with a favorable current tomorrow.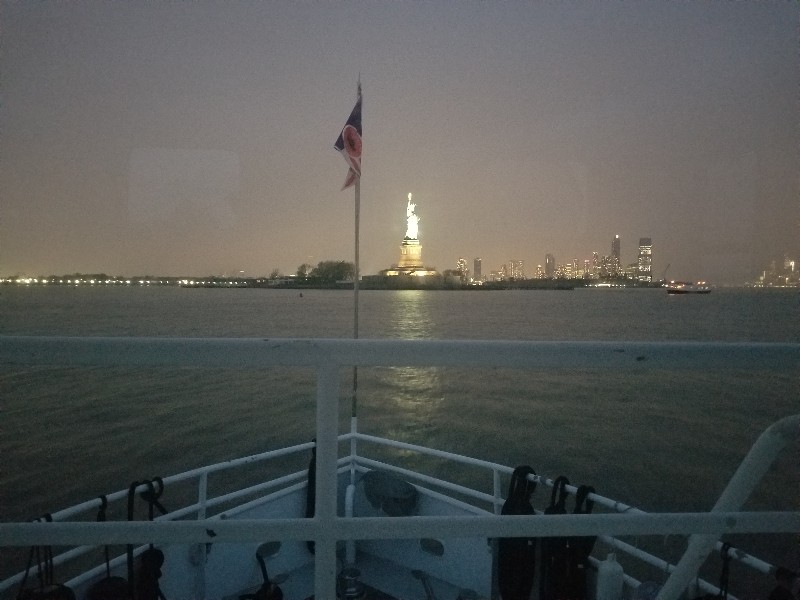 We arrived to Liberty State Park at approximately 2015 and were securely anchored at 2030. Our location for the night at
N40°41.757', W074°03.841'
. We traveled today for 13 hours and 30 minutes covering 89.2 nautical miles averaging 6.6 knots.