CT to FL Day 27
Jacksonville, FL to Palm Coast, FL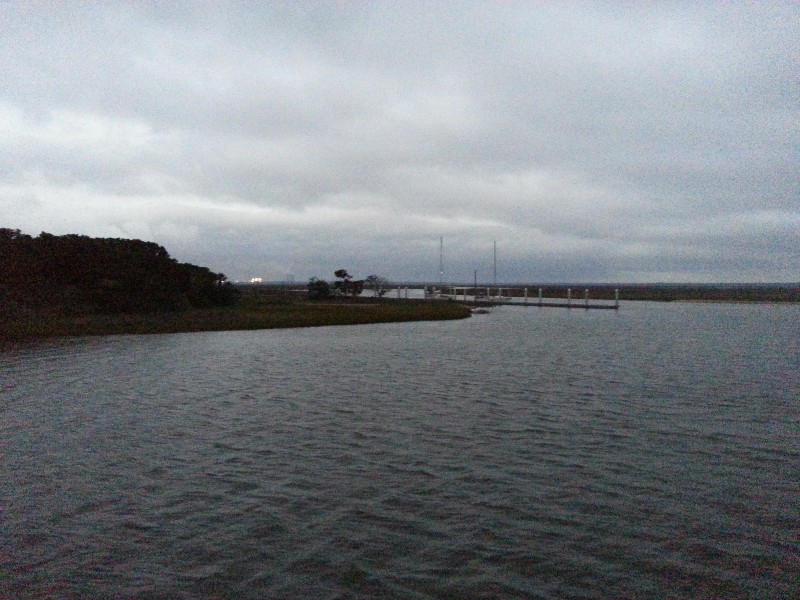 We departed from Jacksonville, FL at 0645.... NO FOG!!!! and headed south down Sister's Creek toward the St. John's River. The current was running very strong against us. We crossed the St. John's River crabbing at about 30 degrees to maintain a straight path due to the strong flood current. Soon as we were across the river the current was with us and we were soon running along at over 9 knots. Speed and no fog.... it was a great start to the day!
Nothing out of the ordinary today.... no boat traffic.... weather was not great and never saw the sun but NO FOG! After 4 days of running in dense fog this was awesome!
Destination for the day was Palm Coast and docking at Lowe's house. We arrived on a good day as well being able to attend a Christmas Party at the Blake's home allowing us to see a lot of our Palm Coast friends. Staying just for one night in Palm Coast it's hard to get to see everyone we know here.... but with the party it all came together and we had a great time.
Anyway, we arrived at 1530 and were docked at
N29°35.679', W081°12.338'
. We traveled today for 8.5 hours covering 55.2 nautical miles averaging 6.7 knots.