NC to SC Day 3
Carolina Beach, NC to Myrtle Beach, SC

Last night Susan and I went out for dinner to celebrate our 19th wedding anniversary... short walk to a very nice place called The Deck House... seafood and steaks... I had grouper with lump crab and asparagus covered with a lobster sauce... it was delicious... Susan had filet mignon and these yummy mashed potatoes... and of course a few cocktails... was a great evening out.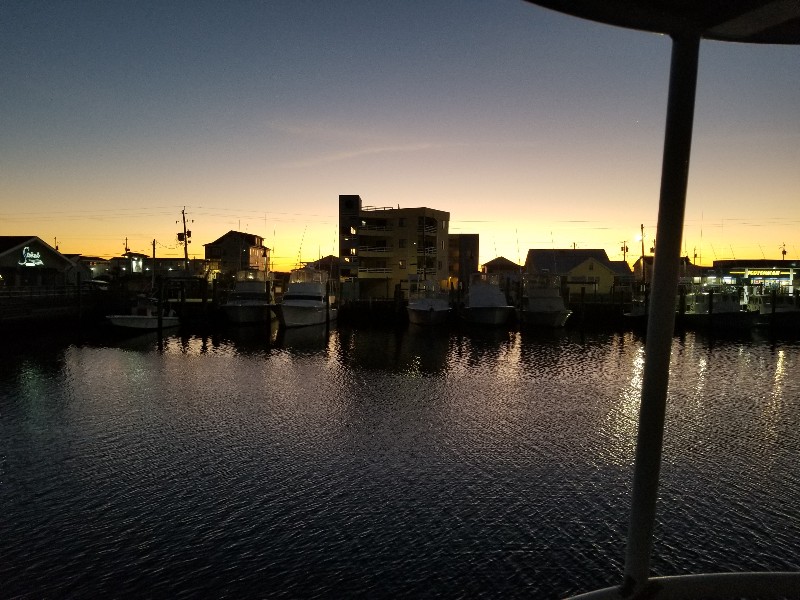 We left Carolina Beach Municipal Marina this morning at 0715... just as the sun was rising behind us... had another bright and sunny day... We flew down the Cape Fear River running over 9 knots... always nice to run with a boost from the current... we had a boost a few more times but nothing close to 9 knots.
Todays cruise had some trouble spots for shoaling that we had to deal with... using the Army Corp of Engineers surveys overlaid on the chart we had no issues in any of the trouble areas... Lockwoods Folly and Shallotte Inlet being the most severe.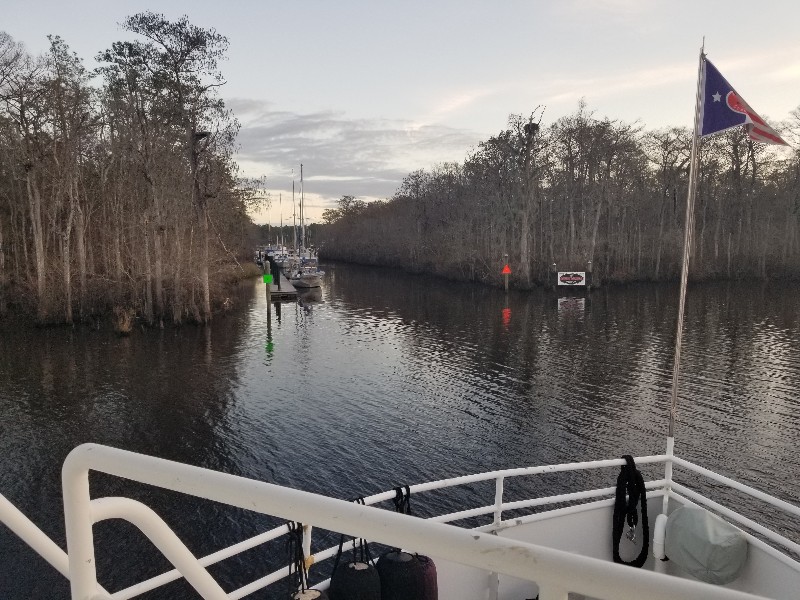 We arrived to Osprey Marina at approximately 1645 and were securely docked by 1700. Our position is
N33°40.938', W079°02.532'
. We traveled today for 9 hours and 45 minutes covering 69.32 nautical miles averaging 7.1 knots.
Since leaving CT we have traveled 814 nautical miles.. We will be spending the winter here at Osprey Marina.




NC to SC Day 2
Swansboro, NC to Carolina Beach, NC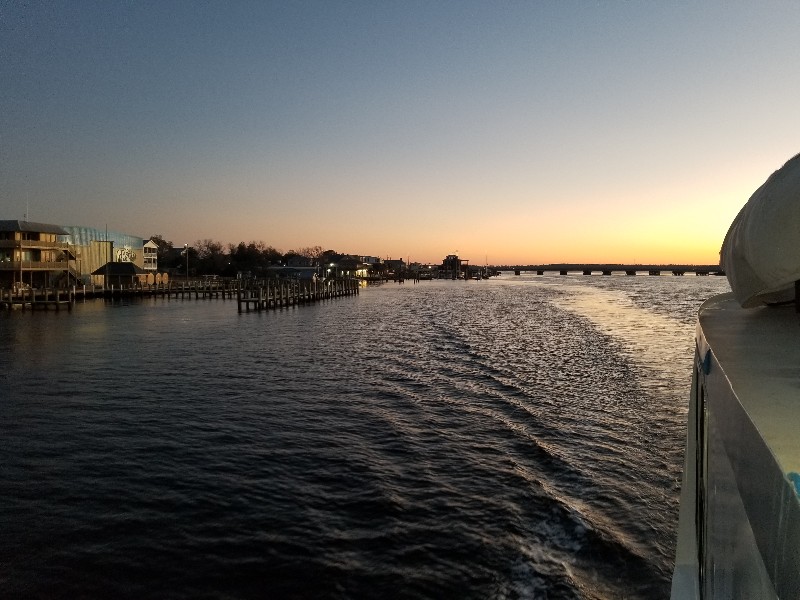 We departed from Swansboro just before sunrise at 0645... destination for the day Carolina Beach, NC.
It was a bright and sunny day... with on and off help from the current... mostly against us... made two bridge openings on time with virtually no delay at the bridge. Onslow Beach Bridge at 0830 and Wrightsville beach Bridge at 1400... Figure Eight Bridge between these two but we do not require an opening there... clearing the 21ft bridge with mast and VHF antennas down... clearing by a few inches...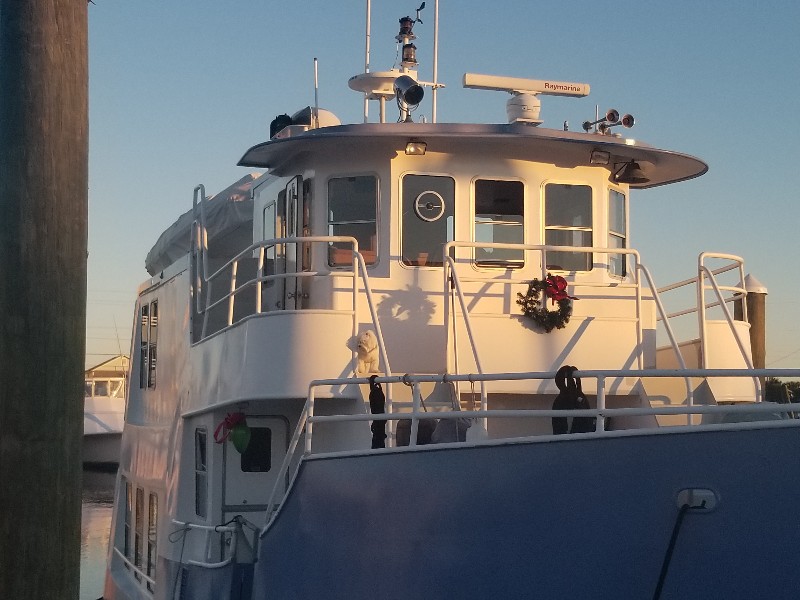 We arrived to Carolina Beach Municipal Marina just before 1600 and were securely docked by 1600. Our position tonight is N34°02.231', W077°53.560'. We traveled today for 9 hours and 15 minutes covering 58.3 nautical miles averaging 6.3 knots.




NC to SC Day 1
Beaufort, NC to Swansboro, NC

After two weeks on the hard at Bock Marine we are back underway to complete our trip south for this year. Final destination for the winter to be Osprey Marina in Myrtle Beach, SC.
Bock had us back in the water at 1030 and we were underway at 1045... not planning to go that far to day... Swansboro, NC. Susan likes to do some Christmas shopping here so it has become a regular stop for us each trip south. We used to get to visit with our friends Frank and Chris Erwin on this stop but they sold their home here and moved to Florida... miss getting to see them.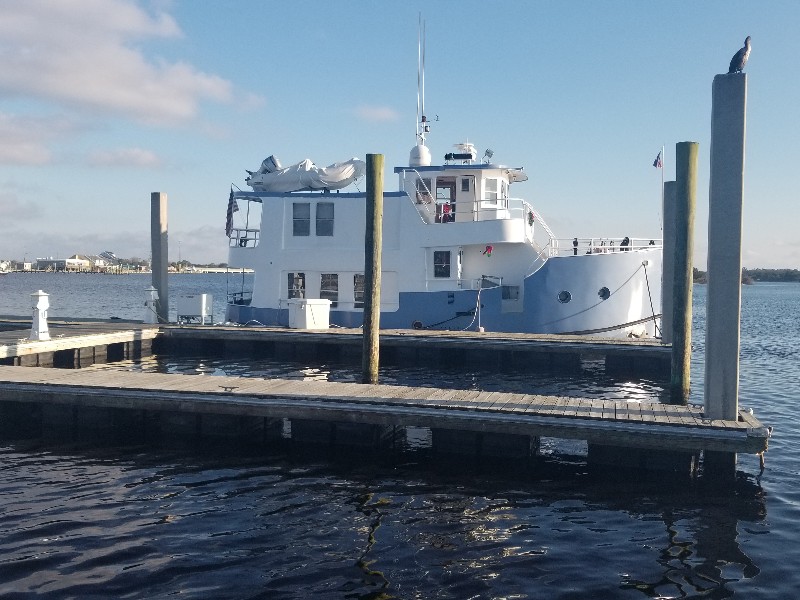 Very uneventful day of cruising... sunny to start the morning... then it turned cloudy for the majority of the trip with the sun coming out again just before we reached Swansboro.
We arrived to Swansboro at just before 1500 and docked at the Church St Docks manage by the city. Our position tonight is
N34°41.156', W077°07.1580'
. We traveled today for 4 hours and 15 minutes covering 29.24 nautical miles averaging 6.9 knots.




Dry Dock Day 5
Bock Marine Beaufort, NC

Just returned to Bock Marine from our trip to pick up our car in Connecticut... about a 10 to 11 hour drive one way... we broke it up into three legs...
Friday the 11th we left Bock Marine at 1700 and drove to Salisbury, MD stopping at approximately 2330.
Saturday the 12th we left Salisbury, MD at 0700 drove to Stamford, CT... pickup our car, returned the rental started back south.... stopping at 1800 in Dover, Delaware.
Sunday the 13th we left Dove, Delaware at approximately 0815 and drove to Bock Marine arriving at 1700. 48 hours after we left.
We did have a fun stop on the way back stopping at the Dismal Swamp Canal Visitors Center... been here by boat but never by car... a very different feeling...
Susan took some photos while we were there and out trip.