CT to GA Day 18
Myrtle Beach, SC to St. Johns Island, SC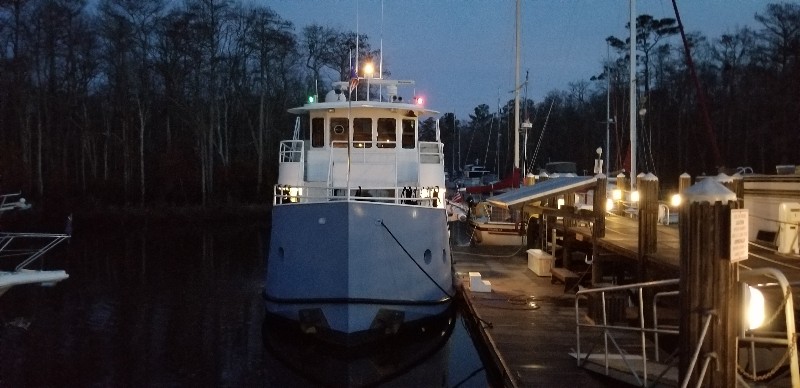 We left Osprey Marina this morning at 0700 just before sunrise. Forecast for the day was sunny and 10-15 knot winds. Did not get any sun until afternoon and the winds were as forecast.
We did get a nice boost once we hit the Waccamaw River... pushing us over 8.5 to 9.5 knots all the way to Georgetown. Just below Georgetown we lost the push when we turned into Estherville Minim Creek Canal and we were down to less than 6 knots... Then we entered the Yo-Yo area of inlets and rivers all the way to Isle Of Palms... running 8 knots plus for a few miles and then back to below 6 knots for a few miles. Once we hit Isle of Palms just before Charleston we had the current once again against us for the rest of the day.
We did manage to arrive to the trouble spots with a mid tide and rising so we had no issues in the McClellanville area and the stretch of ICW from Isle of Palms to the Ben Sawyer Bridge. We would of had some depth issues if we had not had mid tide plus... even so there were some real skinny areas.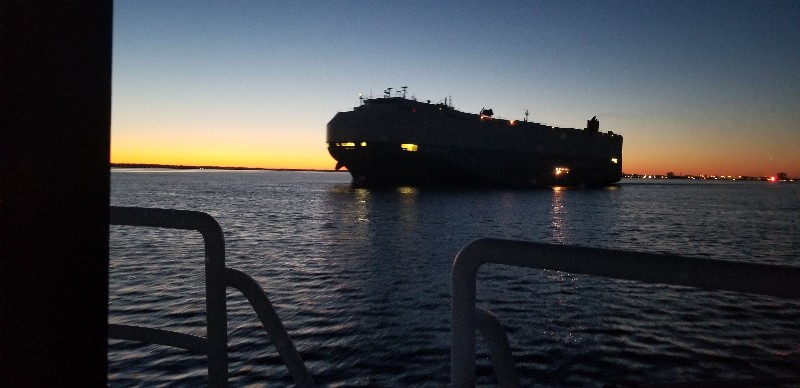 We ran a little longer day running a couple of hours past sunset... needed to get past the Ben Sawyer Bridge to clear all the shoaled trouble areas. Just after sunset crossing Charleston Harbor we met a huge cargo ship headed out to sea... per AIS info it was 700 ft long... a MONSTER specially when cross your bow a few 100 yards away.
Just south of Charleston we had to go through Elliott Cut... very narrow channel at the south end of Wappoo Creek taking you to the Stono River. We had current on our bow and the water was churning... slowed us down to under 4 knots... so about a 3 knot current against us... Susan hates this area when we have current... being dark made it much easier for her as she could not really see the water boiling from the current. Once in the Stono River we headed south for about a mile or so we were at our destination for the evening.
We arrived to St. Johns Island, SC and anchored just north of St Johns Yacht Harbor at approximately 1195. Our position tonight is
N32°45.389', W080°00.557'
. We traveled today for 12 hours and 15 minutes covering 87.0 nautical mile averaging 7.1 knots.