CT to FL Day 40
Clewiston, FL to Picnic Island, FL

We had dinner in grill bar that is right at the docks at Roland and Martin last night... We had been traveling most of the day with another boat... "Clarabelle" and they had stopped at the Roland and Martins's also... we bumped into them at the restaurant, and they invited us to join them... so we did... had a lovely evening exchanging boat stories... Hopefully we will run into them again... our new friends Rhonda and Craig Davis.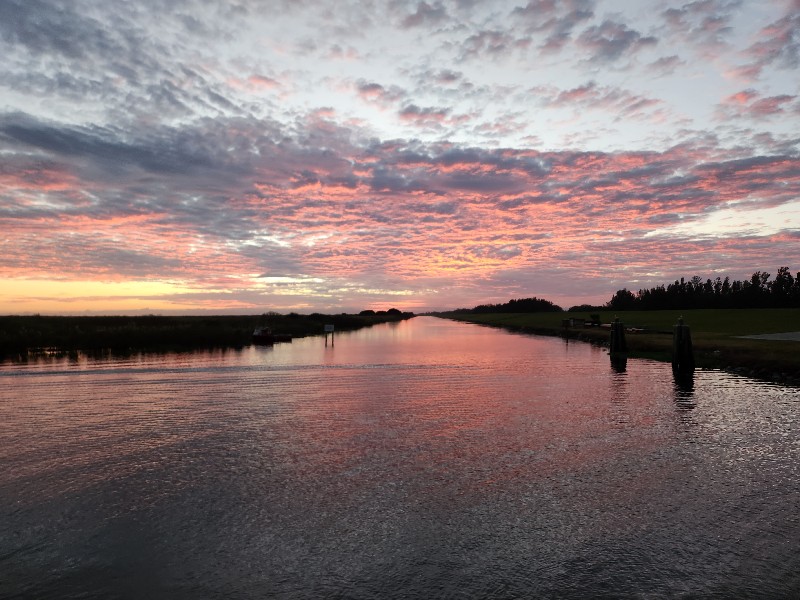 We left Roland and Martin Marina this morning at 0645... following one of the boats that was with us at the marina to the Clewiston Lock... only room for two large boats in the lock... very small space... charts say the lock is 70 feet in length... our 45 ft felt really tight...


We had 3 more locks and one bridge that we had to open today... a lot of waiting at the locks and the bridge...slowed our average time way down... Other than one stretch in Fort Myers we had a favorable current.

Tons of boat traffic out today... dreading tomorrow being a Saturday that the boat traffic will be even more than today... we'll see.

We attempted to stop at the Shell Point Anchorage between markers 94 and 96 on the Caloosahatchee River but found the depths to have shoaled from what is on the charts... we had a 1.6 ft tide and we were 5 feet of water... we would have been sitting on the bottom at low tide... NOT HAPPENING... so we continued on to the next anchorage area on our route to Punta Gorda... Picnic Island... about another hour further and it would be dark.

We arrived to Picnic Island at approximately 1830 and dropped the hook... secure on the hook at 1845... Our location for the night N26°29.518', W082°02.871'. We traveled today for 12 hours covering 69 nautical miles averaging 5.7 knots.




CT to FL Day 39
St. Lucie Lock, FL to Clewiston, FL

Awoke early to be ready to lock through at 0700... 0630 and I started the starboard engine... port engine did not start... went to engine room to troubleshoot issue... all seemed good other... battery voltage good... tried to short across from battery to solenoid...nothing. Could hear the solenoid click in but starter did not turn... checked engine to be sure it was not locked up... could turn pulley with a wrench... diagnosis... starter had gone bad...


Luckily, we have a spare starter on board... dug it out and started removing the old starter... had all the wires loose and the lower starter bolt... the top one is a bear to get to so left it to last... then I noticed it... the lead from the solenoid to the starter wiggled when I started to remove the upper bolt... not supposed to do that... so I tightened the connection...reconnected all the other wires and reinstalled the lower bolt... and attempted to start the engine... SUCCESS!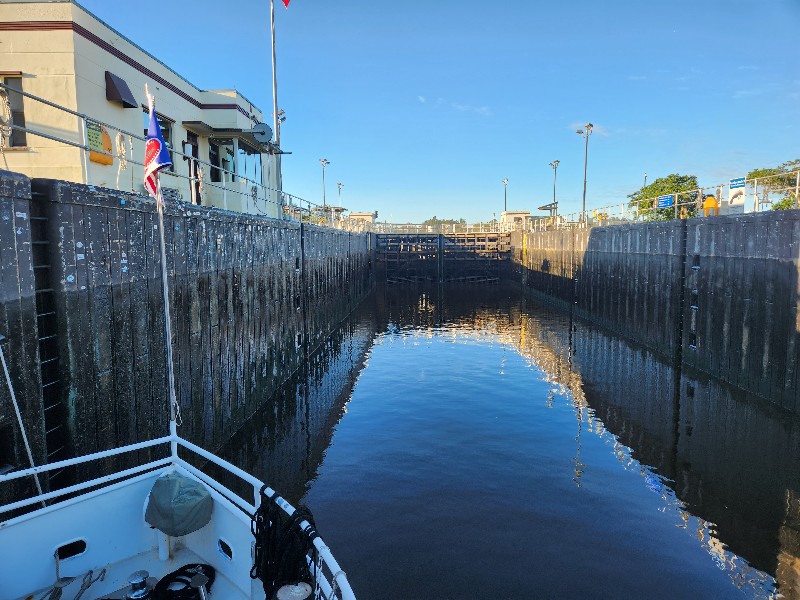 Of course, this caused us to miss the 0700 wet bound locking and there was also a boat just entering the lock for east bound locking... finally we got the green light to enter the lock wet bound at 0800... so we lost an hour and half out of our available travel time... this all tricked down, and we would now not be able to make our planned destination for the night... Moore Haven. The Moore Haven Lock's last locking is at 1630... we would arrive to it at approximately 1700... time for a new destination... We decided to go to Clewiston and stop at Roland and Martin Marina.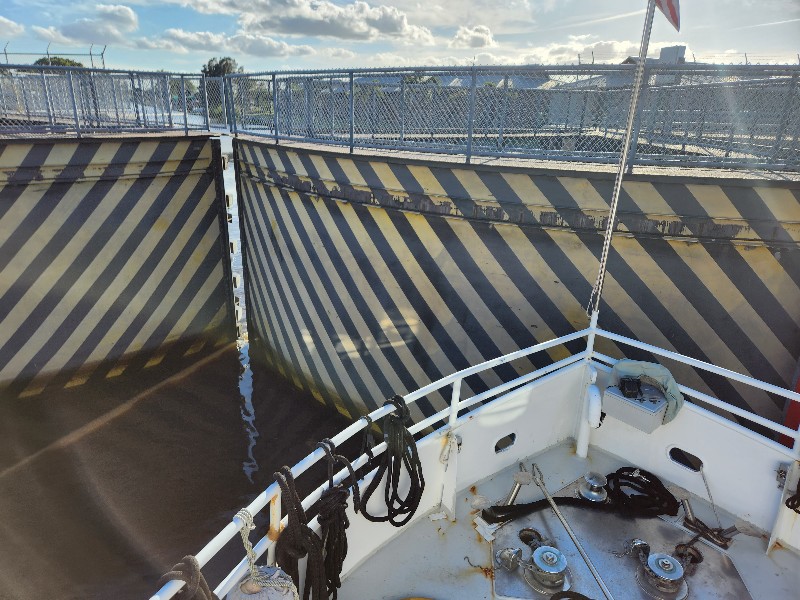 We arrived to Clewiston Lock at 1515 and tried to contact the lock on VHF several times... no reply. We looked up the phone number and called them... they answered and said they were locking through a few boats and to stand by... there were also several other small boats waiting to lock through and two larger boats... lock opened at 1545 and we entered the lock and one of the larger boats entered with us... that was all the room there was... just for two boats... the smaller boats were pissed off as the lockmaster had them back out of the lock and wait... there was a lot of yelling and swearing taking place... but they finally backed out of the lock... lock lowered us 2 feet and we exited with the other boat.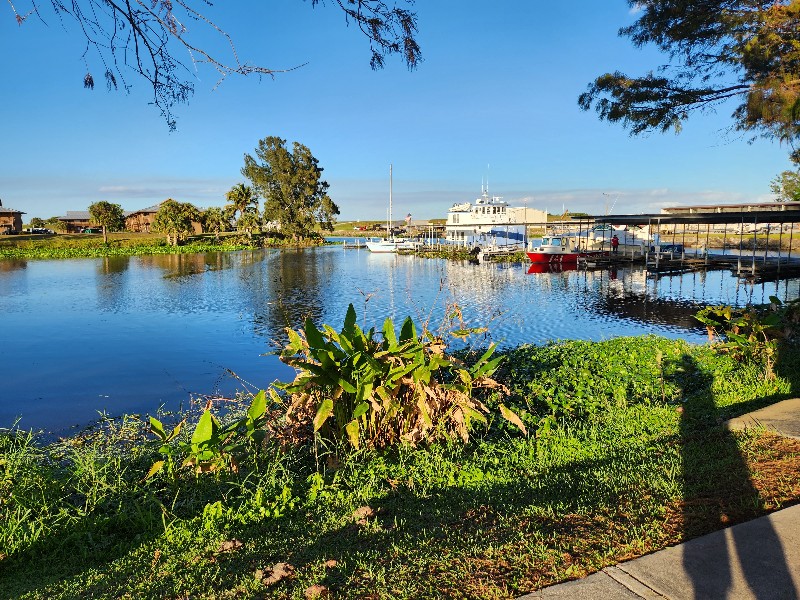 Two minutes and we arrived at Roland and Martin Marina were secure on the dock with power at 1600... Our location for the night N26°45.471', W080°55.121'. We traveled today for 8 hours covering 44 nautical miles averaging 5.5 knots.




CT to FL Day 38
Eau Gallie, FL to St. Lucie Lock, FL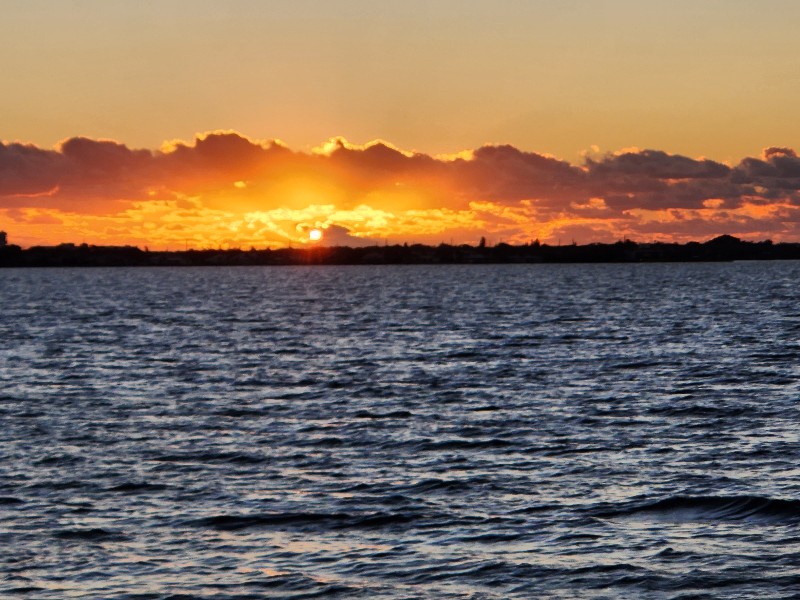 Underway this morning before sunrise at 0700... had a brisk evening with a little higher wind than desired around 15knots out of the NNE....Forecast today for 5 to 10 knot winds... nice and calm.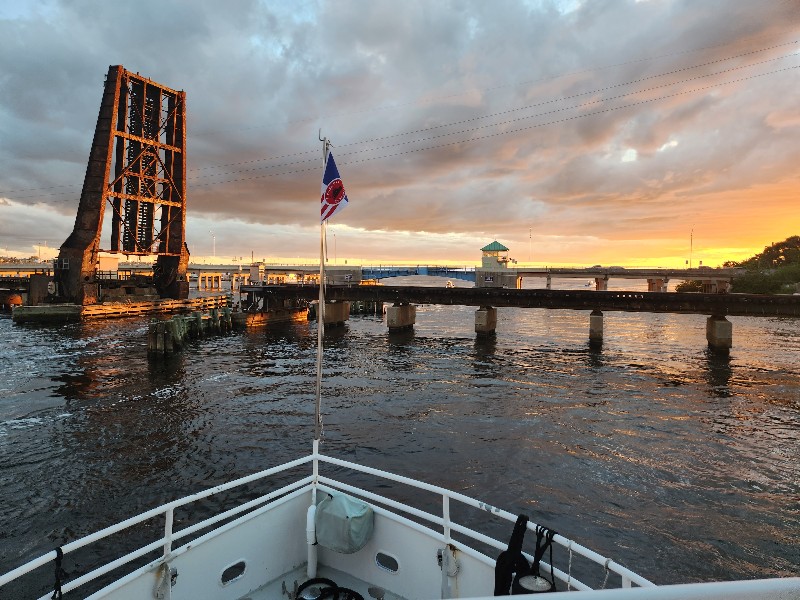 Had a bit of a delay at the end of the day in Stuart at the Roosevelt Bridge... missed their last opening at 1630... no openings between 1630 and 1730 for rush hour car traffic on bridge... So, we had to sit at the bridge for about 45 minutes.
This caused us to arrive after dark to our planned destination of the St. Lucie Lock. We arrived at approximately 1830 and anchored just before the lock... we were secure on the hook at 1845... Our location for the night N27°06.791', W080°17.015'. We traveled today for 10.5 hours covering 77 nautical miles averaging 6.7 knots.