CT to GA Day 9
Solomons, MD to Hampton, VA

Having a long day planned today we left Solomons at 0440 so we would hopefully arrive before dark to our destination Salt Ponds Hampton, VA. Forecast was good for winds and seas but not for sunshine... and it was gloomy all day long only seeing glimpse of the sun as it rose.
There was a lot of boat traffic today... we finally saw a few cruisers heading south on the bay and tons of recreational fishermen... not sure what they were fishing for but we literally saw hundreds of them.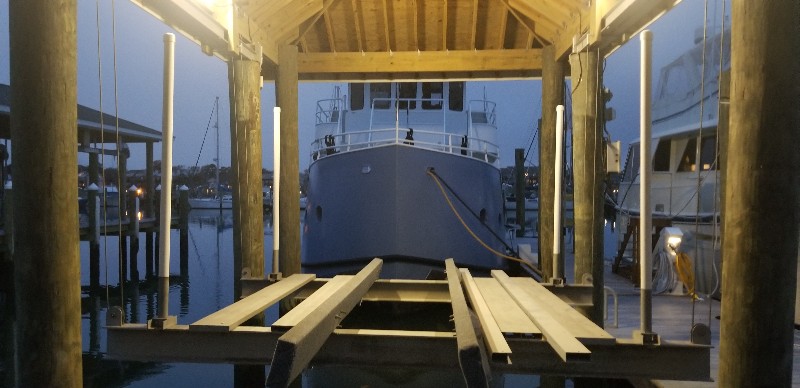 We arrived to our destination for the day at approximately 1630 and were securely docked at Judy and Wayne McPhail's home dock at 1640... Our position tonight is
N37°03.548', W076°17.052'
. We traveled today for 12 hours covering 89 nautical miles averaging 7.0 knots.




CT to GA Day 8
Chesapeake City, MD to Solomons, MD

We left Chesapeake City this morning at 0500... early departure to leave with a favorable current... underway at over 8 knots.
The current was in our favor for a good part of the day... but we lost our boost just below Annapolis, MD.... slowing to 6 to 6.5 knots for the remainder of the day.
Weather supposed to be deteriorating on Sunday so we opted to do two long days down the Chesapeake Bay instead of normal 3 days we normally take... destination Solomons, MD
Still have not seen any other cruisers heading south... we have been solo as far as we know up to this point.
We arrived to Solomons and were securely docked at Calvert Marina at 1815... Our location for night
N38°19.936', W076°27.460'
. We traveled today for 16 hours covering 99.5 nautical miles averaging 6.2 knots.




CT to GA Day 7
Layover Chesapeake City, MD

Not moving today... holding up here in Chesapeake City due to weather... forecast today for upper Chesapeake Bay... NW winds 20-25kts with gusts to 45kts seas around 4ft... just no need to go out in conditions like this.

Forecast for tomorrow looks much better.