CT to FL Day 8
Layover Solomons, MD

Stayed in port due to weather forecast for Chesapeake Bay




CT to FL Day 7
North Beach. MD to Solomons, MD

With the weather forecast we had decided to not leave today... 30 knot winds out of the south and 100% chance of rain... not good at all.
When I woke up at around 0530... it was very calm... no winds whatsoever... figured it was just early and things would whip up soon... 0800 came around and still virtually no winds... checking nearby weather buoys in the Bay... they were reporting 5 to 10 knot winds... Hmmmmm... Susan was up and asked me was the forecast wrong... should we leave?
I kept checking the buoys... looked at radar long range and saw no rain coming... well we decided to drop the lines and take a short day to Solomons... only about 30 nautical miles south... 0915 we left the dock and headed out to the Chesapeake Bay.
Once clear of the land and fully out into the Bay we have like the buoys were reporting... 5 to 10 knots out of the south... the forecast must of been wrong.
Well, by the time we reached the Solomons conditions had quickly deteriorated... we were getting every bit and more of the forecast 30 knot winds and seas were 6 to 8 feet with a very short period.., pouring rain that was decreasing visibility to less than a mile... loose items in the pilothouse were going airborne including us in these seas... we endured these conditions for the last 2 hours of the trip... we should of just stayed in port this morning...


We arrived to the our destination for night Calvert's Marina at approximately 1400 and securely docked with shore power connected at 1415. Our location for the night N38°19.931', W076°27.423'. We traveled today for 5.0 hours covering 31.5 nautical miles averaging 6.3 knots.




CT to FL Day 6
Chesapeake City. MD to North Beach. MD

There was not really good time to leave this morning... Flood current would be against us all day... so we left Chesapeake City at 0700 with a full 2.1 knot current against us.
Off to a flying start at 4.5 to 4.9 knots for several hours... as we exit ed the C&D Canal into the Upper Chesapeake Bay and it was much wider the current did slow some... eventually near the Chesapeake Bay Bridge we lost the current and gained a slight boost in speed...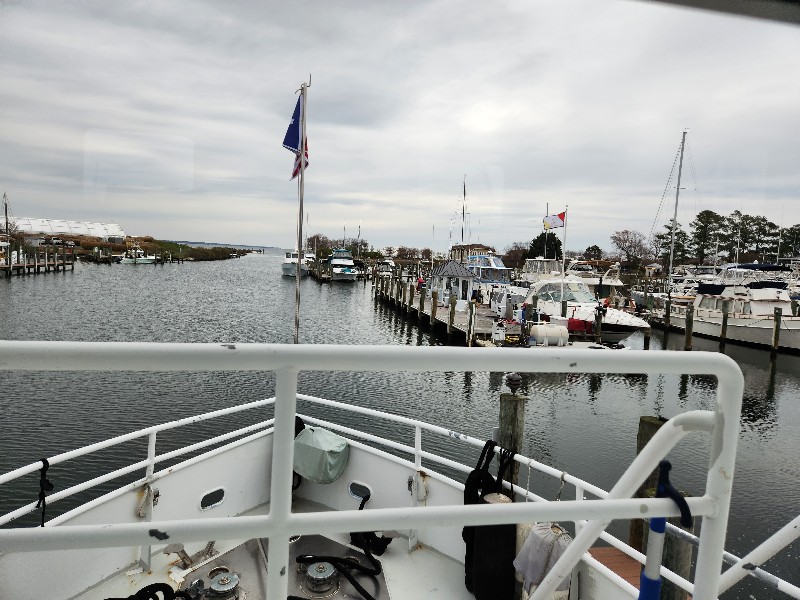 We arrived to the our destination for night Herrington Harbor South Marina at approximately 1600 and securely docked with shore power connected at 1615. Our location for the night
N38°43.569', W076°32.565'
. We traveled today for 9.25 hours covering 62.1 nautical miles averaging 6.7 knots.