Departing from Chesapeake City you need leave at a slack tide just before ebb starts. That meant we should leave about 0800 and we would have a favorable current most of the day. This meant we I could shut the alarm clock off and not be awoken at 0400.... Hurray!
Well this was a good plan... sleeping in... however, at about 0400 Susan was woke me up with screams of.... We're on fire!!! I jumped out of bed and followed her to the engine room... she then said there are no flames... only smoke coming out of the inverter... by the time I got there I could not see any smoke but could smell burning electrical wires... it's horrible smell... especially, when it's coming from your inverter.
After we calmed down I checked the inverter... it was working as far as passing through the shore power but it has a feature to assist the shore power if needed... checking the control panel screen it showed an error that said this feature had failed.... and with it the ability to convert 110 volt electricity from our 12 volt house batteries.
We have another smaller inverter that we could use to power the refrigerator running an extension cord to it from the entertainment center but having an electrical cord running across the floor and up the steps to the galley is not a good idea with Lily running around... so we opted to run the generator once we left the dock.
Anyway, so much for sleeping in... it was now 0500 and I was not going back to sleep after this... I jumped on the computer and found a replacement inverter and ordered it for overnight delivery... being Sunday that meant the order would be processed on Monday and shipped for delivery on Tuesday or Wednesday. We planned to stop and see some friends in Smithfield, VA so set the shipping address for their house in Smithfield... we will get there on Wednesday or Thursday so we should find a new inverter waiting for us when we arrive.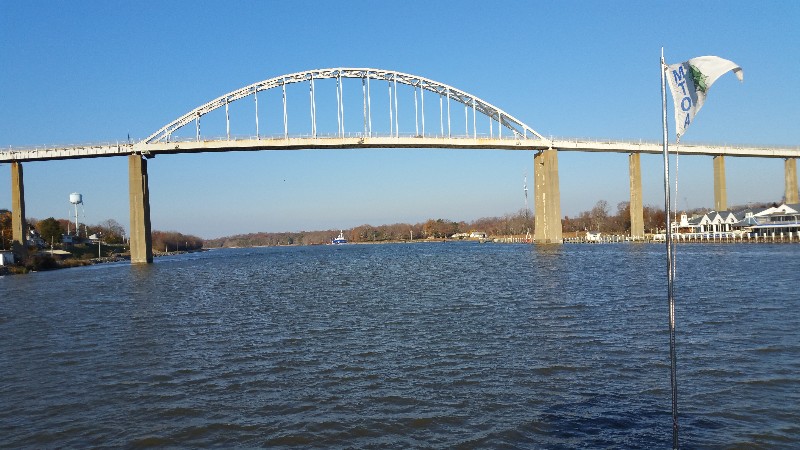 Everything all set and we were ready to prepare to leave at about 0815... still had to top off the water, get rid of the trash... all the normal things we do before we leave each day.... by 0845 we were free from the dock and heading out into the C & D Canal and under the Chesapeake City Bridge... current pushing us at 8.2 knots... very nice!
It was a little rougher than we anticipated today... had 2' to 3' seas as we passed Baltimore area... winds were gusting to almost 30 knots... steady at about 20 knots... forecast was for 10-15 knots... but it was bright and sunny out... first day of the trip that we actually put sunglasses on. Plus with the Generator on we also had the heat on so it was very toasty warm as we cruised.
We actually, saw the first recreational cruising boats today... one power boat heading north and several sailboats heading south... was great to see some other people moving... and virtually no fishermen... that was particularly nice.
We arrived to our destination at Herrington Harbor South Marina and were securely docked at their fuel dock at 1730. We will top off the fuel tanks here in the morning. Our location for the night
N38°43.584', W076°32.549'
. We traveled today for 8 hours and 45 minutes covering 62.4 nautical miles averaging 7.1 knots.