GA to CT Day 15
Chesapeake City, MD to Atlantic City, NJ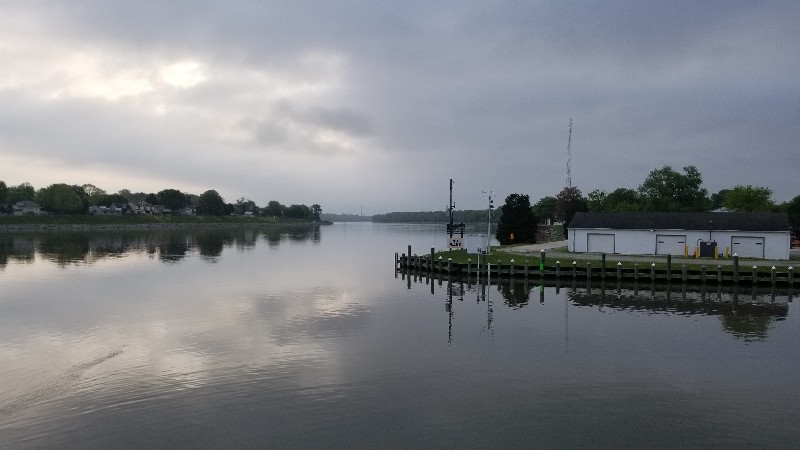 I believe we finally have this leg of our trip down as far as getting a favorable current... need to leave Chesapeake City so that you arrive to Reedy Point an hour after high tide... this meant leaving at around 0700... we actually got away 15 early at 0645 and those 15 minutes made a difference in favorable current in a couple of places... some negative and some positive... we did have current on our bow for a few minutes just after exiting the C&D Canal into the Delaware River.... but soon we got our boost back running over 8 knots all the way to Cape May where we had current back on our bow as we crossed through Cape May to the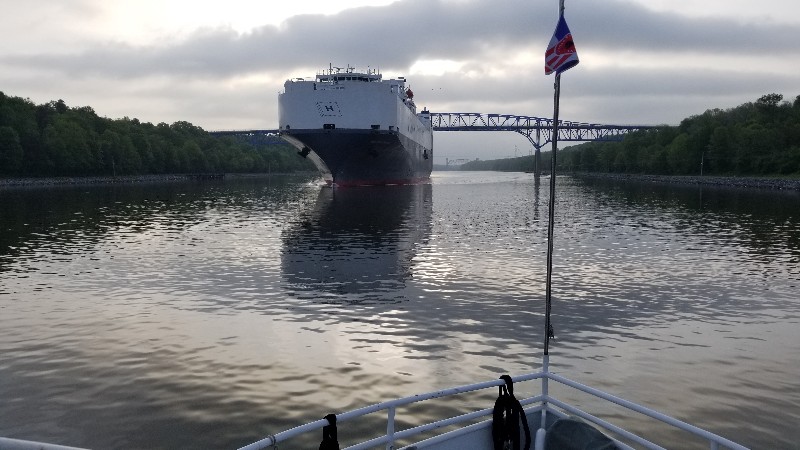 Atlantic Ocean... once we were a few miles north of the Cape May Inlet we started getting our boost back but we also had some serious swells out of the ESE that tend to slow us down a bit... overall even though leaving a bit early we for the most part ad favorable current all day.
We met this huge ship as we transited the C&D Canal... we see them pass all the time when we are docked in Chesapeake City but rarely to we actually pass one underway in the canal.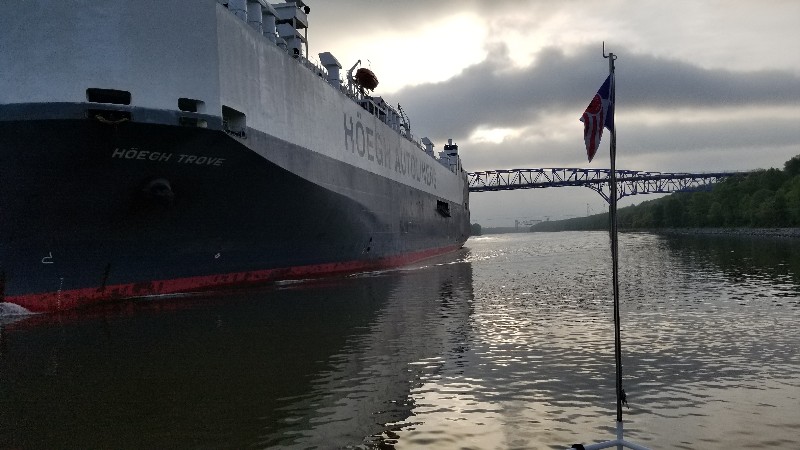 Two hours from Atlantic City the winds suddenly picked up as if someone turned on a fan... blowing 25 to 30 knots from the NE... very strange but it did create a waves running at 45 degrees to the 4 foot swell we had making the seas very and the ride a bit uncomfortable... it was sure nice to get to Absecon Inlet at Atlantic City and get into smooth water.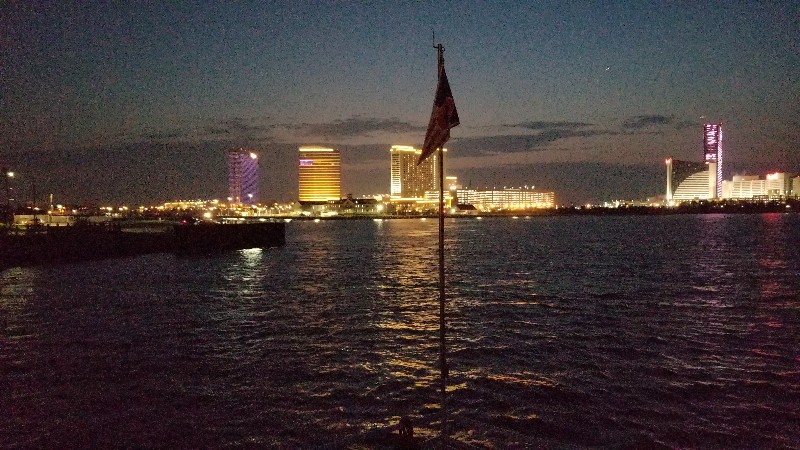 We arrived and docked at the Gardner's Basin Docks at 2100... our location tonight is
39°22.577'N, 074°25.275'W
. Traveled today for 14 hours and 15 minutes covering 99.5 nautical miles averaging 7.0 knots.


Posted at 10:54 PM by:
Jay


GA to CT Day 14
North Beach, MD to Chesapeake City, MD

We left Herrington Harbour Marina 1t 0600... off to a bumpy start with 3 foot seas on our bow once we left the marina jetty... we proceeded to the east side of the bay to get in the lee of the land and in about an hour we were in comfortable 1 to 2 foot seas.
We had current against us until we reached the C & D Canal and we started getting a boost in speed... when we were approaching Chesapeake City we getting pushed to 9.5 knots... always seems to happen just before stopping we get a huge boost from the current.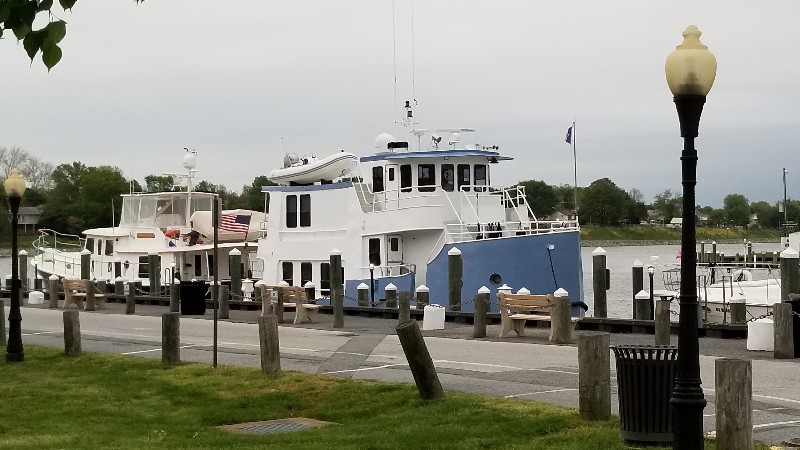 We arrived and docked at the Chesapeake City Docks at 1515... our location tonight is
39°31.633'N, 075°48.663'W
. Traveled today for 9 hours and 15 minutes covering 62.5 nautical miles averaging 6.8 knots.
Our friends Jim and Cathy Fisher came from the Baltimore area to visit and we enjoyed catching up and enjoyed a great Bucksport sausage and pepper dinner aboard SAILS




GA to CT Day 13
Reedville, VA to North Beach, MD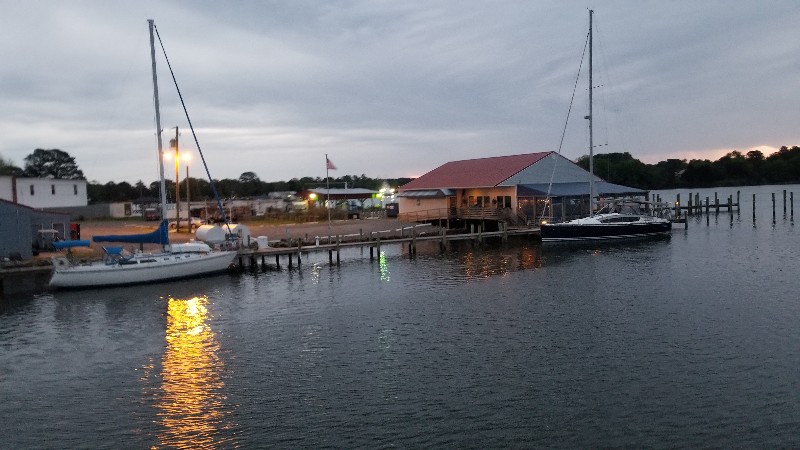 Wind was forecast today to be SSE 20-30 knots starting about 1000 so we were up and away from dock early at 0600 to try and get across the mouth of the Potomac River before the wind and seas picked up. We had a good boost of current so we were running at over 8 knots... we made it to the middle of the Potomac and the winds were howling and the seas came right with the wind producing 4 to 6 foot seas on the stern... which gave us a real roller coaster ride... Susan was not a happy camper...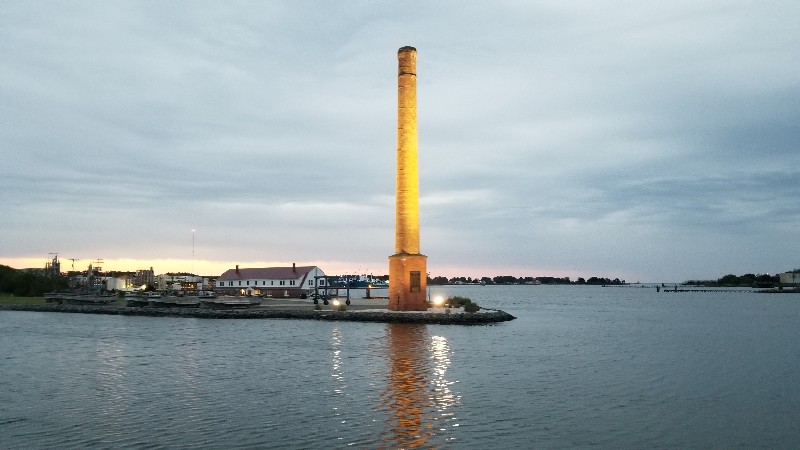 and this continued till about 1130 when we had a wind direction change and the seas calmed down along with the winds settling to 10-15 knots from the NW... we made it all the way to Herrington harbor before these winds had any effect on the seas.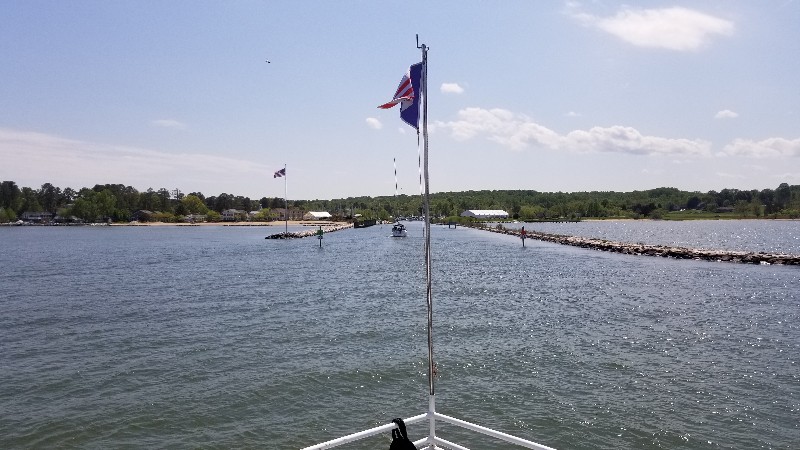 We arrived to the Herrington Harbor Marina at approximately 1445 and docked at the fuel dock... it was time to feed SAILS... approximately 2 hours later we were full... extremely slow pumps for some reason... never have had this issue before at this marina... sure glad SAILS was not very hungry... taking on 563 gallons of diesel.
We moved forward from the fuel dock one t-head and we were securely docked at 1750... our location tonight is
38°43.620'N, 076°32.539'W
. Traveled today for 8 hours and 45 minutes covering 65.5 nautical miles averaging 7.5 knots.