FL to CT Day 3
East Fort Myers, FL to Owl Creek Boat Works

Not much of a journey today... left Jack's Marine South at approximately 0930 and cruised slowly back to Owl Creek Boat Works... I called them on the phone to be sure they knew we were coming and there was some place for us to actually tie up...

We arrived at just before 1000 and I could see they had freed up the lift bay and they were waving for me to come directly into the lift bay.

We were secure in travel lift bay at 1000. Now we only have to survive the boat yard... probably the worst thing we will have to do on our entire trip north.

We traveled for 30 minutes covering 2.16 nm and averaged 4.32 knots.


Posted at 10:12 AM by:
Jay


FL to CT Day 2
Pelican Bay to East Fort Myers, FL

We spent two nights at Pelican Bay on the hook and it was very nice… had some friends Susan and Robert come out on Saturday and we spent the afternoon on the beach and that evening we had a wonderful dinner aboard their boat. Really good friends! We'll miss them over the summer.

We departed from Pelican Bay on Sunday morning and headed south to our destination for the day Owl Creek Boat Works. For the most part the day was not very nice weather… winds steady over 25 knots and gusting into the 30's… all protected waterway so it was not terribly rough… a little choppy. You would have never known the weather was like from the number of boats that were out and about… it was quite surprising. Guess when it comes to weekend they go out bad weather or not.

The day did improve in the early afternoon and we saw some sunshine as we passed through Cape Coral and as we were approaching Fort Myers… but as we got to downtown Fort Myers the winds started to pick up again and it appeared as if it might rain.

We did have a couple of surprises… as we passed Legacy Marina we were hailed on the VHF by a familiar voice… Sea Life… Robert Creech… nice little chat with him and then again as we passed east of the bridges downtown in Fort Myers we were hailed again by Irish Rover… Jack Driscoll another fellow MTOA member from New England… we had met him and his wife at the NE Rendezvous a few years back in Mystic, CT. It was great chatting with both Robert and Jack.

Shortly we came to the only bascule bridge we had to deal with today… Wilson Pigott Bridge… hailed them on the VHF as we approached and did not even have to slow down… the bridge tender had it open well before we arrived… it's nice when this happens.

Quarter mile further east and we arrived to our turning point to get to Owl Creek Boat Works… made a 90 degree turn to port and about ¾ of mile we came to the boat yard…. BUT, there was no room for us to dock… a boat in the travel lift bay and 4 other boats on each side of the lift bay… do we raft??? Nope… we decided not to and left the boat yard basin and headed back out to the Caloosahatchee River.

We continued east to Jack's Marine South… about a mile further east… we had planned to purchase some diesel fuel here after leaving the boat yard but figured we would just go there for the night and fuel in the morning and return to Owl Creek afterwards…. Hopefully, there will be some room for us to dock.

So, at approximately 1730 we were securely docked at Jack's Marine South… they are closed on Sundays so no one was around… there is a sign on the dock… NO GAS… we are hoping this means no gasoline and they have some diesel fuel… we'll know in the morning.

Our location for the evening…. N26°43.317', W081°43.546'. We traveled for 7.5 hours covering 45.6 nm and our average speed was 6.07 knots.




FL to CT Day 1
Punta Gorda, FL to Pelican Bay

We departed today on a new adventure… Each spring for the past three years we have left Florida and headed to Block Island, Rhode Island and spent our summers. This year we have a new summer home… Stamford, CT. We will be docked at Harbor Point Marina in Stamford Harbor where I will be working for TowBoatUS.
We departed from Fishermen's Village Marina at approximately 1200 and make a quick stop at the fuel dock to feed SAILS a snack and we were underway by 1235. We were given a great send off from our wonderful dock friends that came down to say goodbye. Leaving is always a sad time and the only thing that gets you through it as that you know you'll soon be back and see everyone again next season.
SAILS not having been run since we arrived Thanksgiving last year was running fine and soon we were heading south down Charlotte Harbor. The harbor was very busy with a lot of boats out and about. We were not too far along when we heard a familiar voice on the VHF… Peter and Nancy Colket aboard SEA ANGEL were hailing Cape Haze Marina. I hailed them and we were soon chatting back and forth… they are members of our boating group… MTOA (Marine Trawler Owners Association) and we had not seen them since last year in Palm Coast, FL.
We continued on and soon were making the turn to the SW around Charlotte Harbor marker #5 and on the VHF we were being hailed… I responded and it was some our friends from Fishermen's Village… Peg and Stacy aboard their sailboat… they were heading back to Fishermen's after spending a few days out on their boat. We said our goodbyes via the VHF… no hugs… but we'll see them next year with all our other friends at Fishermen's.
We continued on and shortly we were entering Pelican Bay…. Felt really good to be back here… it's one of favorite… or actually I would say it is our favorite place to anchor of anywhere we have been… we'll spend a couple of nights here and continue on trip on Sunday. When we will go to Owl Creek Boat Works just east of Fort Myers.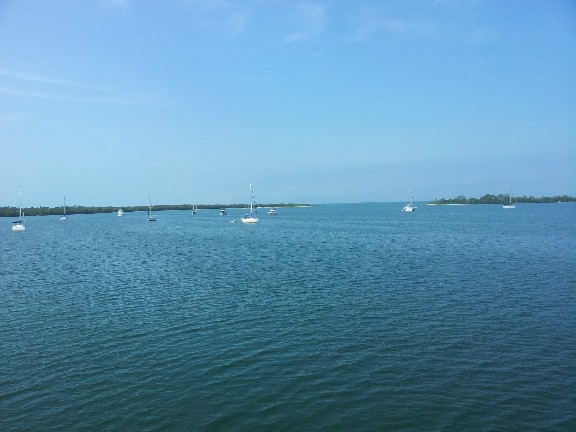 We are scheduled to be hauled on Monday for SAILS to get new bottom paint.
We dropped the hook in Pelican Bay and were securely anchored for the evening at approximately 1600…. N26°41.042', W082°14.521'. We traveled for 3 hours and 25 minutes and averaged 6.05 knots.