FL to CT Trip Statistics 2016 Trip North

We departed from Punta Gorda, FL on March 26, 2016 and arrived to Stamford, CT on May 10, 2016.

Overall: 46 days
Moving: 31 days
Stopped: 15 days
1 day at Cabbage Key Pineland, FL to clean running gear
1 day at Franklin Lock State Park Marina, Olga, FL
1 day in Stuart, FL
6 days MTOA Southern Rendezvous Fort Pierce, FL
1 day in Smithfield, VA
5 days in Brick, NJ - waiting on weather


Distance traveled: 1,750.84 statute miles
Moving: 233 hours
Averages:
56.5 statute miles per day
7.51 miles per hour
7 hours and 31 minutes per day

Marinas, Docks, Anchorages:
21 nights PAID docks
2 nights PAID Mooring Ball
13 nights FREE docks
10 nights anchored


Posted at 11:25 AM by:
Jay


FL to CT - Day 46
Brick, NJ to Stamford, CT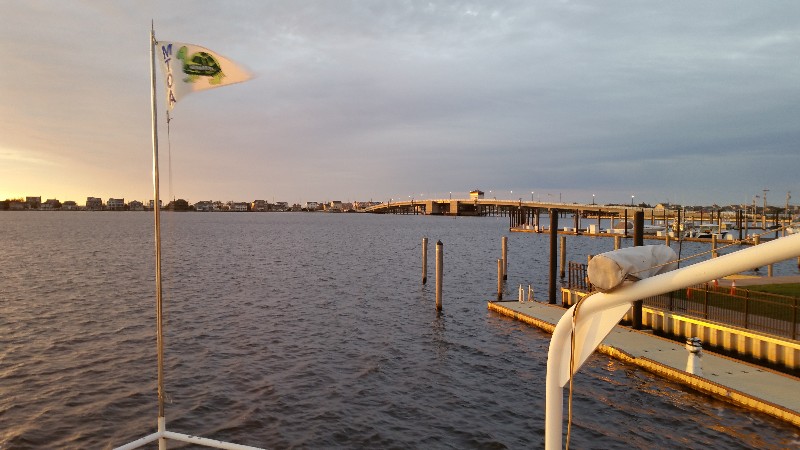 We departed the marina this morning as planned at 0600 and headed back toward the NJICW. The water was 7 feet deep at the dock, but depths between the marina and the channel were very shallow. We had come in at high tide and were leaving at about an hour before low tide. The depth sounder stopped registering depth at the end of the docks... flashing LAST 5.0 over and over... a few spots I could hear SAILS dragging on the bottom as we left... finally we hit the channel and we were in 6 feet of water... we turned north heading up the NJICW toward the Point Pleasant Canal.
As we passed the place where we had anchored in Bay Head, NJ we were surprised to see 4 trawlers anchored. One was just pulling it's anchor and the others appeared to also be preparing to leave.
We entered the Point Pleasant Canal with an ebb current that soon was pushing at over 8 knots... depths are fine in this canal but very shallow on either side of it... the 6 foot depth we saw after the marina was one of the deep spots... most of the NJICW in this last stretch to Manasquan the depth sounder was not registering any depth. I doubt you were ever go aground and come to a stop here as it appears to be all MUD.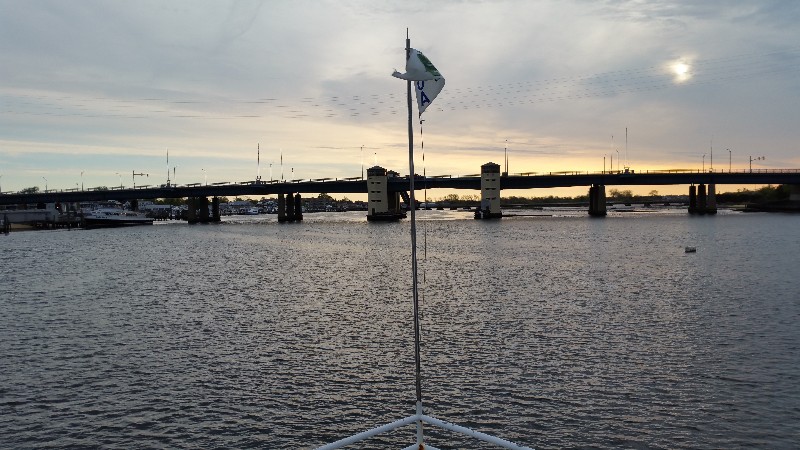 Two bridges and we be headed out the Manasquan Inlet to the Atlantic Ocean. Highway 35 bascule bridge we had driven over twice driving in the last few days as we transited from NJ to NY and back and then a railroad bridge that is very narrow with very swift current. We made it through without issue and soon we were heading out the Manasquan Inlet.
Ahead of us we could see three other trawlers that had just left and were also using this weather window to make it to New York. We also had the four trawlers that we saw in the anchorage following us. So we had eight counting us all heading to New York. Was comforting to Susan to see the other "smaller" trawlers heading out... she was a little nervous about what the seas state would be like today.
Once we got out and clear of the Manasquan Inlet and heading north we found there to be a 1 -2 foot chop from the NE winds and a 2 - 4 foot SE swell with a very large period so you hardly noticed the swell. We also were experiencing a boost from the current. Nothing like the canal but we were running over 7 knots and this boost continued over the entire cruise today. In New York as we approached and went through Hell Gate we reached 10.7 knots... :)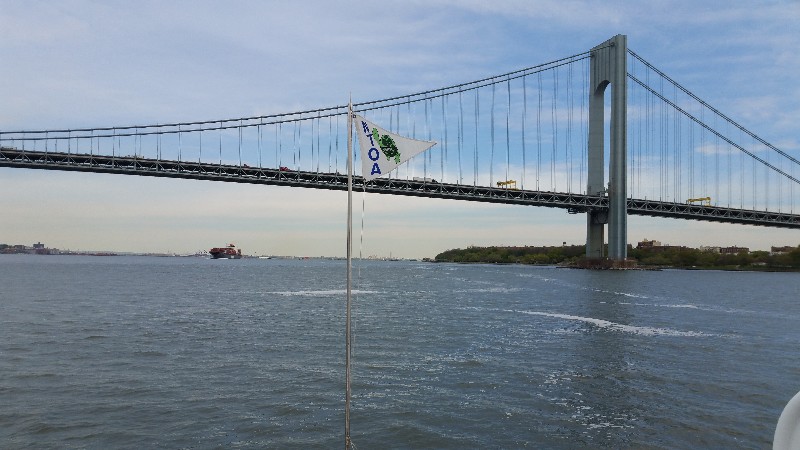 You can see the New York skyline for hours before you actually arrive... even as we approached the Verrazano Bridge it's still an hour for us to reach the Battery and the East River.
We arrived to our location for the summer at 1630. Seaview House Marina at
N41°02.394', W073°31.318'.
. We traveled today for 10 hours and 30 minutes covering 77.2 nautical miles averaging 7.4knots.




FL to CT - Day 45

With a break in the weather forecast for Tuesday May 10th we drove back to Brick, NJ today Monday May 9th. Was nice to drive up and see SAILS was still where we had left her. WE have never really left SAILS unattended at a marina before this... :)

We plan to leave for Stamford in the morning at near sunrise to complete the last leg of our trip north.


Posted at 10:20 AM by:
Jay