CT to FL Day 10
Layover Deltaville, VA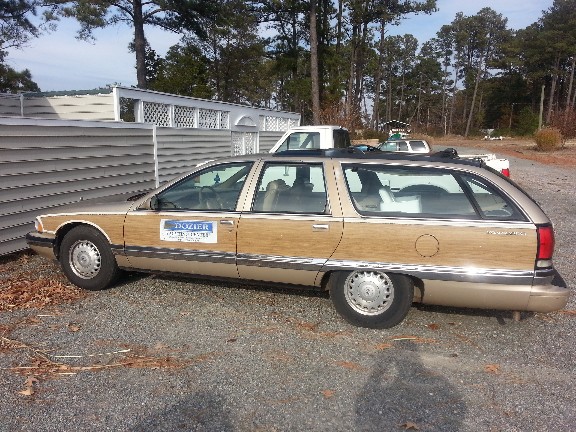 It was blowing all night long and the forecast for the day was NE winds 15-20 knots, gusts to 25 knots and 3-4 seas, so we decided to layover a day here in Deltaville... they have a courtesy car so we can go to the grocery store and pick up a few things.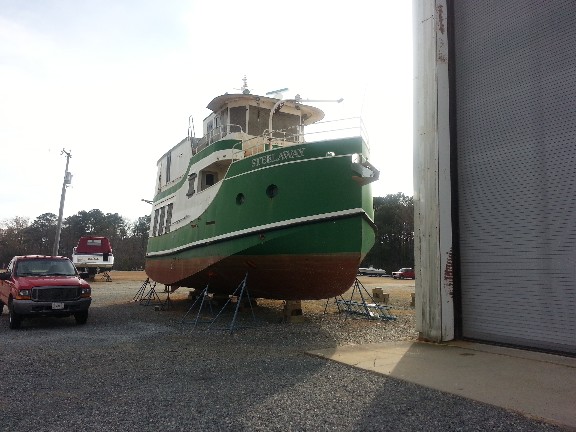 On our trip to town for provisions Susan said... Hey, look there's a Florida Bay Coaster on the hard in that marina... sure enough there was... it was "Steel Away". This was the Coaster that a few years back had the misfortune of sinking in the Chesapeake Bay... I knew it had sold but never knew where it ended up. We stopped and looked at it... I had seen it shortly after it had been raised in Baltimore... Susan had never seen it... Photo does not look too bad but up close it's quite a shocking.


Posted at 10:09 AM by:
Jay


CT to FL Day 9
North Beach, MD to Deltaville, VA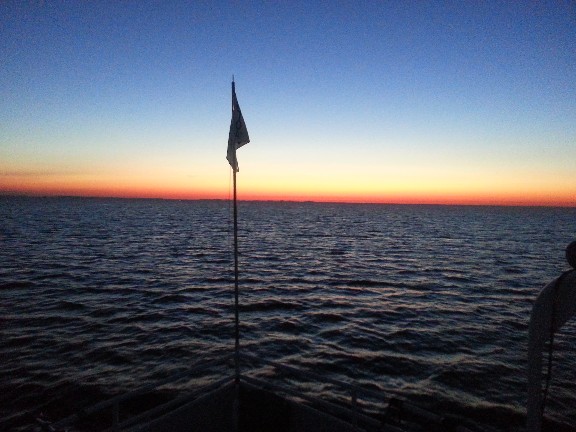 We departed from Herrington Harbor South Marina at 0600 and headed out toward the bay. the forecast for the day was NW winds 5-10 knots with 1-2 seas. The sky prior to sunrise was absolutely gorgeous... the sky lit up in the deepest orange to deep blue... awesome!
Today boat traffic was 5 times what we had seen so far on the trip... watermen, charter fishing boats and small recreational fishing boats. They were all over. From listening to the chatter on the radio it appears they were fishing for strippers and rockfish and they were catching them from what we overheard on the VHF. Also, met one large car carrier head-to-head... they are huge!
The absolute best part of the whole day was the current... we had a boost of speed the entire day... 7.2 to 8.1 knots... I love when this happens... we always try to depart so take advantage of the current but rarely do you have favorable currents all day.
Plans for the night were to go to Deltaville, VA and stay at Dozier's Regatta Point Marina. We called them early afternoon to make sure there was space... out of season but you never know... anyway, they had room and we reserved a slip for the night.
We arrived to Deltaville as anticipated at approximately 1630 just before sunset... The marina instructed us to dock on the outside face dock in front of a Grand Banks that was already docked. We were secure at the dock at 1645.
Our location for the night is N37°33.602', W076°18.804'. We traveled for 10.75 hours covering 78.2 nautical miles averaging 7.3 knots.




CT to FL Day 8
Chesapeake City, MD to North Beach, MD

We departed from Chesapeake City this morning at 0600. The forecast was for WNW winds 10-15 knots with gusts to 25 knots with 2-3 foot seas. Winds were suppose to lay down to 5-10 knots out of the west and seas less than 1 foot late morning. The current was just before slack so we would get a little boost in speed from the current.
Never did see the winds lay down as forecast...actually, they increased to steady over 20 knots with guts to 30 knots... seas did stay about the same at 2-3 foot with one small leg of the trip as we passed Baltimore that the seas increased to 3-4 foot and they were on the beam... made for sort a waddling ride but never uncomfortable.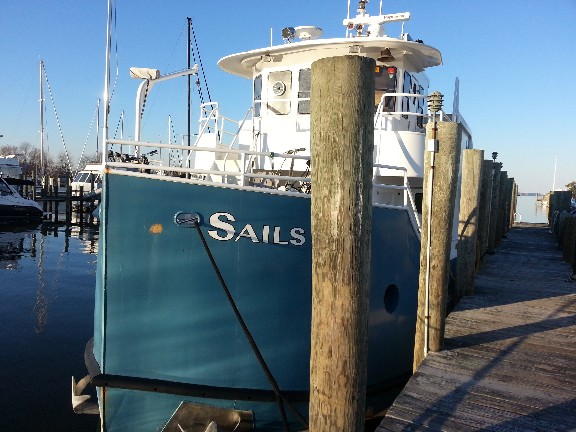 Normally, we go to Galesville, MD from Chesapeake City... it's about a 7.5 hour cruise but because of the weather being below freezing all day we decided to find a marina that we could have shore power and HEAT. We did not want to travel miles off the bay so the options were limited. We did find one that we thought would work and was not far off the bay... Herrington Harbor South located about 15 miles south of Galesville. We called and left a message with the marina office that we would be stopping there tonight between 1500 and 1600.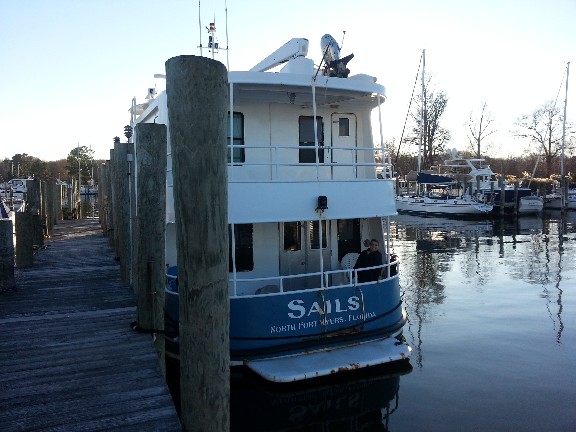 Today there was no recreational traffic at all... only a couple of commercial ships... large car carrier heading east across the C&D Canal... a smaller oil tanker and a tug and barge on the bay.
We arrived to Herrington Harbor South marina at approximately 1515 and docked on an available T-head. We never heard back from the marina and they did not respond to my hails on the VHF as we approached. We will have to leave a note at the office or maybe they have a mail-drop that we can leave our contact info to pay for the night's dockage.
Our location for the night is N38°43.562,W076°32.564. We traveled for 9.25 hours covering 62.3 nautical miles averaging 6.7 knots.