Trip Statistics
2015 Trip South

We departed from Oyster Bay, NY on November 22, 2015 and arrived to Punta Gorda, FL on December 24, 2015.

Overall: 33 days
Moving: 27 days
Stopped: 6 days
1 day in Atlantic City, NJ waiting for weather.
1 day in Chesapeake City, MD visit friends.
3 days in Oriental, NC engine issues.
1 day in Fernandina Beach, FL rest after overnight passage.

Distance traveled: 1,664.9 statute miles
Moving: 238.25 hours
Averages:
61.7 statute miles per day
6.99 miles per hour
8 hours and 49 minutes per day

Marinas, Docks, Anchorages:
9 nights PAID docks
21 nights FREE docks
2 nights anchored.




CT to FL Day 33
Alva, FL to Punta Gorda, FL

We left Franklin Locks Park at 0650 and proceeded to the arrival point of the Franklin Locks. We locked through at approxi8mately 0715 and were underway on the final leg of our trip south.
We were very lucky today with currents... nothing spectacular but we did maintain speeds over 6 knots all day long. It was like SAILS knew it was close to the end of the trip and wanted to get home as quickly as possible.
There were tons of boats out... we had not seen as many boats our entire trip as we saw today. They were everywhere and going every direction.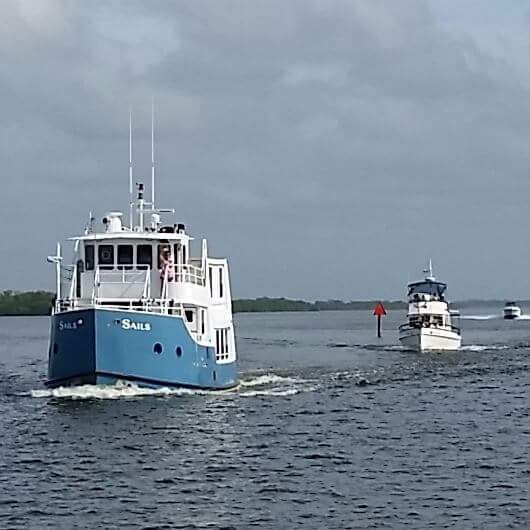 We had some friends from Punta Gorda that were heading to Fort Myers Beach for the weekend and we passed them just off of St. James and they took a photo of us as we passed... They will be back to Punta Gorda on Friday and will be good to see them.
We arrived to Punta Gorda at approximately 1700... right in the middle of docktails so we were greeted by many of our friends that spend the winter here in Fishermen's as we docked. It was good to be back and have such a welcoming group of friends.
We were securely docked at Fishermen's Village Marina at 1720. Our position for the winter
26°55.738'N 082°03.824'W
. We traveled today for 10 hours and 30 minutes covering 65.1 nautical miles averaging 6.2 knots.




CT to FL Day 32
Pahokee, FL to Alva, FL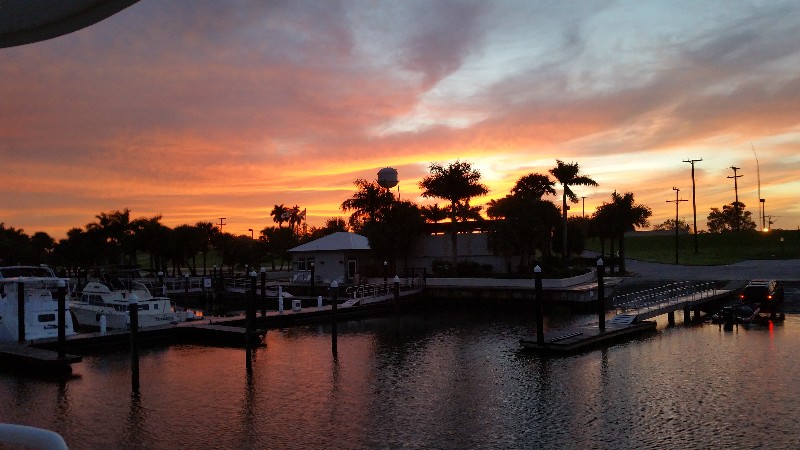 We left Pahokee this morning at 0700 a few minutes before sunrise. We headed south down the rim canal of the lake for about a mile and took a marked channel back out in to the lake that was south of Rocky Reef. This allowed us to go due west across the lake rather than follow the rim canal around the bottom edge of the lake.
We had two locks to go through today... Moore Haven and Ortona Locks. We arrive to Moore Haven Lock about half mile out to give them time to ready the lock chamber for west bound traffic... he told us we would have the a green light to enter shortly...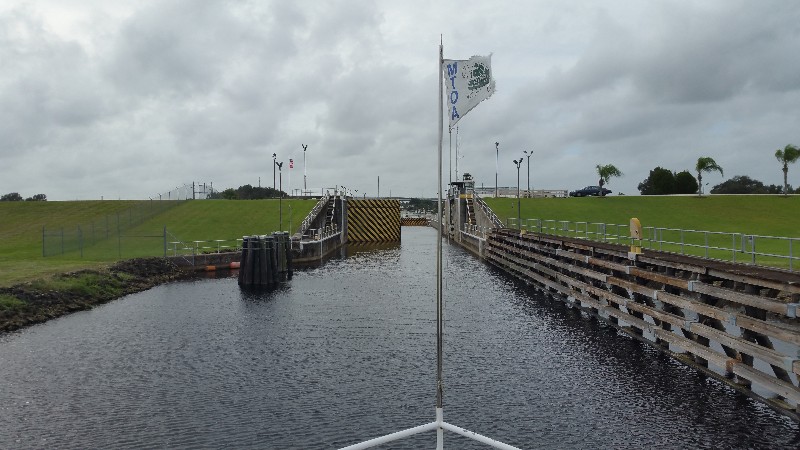 just as we arrived at the lock he hailed us VHF 13 and said there was a problem with one of the gates... it would not open and it would take an hour to correct... he asked if we wanted to enter the lock with only one gate open... said there would be about 24 feet clear... SAILS is 18 feet wide so that left 3 feet each side... I responded we would enter the lock. It looked and felt like the 24 feet was a lot smaller as we approached and passed through... no issues tied up and they lowered us 4 feet and we were off.
Next lock was Ortona and we had no issues there... we were lowered 8 feet in abut the same amount or time it took them to lower us 4 feet in Moore Haven... he really did it fast.
There were three bridges one we needed to open at Ft. Denaud and the other two we can clear when I lower the antennas and mast... Labelle and Alva bridges. No issues or major delays.
We had one more lock on the Okeechobee Waterway at Alva... W.P. Franklin Lock... the locks now close at 1700 and our ETA there was 1730... we did not even try to make it... we decided to stop at the W.P. Franklin Lock Park... they have 8 slips for boats and it's a nice stop for overnight.
We were securely docked at 1730. Our position for the night
26°43.389'N 081°41.452'W
. We traveled today for 10 hours and 30 minutes covering 63.3 nautical miles averaging 6.0 knots.