CT to FL Day 5
Atlantic City, NJ to Greenwich, NJ

We spent the last two days in Atlantic City, NJ waiting for a weather front to pass. We had some really high winds blowing steady for two days NW at 25-30 knots with gusts to 50 knots. Good thing was the wind direction… it allowed the Atlantic to settle down. The forecast for today was NW winds 10-15 knots gusts to 20 knots and 2-4 seas in a swell. The wind to switch to out of the west… again very good for us to transit from Atlantic City, NJ to Cape May, NJ… a swell would not be bad and we could hug the shoreline and get a break from the westerly winds.
I did have to break out the ice scraper before we departed to remove the ice on the pilothouse windows… 20° with a wind chill factor making it feel like 13°... a very chilly morning indeed.
We departed the docks at 0530 about an hour before sunrise and headed out the inlet toward the Atlantic. We had a nice boost of current pushing us over 8 knots but we soon lost that as we turned south toward Cape May… slowing to approximately 6.5 knots. The seas were almost flat calm with no evidence of a swell from any direction. It was an unexpected pleasure… Susan was happy!
We ran with the generator running and heaters on until the sun came up. With the sun warming the pilothouse like a greenhouse we killed the generator and remained comfortably warm with a beautiful sun shinning in on us. Sunshine always makes for a more pleasant cruise and we had not seen it since we left Stamford, CT.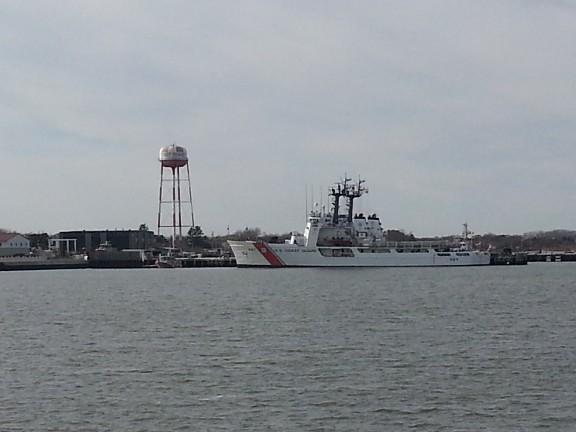 Not a lot of boat traffic out today… not even commercial fishing boats… saw TowBoatUS towing a small boat back into Cape May as re approached the inlet… and some dredge work boats in the Cape May Inlet… guess it was just too cold today.
We arrived to Cape May, NJ at approximately 1115 and stopped at the Miss Chris Marina for fuel. It is located about a quarter of a mile up the Spicer Creek Canal just west of the high rise bridge on the Cape May Canal. Price was pretty good for diesel at $3.59 per gallon and this was with the 10 cents per gallon BoatUS discount. We took on 1,033.8 gallons… took an hour and we had a hose in each tank…. Slow pumps. We were back underway at approximately 1230.
Seas on Delaware Bay were 1-2 feet from Cape May to our destination for the night in Greenwich, NJ… overall a very pleasant day of cruising with sunshine all day and a beautiful sunset… just way too COLD!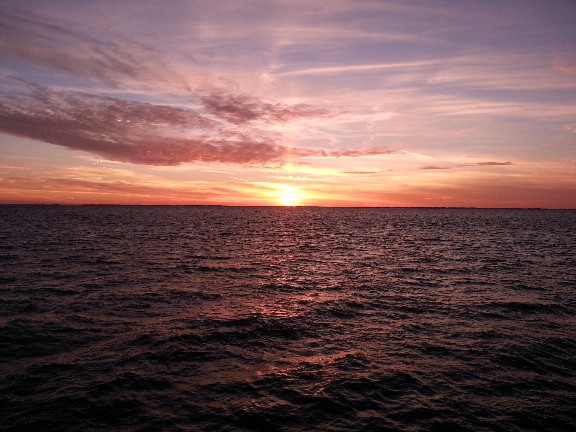 We arrived to the Cohansey River and proceeded up it toward Greenwich, NJ… about 4 nautical miles and you twist around like a snake… we arrived to Hancock Harbor Marina at approximately 1800 and docked… we had just secured the lines and was greeted by I assume was the dockmaster… he informed us of the rates and said there was no power or water… no water we expected but we really wanted power. He suggested we try Greenwich Marina as he was sure we would be able to get power there… so we tossed the dock lines and headed toward Greenwich Marina. We have stayed there before so I was sure there would not be an issue with power as long as there was space. We arrived and the t-head was totally open and we were docked and secure by 1830… and we plugged into 50 amp power… heat tonight!
Our approximate location for the night… N39°23.008', W075° 29.993'. We had traveled for 12 hours (deducted 1 hour fuel stop) covering 75.5 nautical miles averaging 6.3 knots.