CT to FL Day 9
North Beach, MD to Deltaville, VA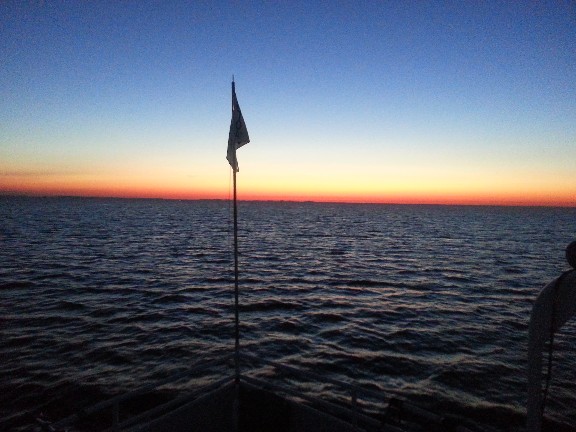 We departed from Herrington Harbor South Marina at 0600 and headed out toward the bay. the forecast for the day was NW winds 5-10 knots with 1-2 seas. The sky prior to sunrise was absolutely gorgeous... the sky lit up in the deepest orange to deep blue... awesome!
Today boat traffic was 5 times what we had seen so far on the trip... watermen, charter fishing boats and small recreational fishing boats. They were all over. From listening to the chatter on the radio it appears they were fishing for strippers and rockfish and they were catching them from what we overheard on the VHF. Also, met one large car carrier head-to-head... they are huge!
The absolute best part of the whole day was the current... we had a boost of speed the entire day... 7.2 to 8.1 knots... I love when this happens... we always try to depart so take advantage of the current but rarely do you have favorable currents all day.
Plans for the night were to go to Deltaville, VA and stay at Dozier's Regatta Point Marina. We called them early afternoon to make sure there was space... out of season but you never know... anyway, they had room and we reserved a slip for the night.
We arrived to Deltaville as anticipated at approximately 1630 just before sunset... The marina instructed us to dock on the outside face dock in front of a Grand Banks that was already docked. We were secure at the dock at 1645.
Our location for the night is N37°33.602', W076°18.804'. We traveled for 10.75 hours covering 78.2 nautical miles averaging 7.3 knots.