FL to CT Day 16
Carolina Beach, NC to Swansboro, NC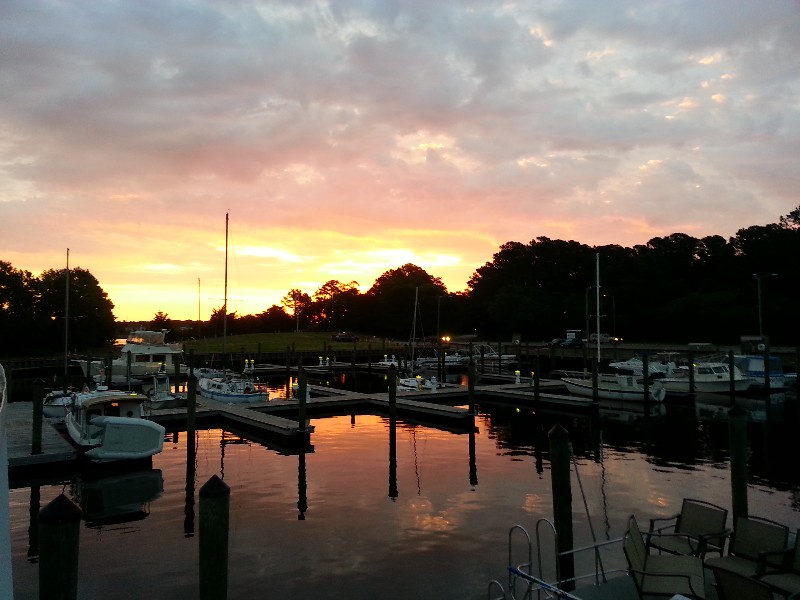 Since are position is now approximately 300 nautical miles east of Punta Gorda where we started sunrise is now about 45 minutes earlier so the alarm time has been changed to 0530. Susan and Beecha are not real happy about the new time but it was a compromise… I wanted to change it to 0500 and compromised to the 0530 to keep everyone happy. So alarm went off this morning at 0530… no snooze button... up and getting ready to go.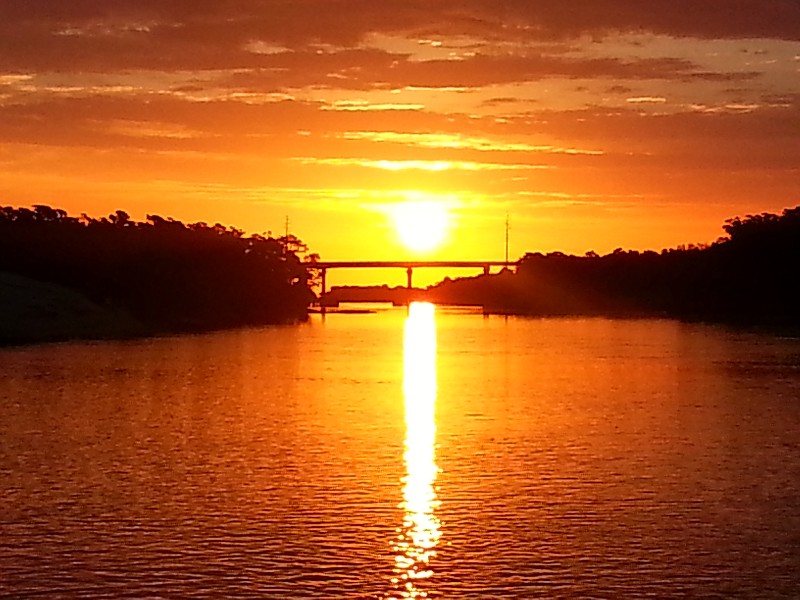 At 0630 we were underway from Carolina Beach State Park Marina and it was to an awesome sunrise… couple of photos… one at the dock as we left and another 10 minutes later heading up Snow's Cut. Absolutely beautiful!!!!
The area we transit today we have named bridges from hell day… have four bridges to deal with… the Wrightsville Beach, the Figure Eight Island, the Surf City and the Onlsow Beach bridges. We actually had great luck with all but the last bridge. The Opening schedule for the first three are such that we can't go fast enough to make the openings between bridges so you have to slow down to a snail's pace or sit and wait at the bridge. Today was different. We arrived at the Wrightsville Beach Bridge at low tide. It has a 19' clearance but with 3 foot drop in tide gave us 22'… again at the Figure Eight Bridge low enough tide to give us 24' clearance. We then were set up perfectly with a 6.5 knot speed to make the Surf City Bridge at it's only on the hour opening. We arrived to it for its 1300 opening and to find 7 other boats sitting and waiting for the opening. The four power boats had all passed us… I guess people do not check the opening times and when they will arrive and pace themselves and sit and wait at the bridge… some of them close to an hour wait. The only bridge we had to change our pace for was the Onlsow Beach Bridge… we arrived sooner than anticipated due to current boosting our speed and slowed down for the last few miles to arrive just at the bridges scheduled opening time.
For years in this area we would stop at a dock and dine restaurant in Swansboro. Just over a year ago the city of Swansboro put a town dock in as an extension of the restaurant dock and started charging for dockage. The rate was higher than the adjacent Casper's Marina so we have stopped at Caspers the last couple of trips. We would always visit with some really good friends that live here… Frank and Chris Erwin… our timing was off this trip and they were out of town. We needed to make a grocery run and nothing was within walking distance so checking we found that Dudley's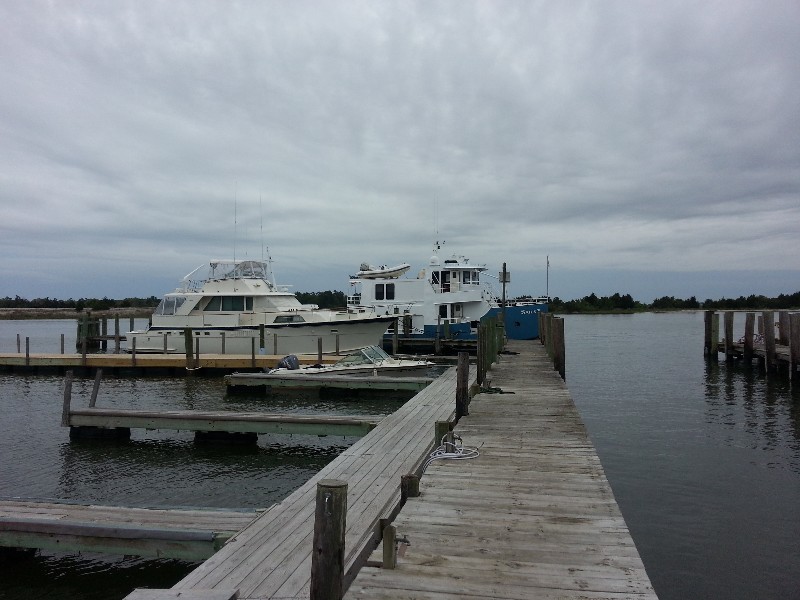 Marina had a courtesy car available for use. So Dudley's Marina was our stop for the today.
We arrived to our Dudley's for the night at 1530 and were securely docked with power on at 1745. Our position at the marina
N34°40.808', W077°06.739'
. We traveled today for 9 hours covering 59.2 nautical miles averaging 6.6 knots.