CT to FL Day 45
Fort Myers, FL to Punta Gorda, FL

This morning the alarm did not wake us... it was the sudden onset of wind and rain... wind started blowing and then it the sky let loose with the heaviest rain we have seen the entire trip south.
We debated on staying at the marina another day due to the rain and wind but checking the foreast the rain would soon be over... the wind was to be with us all day... NW 20-25 knots with gusts to 30 knots... not the best but doable... we decided to leave as soon as it quit raining.
Rain stopped around 0700 and we were away from the dock at 0730 heading down the Caloosahatchee River with a very favorable current pushing us to almost 9 knots in several places... but we knew it would not last... soon we would turn to head up Pine Island Sound and we would have this same current pushing us now against us.
With the windy conditions I was surprised to see as much boat traffic as we did... several small boats zipped past us and a lot of anchored small boats that were fishing.
On Pine Island Sound the current was slowing us to between 5 and 6 knots... the 25 knots winds on our bow were probably also contributing to the slow down... Seas were 2 feet in a short chop... not an uncomfortable ride but a wet one with the winds blowing spray up as high as the pilothouse windows.
We reached Boca Grand Pass and turned up Charlotte Harbor and once again had current pushing us again... not 9 knots but a good push... waves were now around 2-3 feet on our port side... still not uncomfortable but no longer getting the spray on the pilothouse windows. The favorable current slowly dissipated as we got closer to Punta Gorda running at our typical cruising speed for the last hour.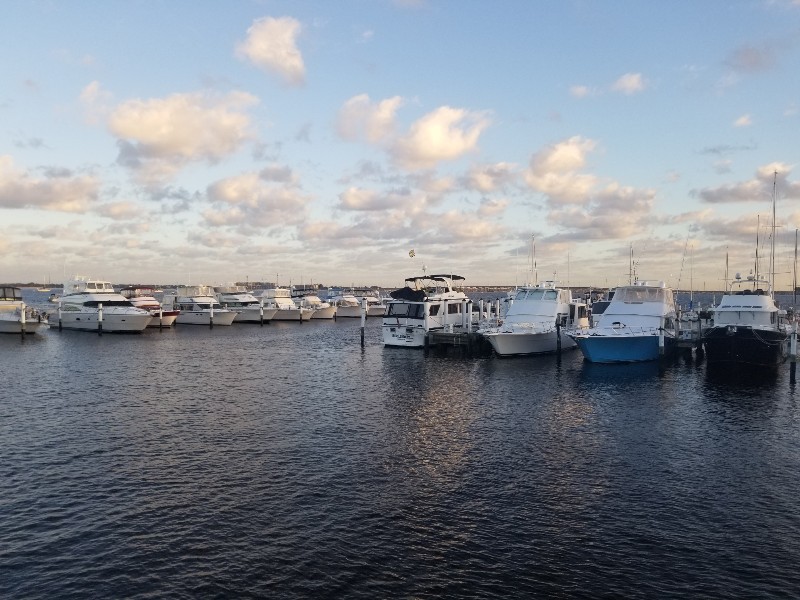 We arrived to Fishermen's Village Marina and were securely docked at 1530... our location for the next month
N26°55.751', W082°03.875'
. We traveled today for 8.0 hours covering 54 nautical miles averaging 6.8 knots.
We were greeted at the dock by several of our good friends... it was great to see them... some of them we had not seen in several years.