FL to CT Day 8
Cocoa, FL to New Smyrna Beach, FL

We had a first time experience while at the docks in Cocoa. Shortly after going to bed at approximately 2230 we had a man knocking on our hull and yelling... "Steel hull... yep... steel hull" We yelled to him that there was people aboard and to please stop knocking on our hull. That just fired him up and he walked up and down the side SAILS rapping on the hull. I asked again to him to stop and he continued. I went to the side deck where he was now standing knocking on the hull and asked him to stop... he continued and yelled to me... so what are you going to do about it... Well, I replied this... I started blasting him with the water hose... he charged at me and jumped onto the side deck... well should better phrase that he stumbled and fell onto the side deck blocking the stream of water from the hose as best he could with his hands... once he got back to his feet.. he started up the steps toward me... I continued to blast him with the hose. He then asked that I stop and quit f...ing with him... I told him I would stop ponce he got off the boat... which he did and I stopped the water... he then marched away saying he was going to call the police... I said please do call them. He hung around for while but in 15-20 minutes he left and we never heard from him or the police that night.
Of course this did make for a very unsettled night... neither of us slept very well and every little noise woke us up... was very interesting though.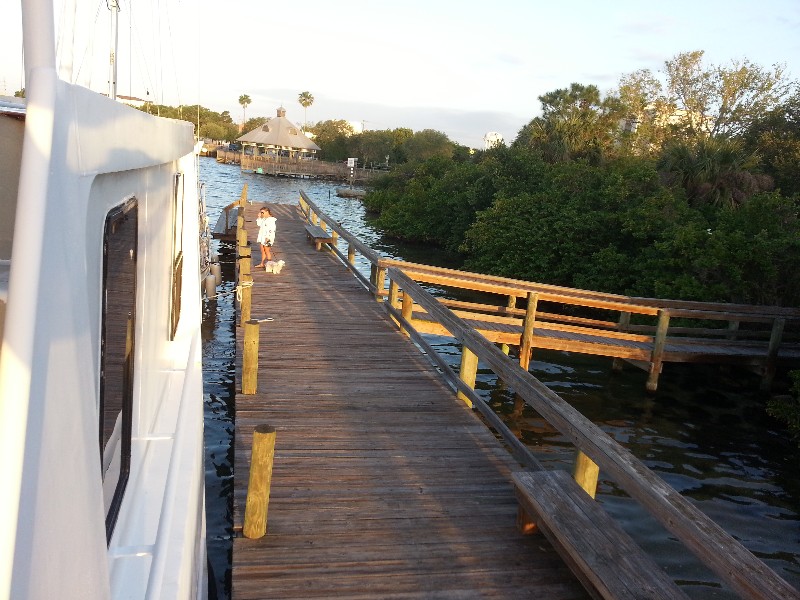 Alarm went off at 0600... way to early after an night like this and we went through the morning routine which basically revolves around feeding and walking Beecha. We departed the docks at 0730 bound for New Smyrna Beach. We had plans to meet Peter and Charlotte Behr there and spend what I sure will be a much better evening than our night at Cocoa.
You could tell it was still the weekend with the number of small pleasure boaters out on the water... and a fair amount of cruisers that you could tell were moving north or south on their boats.
Had to deal with three bridges today... NASA Causeway Bridge, Haulover Canal Bridge and the George Musson Bridge. The first two gave us the third dgree when we hailed and asked for an opening... asking what our air draft was... and if that was with the antennas down... and other similar questions but both finally agreed that we needed an opening. The George Musson Bridge we just arrived at the right time with it already open and passed through with no delay.
We normally go to either the free docks just as you arrive to New Smyrna from the south or anchor in Rockhouse Creek. The free docks were loaded with people fishing, swimming, kayaking, etc... after last night's experience we opted to continue on to Rockhouse Creek. Susan made a phone call to Peter and Charlotte to let them know we had arrived and that we were going to anchor in Rockhouse Creek. Peter informed her that it was full of boats... Peter and Charlotte can see the creek from their lanai... so, plan needed to change...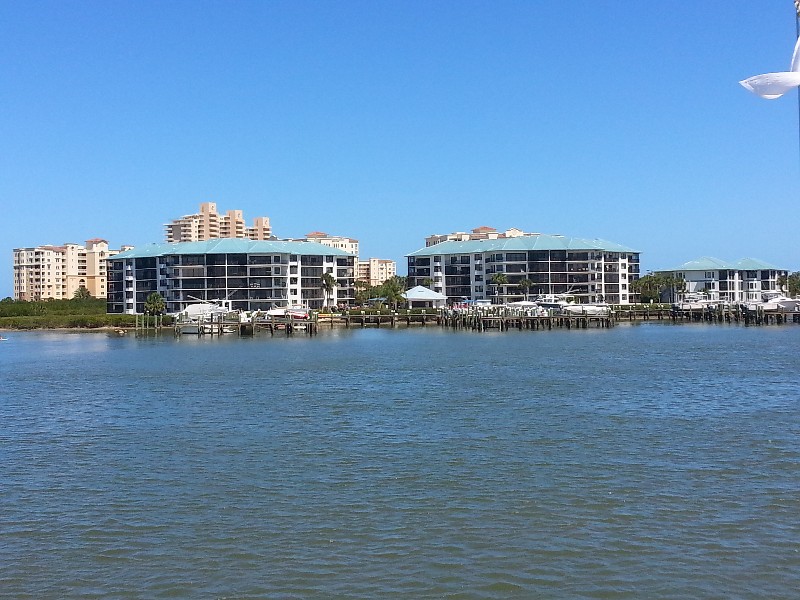 I had seen an anchorage on Active Captain just across from the US Coast Guard station... which happens to also be directly adjacent to Peter and Charlottes home... we decided to give it a try... strong current but good holding were the reviews I read.
We anchored at approximately 1430 at N29°03.691', W080°55.002' just west and outside of the channel. It's a "No Wake" zone so the boat traffic should not be an issue.
We traveled today for 7 hours covering 47.8 nautical miles averaging 6.8 knots.