CT to FL Day 31
Moore Haven, FL to Alva, FL

Last night we had a great time at the restaurant on the marina property... Lightsey's Seafood Restaurant. We took the golf cart (provided by marina) to the restaurant and had a great meal... we did not have seafood... we both had burgers... giant burgers and very very good!
With a short day planned we slept in and Susan prepared a great breakfast for us... normally, breakfast is a muffin, bagel or toast after we get underway... it was nice to have a full breakfast. After a leisurely morning we cast the lines at 1015 and headed west bound for the W.P. Franklin Lock campground. They have boat slips available for use and the price is right... $24 for the night including power.
We again had the boost of speed with us so I reduced the RPM to save some fuel and still cruised at 7 knots... appeared we were getting a 1/2 to 3/4 knot boost in speed...very nice!
We did have a few bridges and one lock to deal with today... about 30 minutes into the day we arrived at the Ortona Lock... took about 30 minutes total to lock through dropping just over 8 feet. Three bridges after this that all required an opening... Labelle Bridge, Fort Denaud Swing Bridge and the Alva Bridge. First tow bridges went smoothly and very little delay at them... the Alva Bridge was slightly different... but it was my own fault for the delay. We arrived and about a 1/4 away I hailed the bridge and asked for an opening... no problems... then another boat hailed and said they were eastbound and just under 1/2 mile away... I then being courteous hailed the bridge back and said I would wait for the eastbound boats to arrive so he would only have to open once for all of us.... my mistake... LOL 15 minutes later the first sailboat arrived... 5 minutes after than the other two boats arrived... the "1/2 mile away" I think was a little off... oh well... that's what I get for being nice... LOL We did not have that far to go anyway and in no rush... no harm done.
We arrived to Franklin lock at approximately 1445 and docked in slip B08... this is an outside slip and really the only one we can fit in... all the others we take up two slips. Our location for the night N26°43.384', W081°41.445'. We traveled today for 4.5 hours covering 27.7 nautical miles averaging 6.2 knots.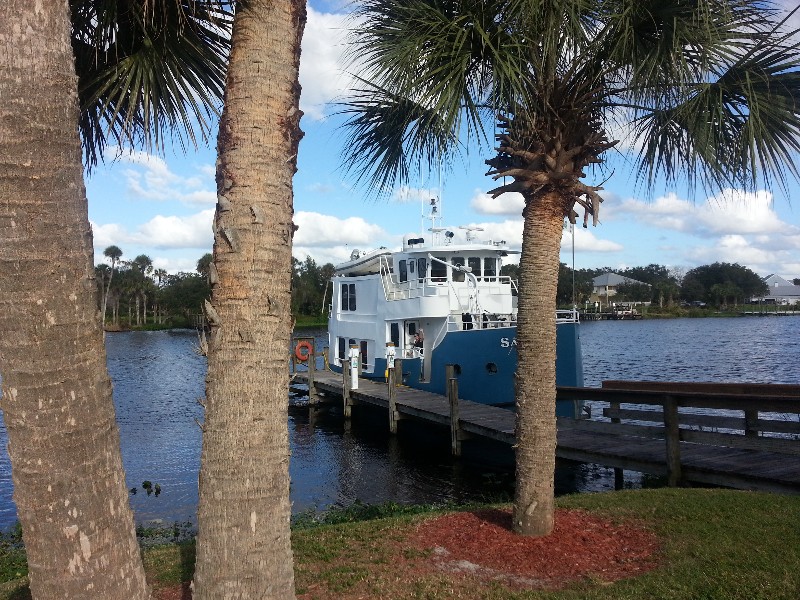 At the dock beside us was a small sailboat... 25 foot I am guessing... they had one of those wind scoops setup to direct wind into the cabin of the boat... after we docked... NO MORE WIND for them... and they were a little upset... giving us unfriendly glaring looks when they saw us... anyway, they soon were removing dock lines and moving to a "windier" location several slips away from us.


Posted at 10:11 AM by:
Jay