CT to FL Day 15
Oriental, NC to Swansboro, NC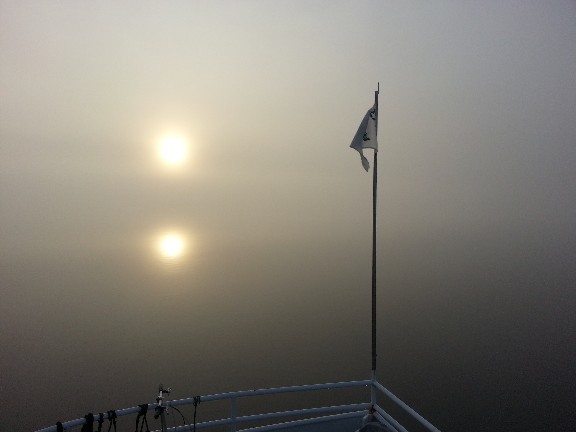 Forecast today was for dense fog until 0900 so we decided to leave after sunrise and only deal with the fog and not darkness and fog. Being inland as far as we were... the winds did not really make a difference, but they were forecast for 5-10 knots.
After walking Beecha we departed from Whittaker Pointe Marina at 0730 and proceeded slowly out of the channel. This channel is really shallow... quite a few places the depth sounder stopped working... flashing LAST READING... 5.0... so we took it nice and slow and we were back into the Neuse River and 15 plus feet of water...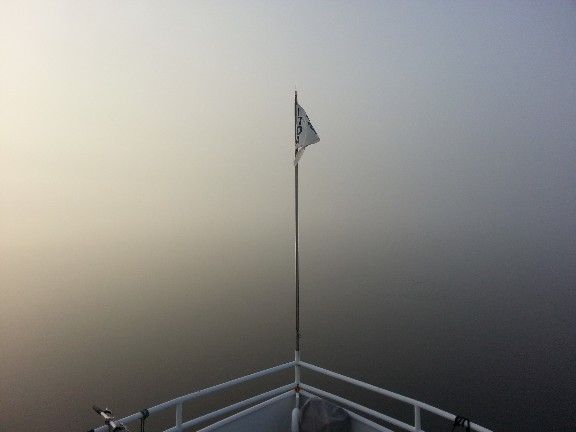 brought SAILS up to RPM and soon we were doing 6.9 knots... this is the speed we should be running at 2500 RPM with no current or wind effecting us... so we were happy with this speed.
We crossed the Neuse River and entered Adams Creek... Fog still dense as it was at 0730... but you could now see the blue sky above us... the fog was lying just above the water maybe 200-300 above the surface and then you had clear skies... but at our level it was really thick and visibility was about 100 yards at best. I never saw the day markers for the entrance to Adams Creek... only on radar and the chartplotter.
About an hour into the creek the fog disappeared... not sure if it was the sun burning it off or just the location but was glad it was gone. Now the only issue was that we had started getting a current against us... soon we were down to 4.5 knots. The flood tide was still running from the inlet at Moorhead City... it was due to switch around to an ebb tide as we approached so we would get a boost of speed as we got closer to the inlet.
Right before the inlet at Moorhead City we started to get a boost of speed and were soon running 7.5 knots plus... we kept this boost all the way through Bogue Sound. We also got the fog back in Bogue Sound... not as thick as earlier but less than 1/8 mile visibility. As we reached the southwest end of Bogue Sound the fog was gone again... and we also started getting even more of boost in speed as we approached Bogue Inlet in Swansboro.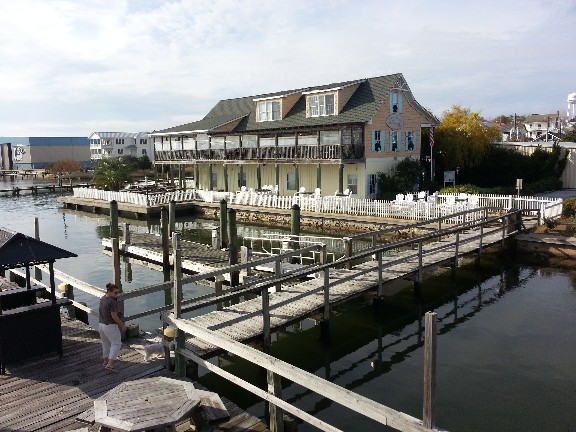 We hit 9 knots just before the inlet and as we crossed the brakes came on as the current switched from on our stern to on our bow and we were back down to 5.5 knots... CRAZY!
We arrived to our destination... The Saltwater Grill in Swansboro, NC at 1345 and tied to their docks. We would eat dinner in the restaurant. This dock is a free dock and dine stop.
We traveled today for 6.25 hours covering 43 nautical miles averaging 6.9 knots. We are located at N34?41.175', W077?07.162'.