CT to FL Day 16
Swansboro, NC to Carolina Beach, NC

Last night we went to dinner at the Saltwater Grill where we were docked and was pleasantly surprised to find out that there was going to be live music. The duo was quite talented... "Wild Honey" was their name and we really enjoyed listening to them perform. They were also very friendly and we really enjoyed talking with them between songs. It was not a huge crowd but those that came were also very friendly and I think we left with some new friends. We look forward to stopping here in the spring of 2014 and hopefully get to see all of our new friends.
We departed this morning at 0645 and spent the day with "yo-yo" currents as we passed inlets along the ICW... 4.5 knot to over 8 knots back and forth all day.
Today we also had several bridges to contend with... Onslow Beach, Surf City, Figure Eight and Wrightsville Beach bridges. They open at various times... Onslow every 30 minutes so it was an easy one to make it... then Surf City opens only on the top of the hour... the current gods were good to us and we were able to make the bridge at it's 1100 opening... the Figure Eight bridge we are able to clear without an opening as long as we are at the right tide level... today we were and slipped under it without a problem. The Wrightsville bridge we can clear at mid tide or lower and we arrived to it planning to go under without an opening but we found a work barge in place under the bridge taking up half the width of the channel. IN order to clear we need to pass under dead center of the span... that was not happening today... luckily we arrived just a few minutes before there scheduled 1400 opening and we did not have to wait very long at all for the bridge to open for us.
I will say that today was very windy as forecast 15-20 knots with 25 knots gusts... ICW was a little choppy in places but nothing to worry about. It was quite a bit warmer today with temps into the 70's in the afternoon and the boat traffic was like we back into the summer... tons of people out on the water. Several boats... all sail... traveling south as well.
From here it's not far to our planned destination for the night... Carolina Beach State Park at the south end of Snow's Cut.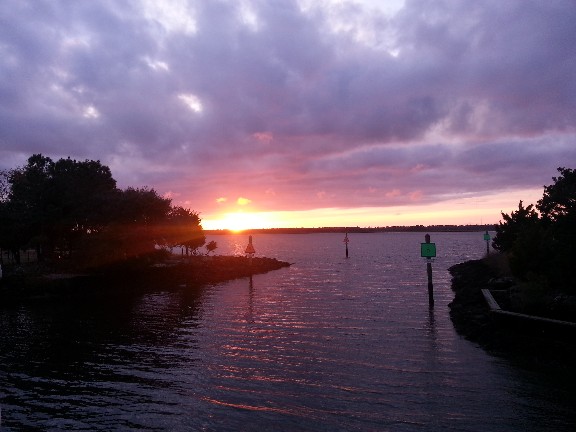 We did have to travel this last stretch at low tide and it's very shallow in a lot of places... SAILS hates shallow water and especially side shoals just off the side of the channel... so not auto pilot for this stretch... manual steering.
We arrived to Carolina Beach State Park Marina and were securely docked at 1615. We traveled for 9.5 hours today covering 58.8 nautical miles averaging 6.2 knots. Our location is N34°03.016', W077°55.150'.