CT to FL Day 17
Carolina Beach, NC to Bucksport, SC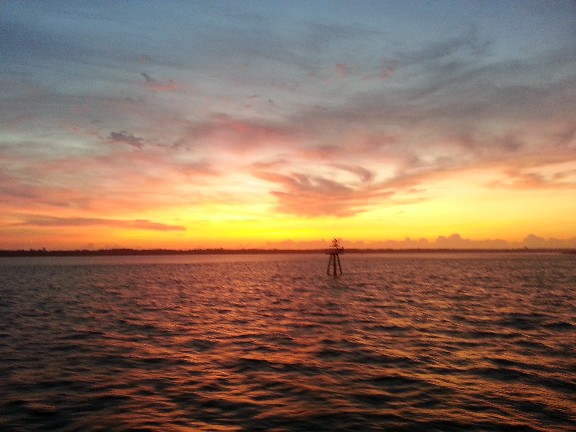 We departed from Carolina Beach this morning at 0630 and headed out toward the ICW... maybe a 1000 yards at best out the channel. This first leg of the ICW is basically the Cape Fear River and really need to plan to have this leg with current running with you... otherwise you can be slowed down to 3-4 knots fighting against the current. Today I had hoped to leave by 0600 so we would have the current in our favor for the entire length of the river down to Southport... however, we got away about 30 minutes late and we did suffer for it... made it about two thirds of the way down the river and we started to slow down... running 8.5 knots to begin with and down to 5 knots before we turned up the ICW at Southport. Then we immediately got the boost back and running 8 knots again. But, we had the "yo-yo" effect today due to the various inlets we would pass... but overall I think we had more favorable current.
As we passed Southport we were hailed by Robert Creech... he lives there and is the MTOA port captain for the area. Not sure how but he never seems to miss us as we pass and always hails to chat on the VHF with us.
Today the weather was forecast for high winds...20-25 knots and rain... we got it all... rain actually did not start until after we had passed Southport but once it started it did not seem to stop... and it turned COLD again... missed the 70's we had yesterday.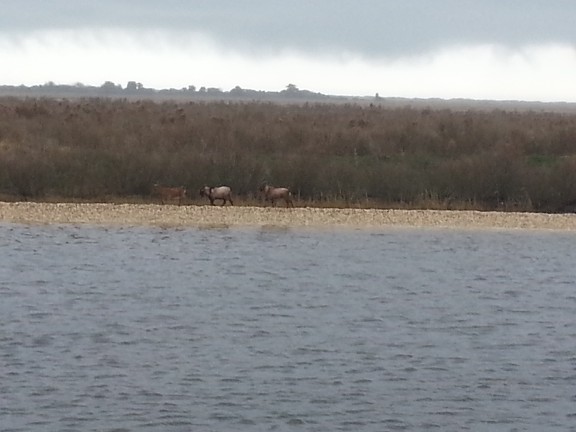 We did see one odd thing just past Southport... out in the middle of nowhere there were three goats just strolling along the side of the ICW... as we approached they started to move away until they saw me come out of the pilothouse with the camera... then they stopped as if they were posing for me... LOL soon, as I snapped the photo they disappeared into the marsh grass.
Very little boat traffic today...a couple of sailboats as we passed through Little River area and some small fishing boats... oh we did have the two gambling boats pass us heading out to sea at the Little River Inlet... "Big M Casino" and the "Jacks or Better".
Bridges were no problem... Little River Swing Bridge opened promptly which is unusual... and the Socastee Bridge also opened promptly for us... nice when you do not have to wait on bridge openings... of course both bridges are on demand which helps.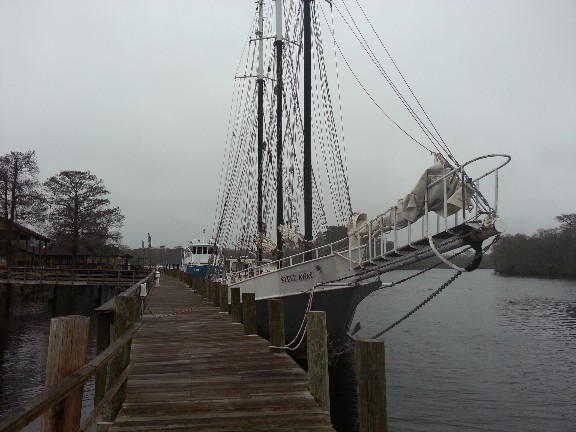 We arrived to our destination for the night at approximately 1630 and tied up behind a large three masted sailing vessel named "Steel Away"... all steel hull very large... maybe 70 feet... was pretty cool.
This stop we also always buy some sausage... they have the best sausage around... at least I think so... Susan does not care for it. and we made it just in time before they closed at 1700.
Today we traveled for 10 hours covering 70 nautical miles averaging 7.0 knots. Our approximate location for the night is N33°39.041', W079°05.671'.