SC to CT Day 1
Little River, SC to Carolina Beach, NC

Awake at 0600 with a busy morning prepping to leave... stowing all the last minute items... top off water tanks... which took forever... should have done that yesterday but did not realize we were as low as we were. Finally at 0800we were ready to depart... disconnected shore powder and tossed the dock lines and underway at 0815.
Two bridges to contend with today... Socastee Swing Bridge and Little River Swing Bridge... at both we arrived just in time for an opening with virtually no wait... passed the local TowBoatUS at the Little River Swing Bridge... lots of boat traffic for a Monday... a few cruisers but mostly small local boats and wave runners... all making enough wake to just be annoying.
It was nice to pass through two trouble spots (shoaling) with no issues at all... both Shallotes Inlet and Lockwoods Folly had both been dredged... saw nothing less that 14ft at low tide... very nice compared to the 2020 trip south.
Had favorable current for the most of the day until we reached the Cape Fear River... about 2 knots on our bow slowing us to just over 5 knots... then the wind picked up... totally not forecast for today... 25 knots steady and gusting to over 30 knots... did not produce any wave action but just one of those annoying things.
We had planned to go to Wrightsville, Beach today, but with the current against us it would have had arriving after sunset .... so, we opted to stop in Carolina Beach... made a reservation for mooring ball via Dockwa.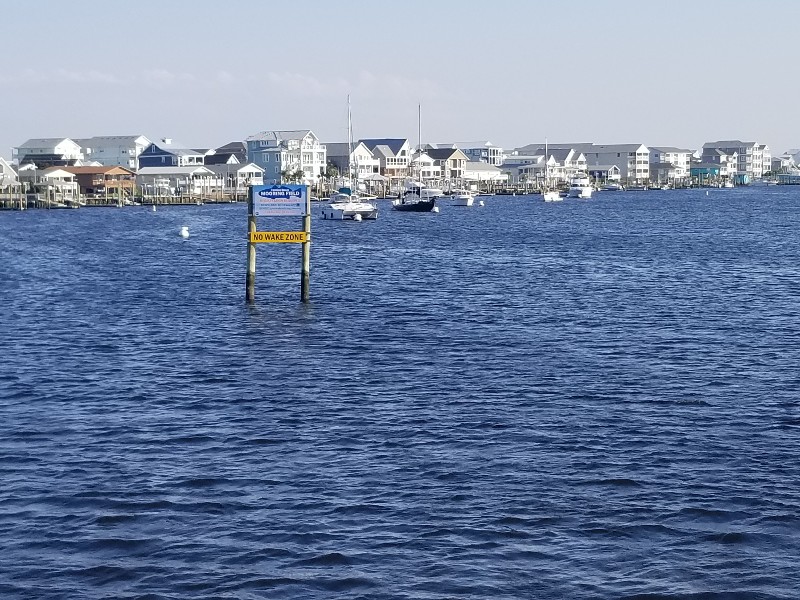 We arrived to the mooring field at 1810 and were securely moored by 1815. Our location for the night at
N34°02.844', W077°53.385'
. We traveled today for 10 hours covering 68.7 nautical miles averaging 6.8 knots.
Susan, Lily and Herman out on the bow watching me secure the mooring ball.