CT to FL Day 28
Palm Coast, FL to New Smyrna Beach, FL

Not having far to go today we made an attempt to sleep in and no alarms set. Didn't work and we were both wide awake at 0500. The weather was total crap outside. Raining and very windy. I go up and checked the wind gauge and it was reading 25 knots and gusting to 30 knots and we were in a protected basin. YUCKY DAY!
In spite of the weather we departed at 0900 bound for New Smyrna Beach. I had to roll SAILS off the dock against a piling and back out with north wind forcing against the dock. The winds did whip up the ICW a bit producing 2-3 waves in some areas but nothing worse. The biggest thing I saw was the wind was making the tide a couple of feet higher than normal and we had to request an opening for the Main Street and Memorial bridges in Daytona. Normally, we can drop the antennas and mast and slip under these but today there was no slipping under them.
Had some boat traffic today pass us heading south.... Two large 100 foot plus motor yachts one with a Miami hailing port and the other Fort Lauderdale.... One from Miami was a jerk and waked us big time as he passed... Fort Lauderdale boat was very courteous and slipped by without rocking us.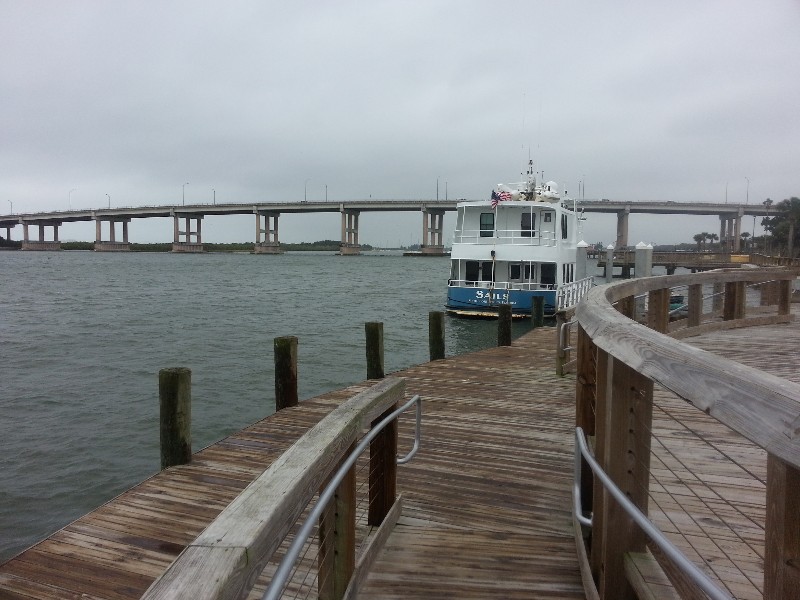 We arrived to our destination in New Smyrna Beach at 1445 at
N29°01.527', W080°55.154'
. We traveled today for 5.75 hours covering 40 nautical miles averaging 7.0 knots.