CT to FL Day 21
Swansboro, NC to Carolina Beach, NC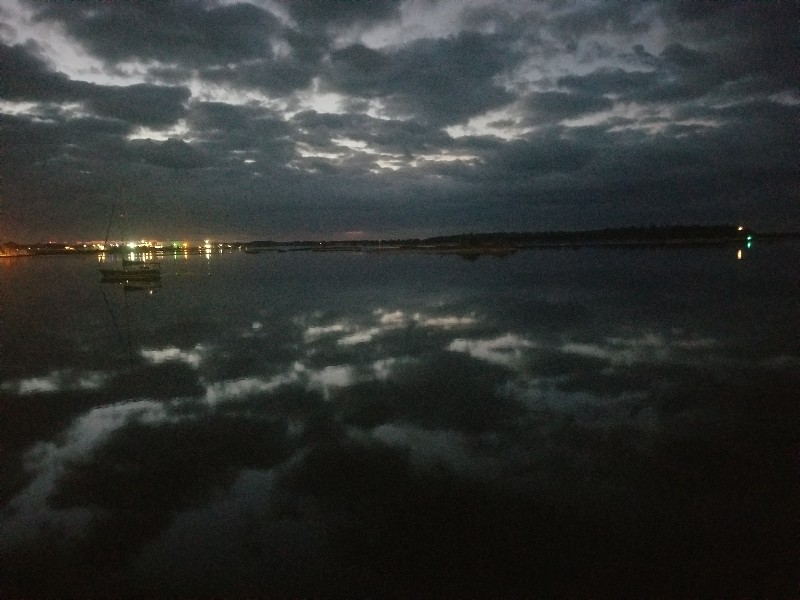 We departed from Swansboro Town Docks this morning at 0730... destination planned for today Carolina Beach State Park Marina... water when I got up was like a mirror reflecting the clouds in the sky... was pretty cool looking.
A little longer today that we have been doing... between 8 and 9 hours depending on how the current treats us. No wind to speak of and tons of small recreation boats... you would of thought it was Saturday or Sunday... not a week day... weekends when they come out in swarms... We'll have that tomorrow and probably much worse than today since it will be warmer in the 70's.
We really only had current in our favor a couple of times... speeds today from 5.7 to 8.5 knots... we have 4 bridges we deal with in this leg of our trip... Onslow Beach Bridge at Camp Lejeune... I planned for 2 hours to make the bridge using our average speed of 6.5 knots... of course this was one of the spots we had a favorable current and arrived 15 minutes early and had to wait for the opening... no big deal... The next bridge is the Surf City bridge which is now a high rise so no problems with it... the next bridge is the Figure Eight Bridge... clearance 21 ft... we can clear this bridge without an opening with antennas and mast down... today we arrived at high tide and the bridge clearance board was right on 21 ft... we slowed to idle and cleared by maybe 2-3 inches... That sure makes your heart rate race... last bridge is the Wrightsville Beach Bridge that only opens on the hour... Chartplotter said we would arrive at 1402... 2 minutes late but we had a sailboat already waiting at the bridge missing the 1300 opening and a power boat that raced past us after the Figure Eight Bridge... they would be sitting there waiting for the 1400 as well... so being 2 minutes late would not be an issue... and it was not... in fact we went through the bridge opening first... sailboat and power boat were hanging way back and not moving... they slowly trailed in behind us... we could of been 15 minutes late and still made the opening.
We arrived to our destination Carolina Beach State Park Marina docked at the head of A dock. We were secure at the dock at approximately 1600. Our position tonight is
N34°03.017', W077°55.153'
. We traveled today for 9 hours covering 58.8 nautical miles averaging 6.5 knots.