CT to FL Day 15
Hampton, VA to Great Bridge, VA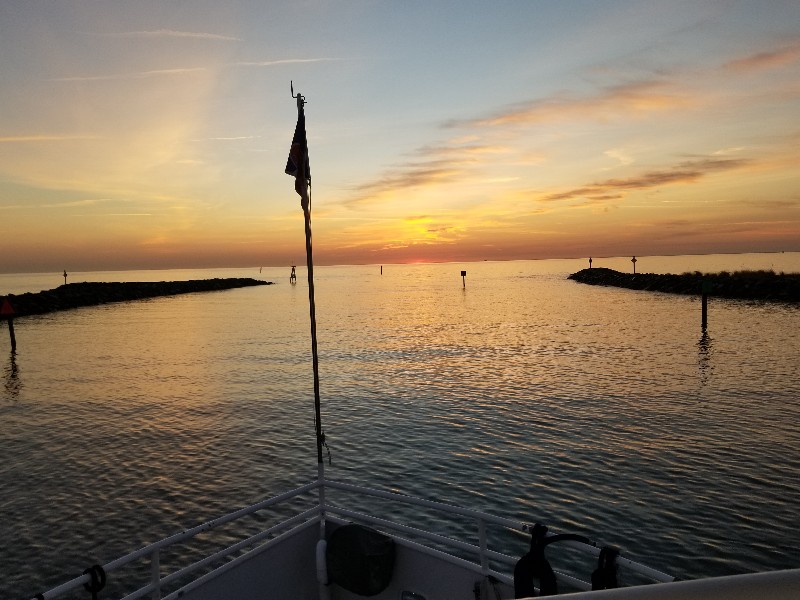 We left Salt Ponds this morning at 0700 just before sunrise... we had a bit of current against us but it changed to a very favorable current one we reached Old Point Comport... 8 knots plus for over an hour... loosing the big push when we reached Hospital Point... but we still had a good push running over 7.5 knots.
Just as we passed Tidewater Marina we met face to face with a 980ft ship being escorted out by two huge tractor tugs... we passed port-to-port... felt like a tight squeeze but we actually had room to spare... it's just way too close to a moving ship that large...


We were lucky and made it through the Gilmerton and Southern Railroad Bridge #7... as we were under the Gilmerton the green light to proceed under the railroad bridge started blinking RED and on the VHF broadcast started... Southern Railroad Bridge #7 will be closing momentarily... a few minutes later and we would of been stuck there for who know how long.

Arrived to Great Bridge Lock at 1030 perfect for the 1100 opening of the Great Bridge Bridge... locked through in 15 minutes and waited 15 minutes for the bridge.


We arrived to the free docks just past the Great Bridge Bridge at approximately 1115. Our position tonight is N36°43.245', W076°14.242'. We traveled today for 4.25 hours covering 26.14 nautical miles averaging 6.15 knots.


Posted at 12:06 PM by:
Jay