CT to FL Day 4
Cape May, NJ to Chesapeake City. MD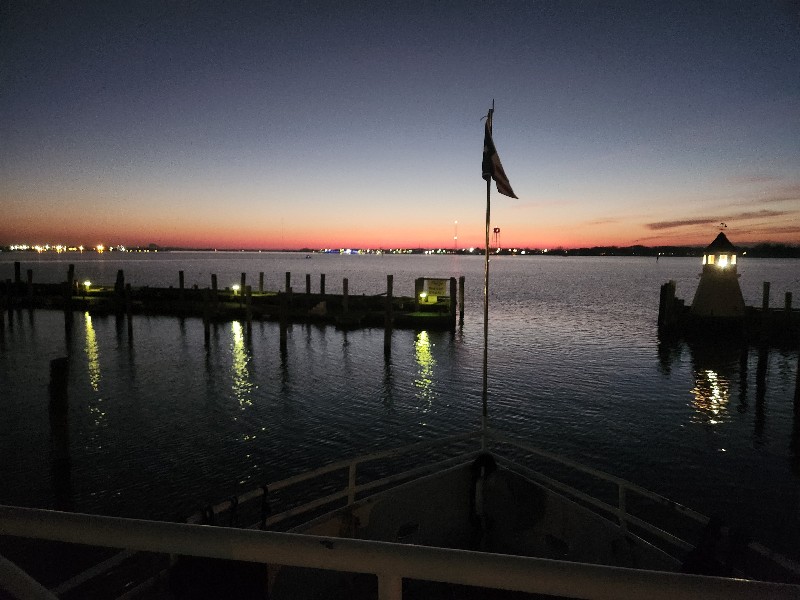 We left from Cape May this morning just before sunrise at 0615... quite a bit warmer this morning than what it has been... 39 degrees and a bit foggy.
The general rule of thumb for this leg is to leave 2 hours after low tide in Cape May and you will carry a favorable current up Delaware Bay and through the C&D Canal... low tide was at 0100 so that meant we should have left at 0300.... NOT!!! We were not getting up that early after running 12 hours yesterday.
I woke up at 0500 and prepped SAILS to leave... basically, an engine room check of fluids and add as needed... Was ready to leave at 0600 but there were a lot of charter fishing boats heading out... must of been half a dozen... every time I would start to leave another one would show up... We were finally underway at 0615 leaving Utsch's Marina...


Delaware Bay was very calm with less than 1 foots seas... Once the sun came out the fog burnt off and it was bright and sunny... we had a good boost from the current running at around 7.5 to 8 knots knots.

Our normal route takes across the flats till we reach the Salem Nuclear Power Plant and then we hit the ship channel... the flats are full of crab pots and it's like a slalom course dodging them all... was just not int he mood today so I headed straight out to the ship channel from Cape May.

Once we hit the ship channel the boost from current increased dramatically... we were running 8.5 to just over 9 knots... WOW! a big difference than the flats... going to alter our route and take the ship channel every time... it's a bit longer but the difference speed is incredible.

We reached the C&D Canal and our boost increased again.... running from 9 to 10 knots all the way to Chesapeake City...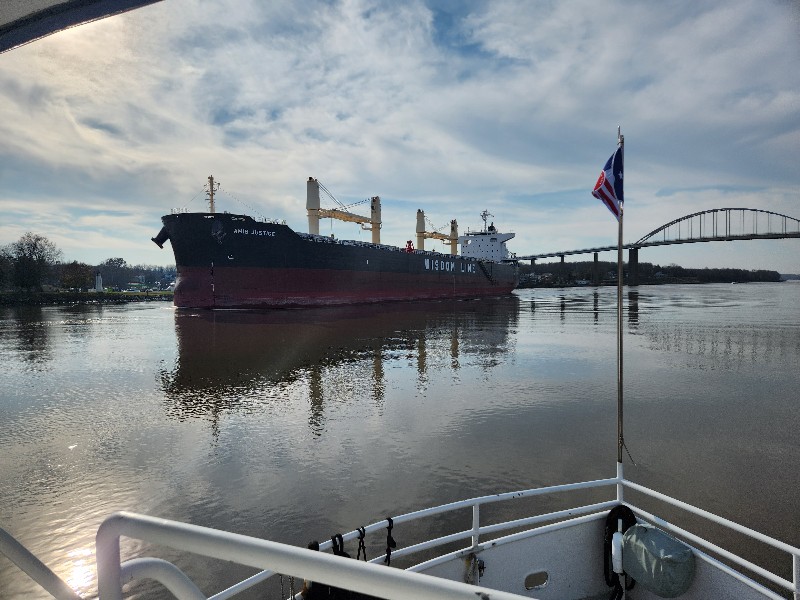 Had a bit of delay at Chesapeake City... had to wait for an 800 ft ship to pass by before we could turn into the basin... a real BIG guy and did not want to turn across his bow...

We arrived to the Chesapeake City Town Dock at approximately 1345 and securely docked with shore power connected at 1400. Our location for the next couple of days N39°31.643', W075°48.663'. We traveled today for 7.75 hours covering 62.6 nautical miles averaging 8.1 knots.

We will be here for 2 days... maybe 3 days... Friday our good friends Cathy and Jim Fisher are coming to visit for the day and I have some maintenance to do on the boat Saturday.


Posted at 3:01 PM


CT to FL Day 3
Atlantic City, NJ to Cape May, NJ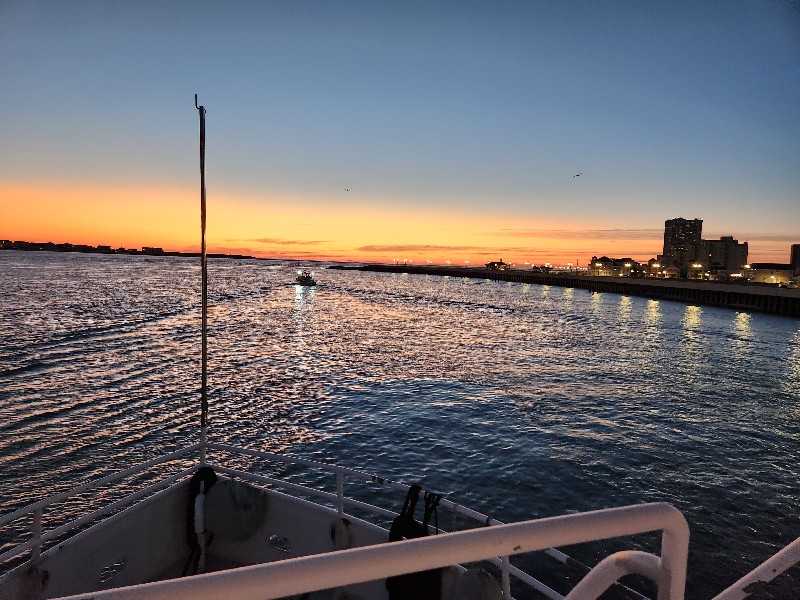 We survived the night in Atlantic City without any hassle being at the "closed" docks...
We were underway early at 0630 just before sunrise... Was still a bit lumpy out from the overnight winds... we decided to run the coastline rather a straight run to have a bit smoother ride.

Have not seen any other boat traffic that appear to be heading south... just the local fishermen... tons of those out on the water.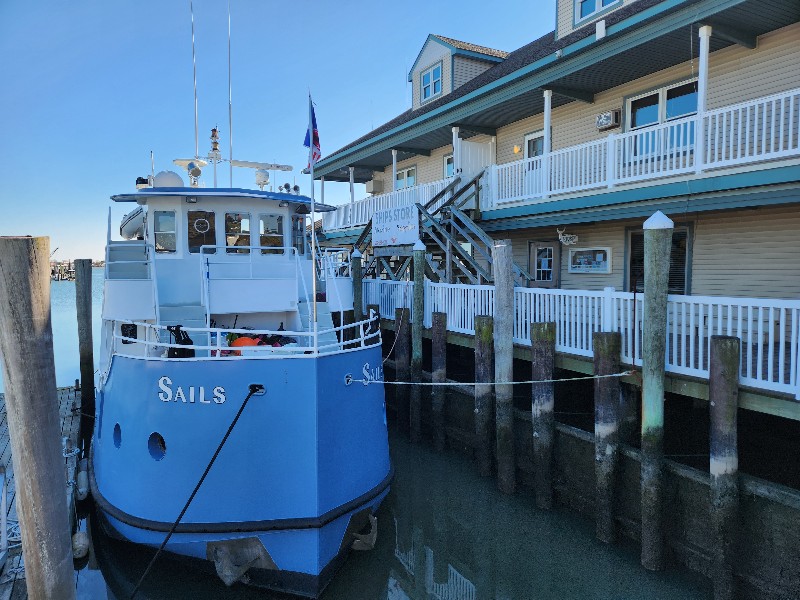 After an uneventful trip down the coast we arrived to our destination for the night... Utsch's Marina in Cape May, NJ... Secure on the dock at 1230... Our location for night N38°57.086', W074°54.381'. We traveled today for 6 hours covering 37.9 nautical miles averaging 6.3 knots.


Posted at 1:05 PM


CT to FL Day 2
Freeport, NY to Atlantic City, NJ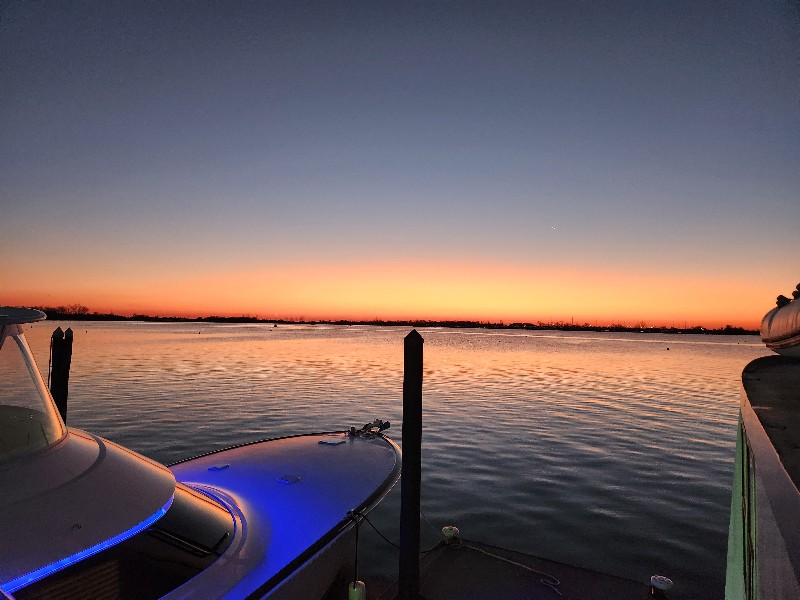 We left Great Kills Harbor this morning at 0645... had calm seas with only a 2 foot swell for most of the day... about 3 hours out from Atlantic City the wind picked up and produced a 2 to 3 foot chop... not the best ride but tolerable.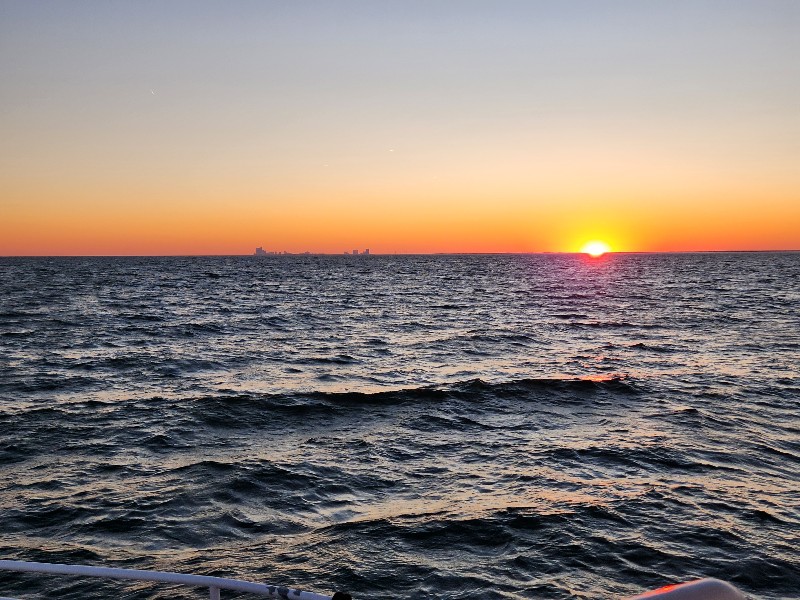 We arrived to Atlantic City at approximately 1845 and found our normal dock was being renovated and closed... signed posted to that effect... work barges and construction equipment on the docks... we did find a space large enough for us to dock behind a work barge... signs posted on the dock said boats will be towed... been a 12 hour day we docked and will be ready to leave if needed... Secure on the dock t 1900... Our location for night
N39°22.566', W074°25.281'
. We traveled today for 12.25 hours covering 84.0 nautical miles averaging 6.9 knots.


Posted at 7:22 PM