FL to CT Day 26
Eastham Creek, NC to Belhaven, NC

After a very windy night and not a lot of sleeping the alarm went off at 0600... which was way too early after the night we had… winds howling at 20 knots plus till about 0300 when they settled to around 10-15 knots. Started pulling the anchor at 0630... the chain was very dirty... the links filled with a mud and sand mixture... mostly mud... so it was very slow retrieving the anchor as I washed the mud from the chain... anchor up and underway at 0700... destination today Dowry Creek Marina... Storm supposed to hit us tonight so we would be safe at a dock.
Very short day... but we had a lot of boat traffic... looking at AIS we had two boats ahead of us and six boats running behind us... and we had several pass us that did not have AIS... all boats appeared as cruiser or delivery crew heading north.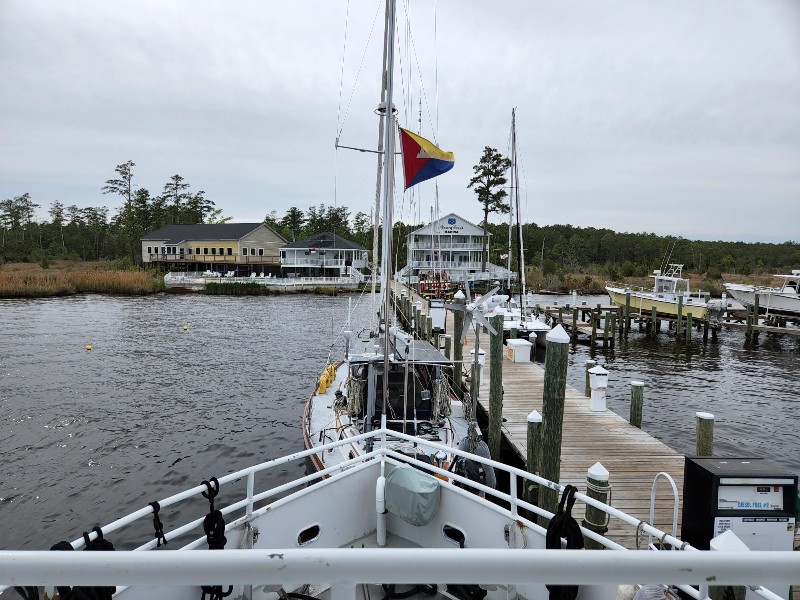 We arrived at Dowry Creek Marina at approximately 0945. We were secured with power at 1000… Our position for the night is
N35°31.962', W076°32.126'
. We traveled today for 3.0 hours covering 19.7 nautical miles averaging 6.6 knots.


Posted at 11:06 AM


FL to CT Day 25
Swansboro, NC to Eastham Creek, NC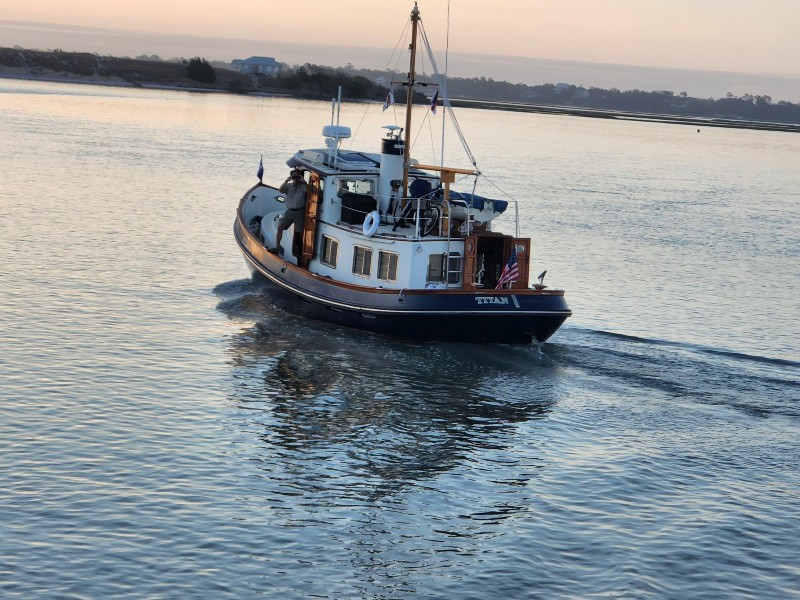 Up early at 0600 to get an early start... want to stop in Oriental, NC... have to get there early to get one of the free docks


We were ready to drop the dock lines when we noticed that our dock neighbor was single handling his boat... asked if he needed any assistance and he did.... The current was ripping... as he backed out the current twisted his boat, and he was jammed by the current between the dock and a piling... it was a bit hairy but he made it out ok... he was on a beautiful Lord Nelson Victory Tug.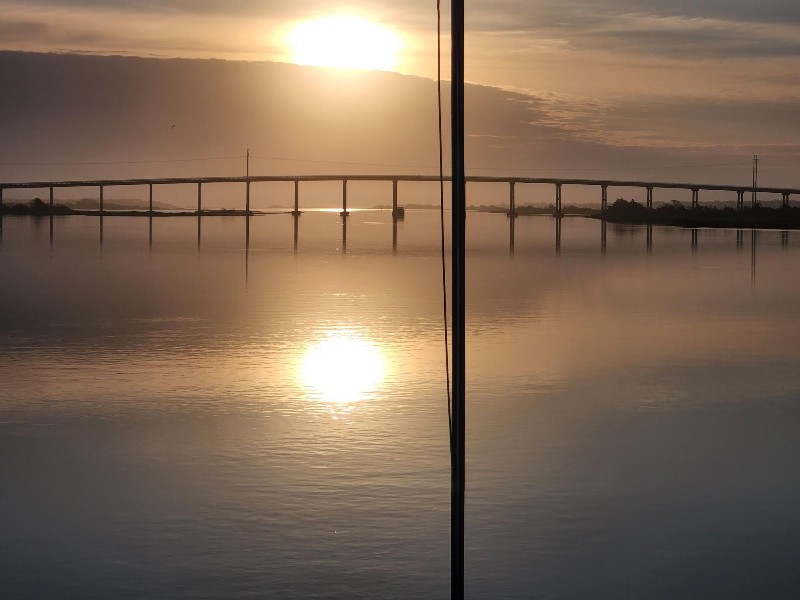 We got away at 0645 and headed back to the ICW bound for Oriental, NC.

Another boat that was at the dock left behind us and soon passed us... giving us quite the wake as he passed... he did not hail us to ask about passing... not a word... just BIG WAKE.... ... about a half hour later we passed him... he was aground looked like he had run outside of the channel... KARMA...

We had the typical day with current yo-yo'ing back and forth... in our favor then against us... a lot of smaller fishing boats out today and of course they all anchor in the center of the channel and expect you to move around them... a few moved as they saw us approaching but most did not.

We were about an hour away from Oriental and I checked the free dock status... they have a harbor cam that you can see the free docks... all the dock had been taken... Hmmm... time for plan B... we did not have one leaving so early we were sure we would get one of the 4 dock spaces... do we anchor in Oriental ??? Continue on to our planned stop for tomorrow (Dowry Creek Marina) ??? or anchor some place further north... we opted to continue on and anchor after we crossed the Neuse River.

We were in the Bay River heading in from the Neuse River and the later afternoon winds kicked in... we started seeing 20 to 25 knot winds with gusts over 30 knots... this was more than forecast but we have come to expect that...

Now to select an anchorage... the anchorage we have stopped in in the past Gale Creek had two boats already anchored there... not really enough room for a third boat... next anchorage was Campbell Creek... when we arrived there was tons of smoke from a fire on land... not stopping and have that smell all night... next anchorage was Eastham Creek... never been anchored here before but we headed in and found a good spot just outside a marked channel that led up the creek... dropped the hook in 7 feet of water... even though we had protection from the wind here it was still fairly windy so I put out extra chain to be sure we stayed put all night... did 10 to 1 scope and monitored our position and how well the anchor was holding... we go a few 30 knot gusts and we drug slightly... probably digging in deeper but to be sure I increased the scope by 25 feet plus the snubber... we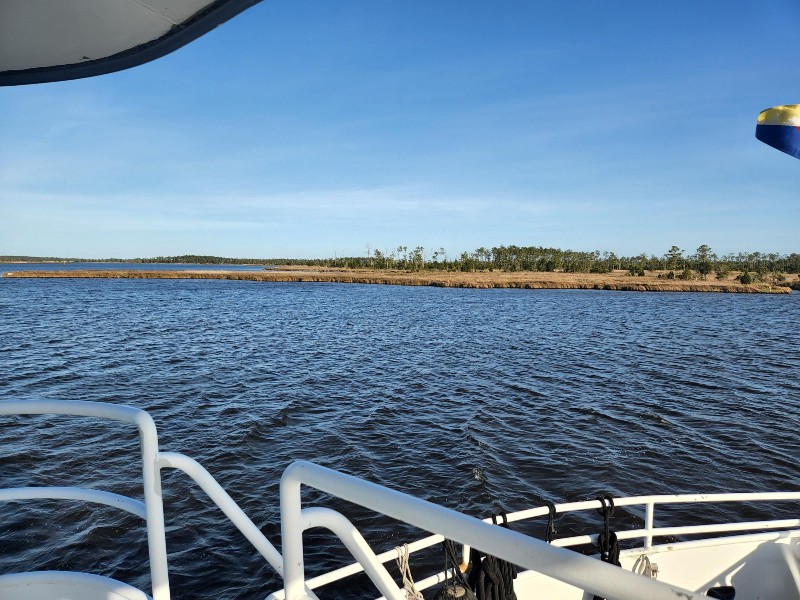 were at just over 16 to 1 scope... monitoring this we holding firm even with a few 30 knot gusts... set the anchor alarm and we were good.

We arrived at Eastham Creek, NC at approximately 1600. We were secured at anchor at 1630... Our position for the night is N35°17.667', W076°36.388'. We traveled today for 9.25 hours covering 64.75 nautical miles averaging 7.0 knots.


Posted at 5:13 PM


FL to CT Day 24
Carolina Beach, NC to Swansboro, NC

We left Carolina Beach Mooring Field at 0715 and headed back to the ICW… destination today Swansboro, NC.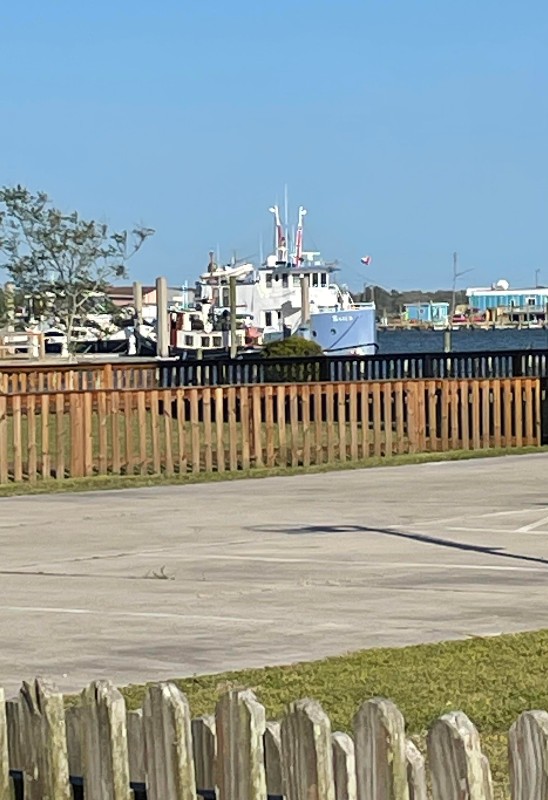 Nothing out of the ordinary to report today… bright and sunny all day with a cool light wind all morning… afternoon the winds picked up gusting to 20 knots.
We arrived at Swansboro, NC Church St Docks at approximately 1600. We were secured to the dock with power connected at 1615… Our position for the night is
N34°41.155', W077°07.162'
. We traveled today for 8.75 hours covering 59.7 nautical miles averaging 6.6 knots.


Posted at 4:35 PM