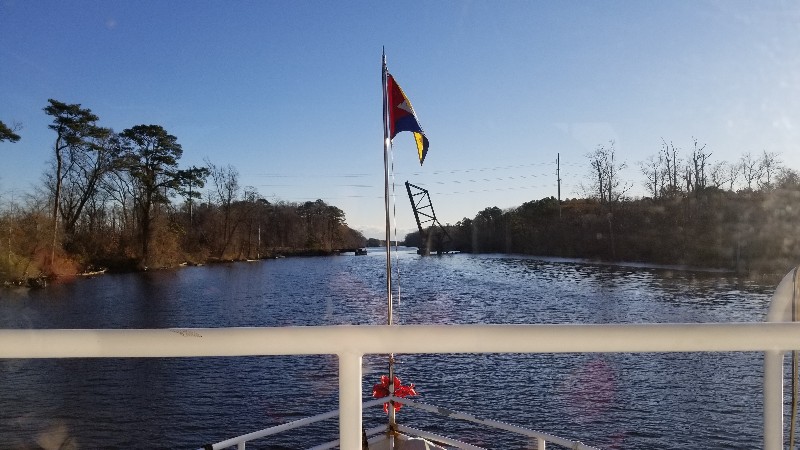 We left Atlantic Yacht Basin at 0800 leaving plenty of time for our first bridge of the day... actually only have two bridges today but they always pose a problem with timing.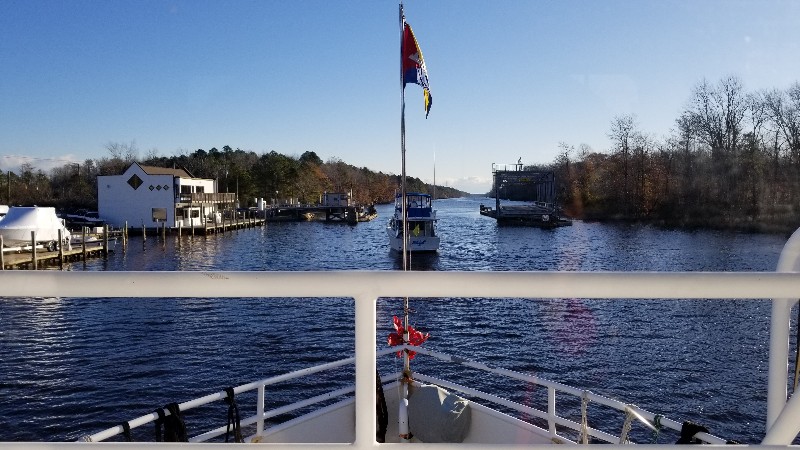 First bridge was the Centerville Turnpike Bridge... no openings between 0630 to 0830... not getting up and underway by 0600 so we left at 0800 to make the 0830 opening... no issues at all... nice slow 4.5 to 5 knots and we were there just before 0830... one power boat ahead of and a sailboat behind us.
Next bridge was the North Landing Bridge approximately 5 nautical miles ahead and it opens on the hour and half hour... so we run at 8 knots plus to make the bridge in 30 minutes at 0900 or we slow to a snails pace and arrive at 0930. We did have the one power boat ahead of us so sometimes you make with the boat ahead taking it's time going through the bridge... which they had done for the Centerville Bridge... so I decided to keep up a good speed running between 7 and 7.5 knots to try and sneak through the opening just a little late... head the boat ahead hailing the bridge for an opening... 7 minutes out from the bridge... I hailed the bridge and informed him that we were pushing as hard as we could to make it the opening and that we were 5 minutes out... received no response back from the bridge tender. I then a hear the boat ahead of thanking the bridge for the opening... I round the bend and the bridge is now 3 minutes away... I hail the bridge tender... no reply... then I see the bridge starting to close... I dropped my speed to idle and we now had 30 minutes to wait till the 0930 opening.
The wind was howling today... 25 knots plus with some higher gusts and it was blowing straight down the stretch before the bridge on our stern... I tried holding station in the wind to wait for the opening but it was becoming a little tedious so I swung SAILS around 180 degrees and headed into the wind and moved slowly away from the bridge which was much easier than trying to hold position at the bridge.
As I headed away the sailboat that was behind us came around the bend and was approaching us... I was over on the starboard side of the channel and I guess our size was intimidating to the sailboat and he moved to the far right side of the channel away from us... then I saw his boat suddenly stop and the bow rose up 8 to 12 inches... he was aground. I continued on past him slowly away from the bridge...winds were now steady at 25 knots on our nose... still gusting over 30 knots.
I was past him maybe 100 yards and he hailed me on the VHF asking if I would help him get ungrounded... I said sorry, not able to help you in these winds... difficult enough to handling my boat... he acknowledged but was not real happy.
I reached the bend in the channel and turned around and headed back toward the bridge... winds subsided slightly only blowing 20 knots now and there sat the sailboat sill aground ahead of us. I hailed him and said I would make one attempt to get him free and to get a line ready... I would come up to his stern with my bow and back away and try to pull him off backwards. We closed in on him slowly and he tossed a stern line to Susan that was on our bow... she secured it to our bow cleat and I backed away... line tightened and started creaking... then he broke free... I drug 200 feet back away from the shallow water and told Susan to toss his line back to him... he was free... 0930.
I hailed the bridge and asked for an opening... we were within 1000 feet of the bridge... he responded with next opening is at 1000... JERK! so we turned around and headed away from the bridge again waiting yet another 30 minutes for the bridge opening.
1000 came and I was approaching the bridge at a pace to arrive at 1000... did not want to try and hold station... just wanted to arrive right on time... I hailed the bridge tender and told him we were approaching the bridge for his 1000 opening... he responded with I was too far away and to bring the boat up to the bridge or he would not open... what a JERK... although, I should have not been surprised at this point. We did make it through at this opening.
Winds were back to over 25 knots gusting a couple of time to 40 knots... We were expecting Currituck Sound to be a little rougher than it was... but to our surprise it was only 1 to 2 ft seas even with the high winds... they were NW and the Sound is pretty shallow in general so guess this helped keep the waves down.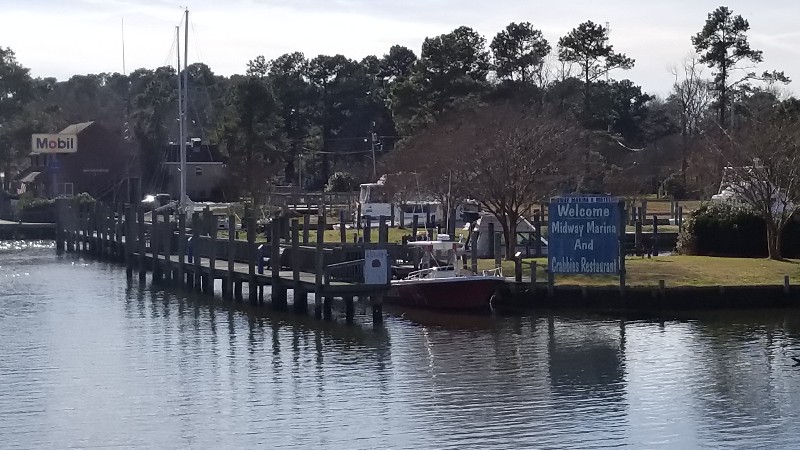 We arrived to our destination for the night in Coinjock, NC.... Midway Marina at approximately 1330 and were securely docked at 1345
36°21.081'N 075°56.868'W
. We traveled today for 5 hours and 45 minutes covering 33.5 nautical miles averaging 5.8 knots. Good average since we spent an hour extra waiting at the North Landing Bridge.