CT to FL Day 16
Swansboro, NC to Carolina Beach, NC

Last night we went to dinner at the Saltwater Grill where we were docked and was pleasantly surprised to find out that there was going to be live music. The duo was quite talented... "Wild Honey" was their name and we really enjoyed listening to them perform. They were also very friendly and we really enjoyed talking with them between songs. It was not a huge crowd but those that came were also very friendly and I think we left with some new friends. We look forward to stopping here in the spring of 2014 and hopefully get to see all of our new friends.
We departed this morning at 0645 and spent the day with "yo-yo" currents as we passed inlets along the ICW... 4.5 knot to over 8 knots back and forth all day.
Today we also had several bridges to contend with... Onslow Beach, Surf City, Figure Eight and Wrightsville Beach bridges. They open at various times... Onslow every 30 minutes so it was an easy one to make it... then Surf City opens only on the top of the hour... the current gods were good to us and we were able to make the bridge at it's 1100 opening... the Figure Eight bridge we are able to clear without an opening as long as we are at the right tide level... today we were and slipped under it without a problem. The Wrightsville bridge we can clear at mid tide or lower and we arrived to it planning to go under without an opening but we found a work barge in place under the bridge taking up half the width of the channel. IN order to clear we need to pass under dead center of the span... that was not happening today... luckily we arrived just a few minutes before there scheduled 1400 opening and we did not have to wait very long at all for the bridge to open for us.
I will say that today was very windy as forecast 15-20 knots with 25 knots gusts... ICW was a little choppy in places but nothing to worry about. It was quite a bit warmer today with temps into the 70's in the afternoon and the boat traffic was like we back into the summer... tons of people out on the water. Several boats... all sail... traveling south as well.
From here it's not far to our planned destination for the night... Carolina Beach State Park at the south end of Snow's Cut.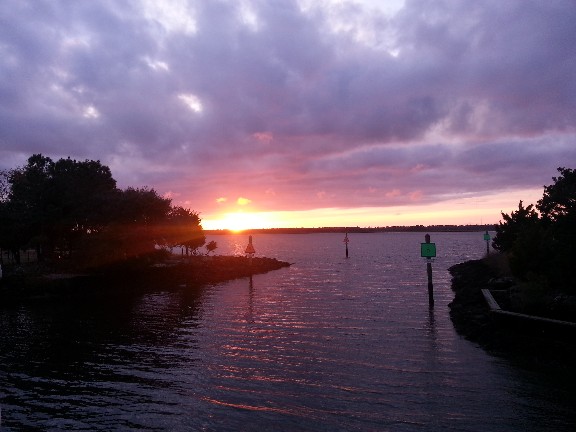 We did have to travel this last stretch at low tide and it's very shallow in a lot of places... SAILS hates shallow water and especially side shoals just off the side of the channel... so not auto pilot for this stretch... manual steering.
We arrived to Carolina Beach State Park Marina and were securely docked at 1615. We traveled for 9.5 hours today covering 58.8 nautical miles averaging 6.2 knots. Our location is N34°03.016', W077°55.150'.


Posted at 4:55 PM


CT to FL Day 15
Oriental, NC to Swansboro, NC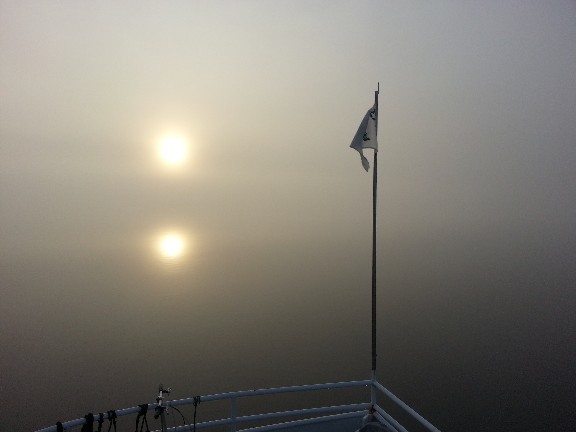 Forecast today was for dense fog until 0900 so we decided to leave after sunrise and only deal with the fog and not darkness and fog. Being inland as far as we were... the winds did not really make a difference, but they were forecast for 5-10 knots.
After walking Beecha we departed from Whittaker Pointe Marina at 0730 and proceeded slowly out of the channel. This channel is really shallow... quite a few places the depth sounder stopped working... flashing LAST READING... 5.0... so we took it nice and slow and we were back into the Neuse River and 15 plus feet of water...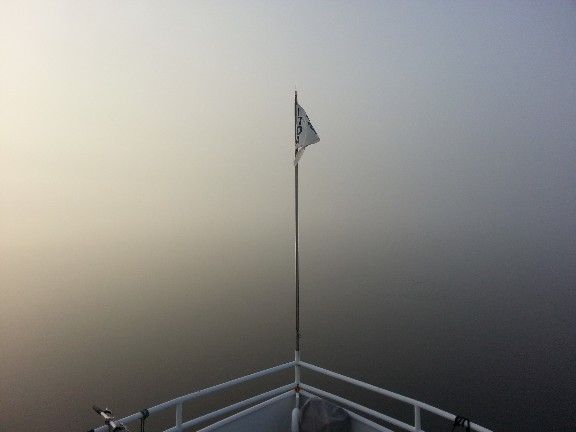 brought SAILS up to RPM and soon we were doing 6.9 knots... this is the speed we should be running at 2500 RPM with no current or wind effecting us... so we were happy with this speed.
We crossed the Neuse River and entered Adams Creek... Fog still dense as it was at 0730... but you could now see the blue sky above us... the fog was lying just above the water maybe 200-300 above the surface and then you had clear skies... but at our level it was really thick and visibility was about 100 yards at best. I never saw the day markers for the entrance to Adams Creek... only on radar and the chartplotter.
About an hour into the creek the fog disappeared... not sure if it was the sun burning it off or just the location but was glad it was gone. Now the only issue was that we had started getting a current against us... soon we were down to 4.5 knots. The flood tide was still running from the inlet at Moorhead City... it was due to switch around to an ebb tide as we approached so we would get a boost of speed as we got closer to the inlet.
Right before the inlet at Moorhead City we started to get a boost of speed and were soon running 7.5 knots plus... we kept this boost all the way through Bogue Sound. We also got the fog back in Bogue Sound... not as thick as earlier but less than 1/8 mile visibility. As we reached the southwest end of Bogue Sound the fog was gone again... and we also started getting even more of boost in speed as we approached Bogue Inlet in Swansboro.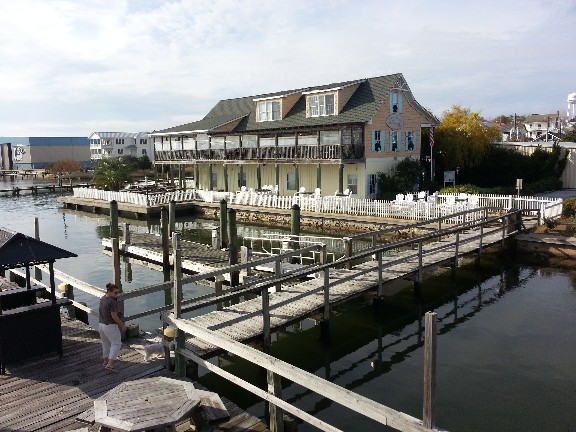 We hit 9 knots just before the inlet and as we crossed the brakes came on as the current switched from on our stern to on our bow and we were back down to 5.5 knots... CRAZY!
We arrived to our destination... The Saltwater Grill in Swansboro, NC at 1345 and tied to their docks. We would eat dinner in the restaurant. This dock is a free dock and dine stop.
We traveled today for 6.25 hours covering 43 nautical miles averaging 6.9 knots. We are located at N34?41.175', W077?07.162'.


Posted at 2:31 PM


CT to FL Day 14
Belhaven, NC to Oriental, NC

Having a short day planned we slept in till 0630... I think we were both awake at 0500 as our bodies have become synced to this time but we tried to sleep late... guess I should say we got out of bed at 0630. It was also very odd with it being daylight already... used to the dark. Walked Beecha and departed from the docks at 0715.
Was not forecast to be very nice weather today... 80% chance of rain... winds were to be 5-10 knots and seas 1 foot. We did get the rain but the wind and seas were lacking... the seas and winds were calm.
Nothing out of the ordinary today... did have one trawler with us all day and one of the same SeaRay type boats that passed us yesterday passed us again today... however, today he was not the courteous passer and passed us with a good size wake.
We planned to go to Oriental, NC today. Stopping at the free town docks... but with the rain these docks never opened up. You can check to see if these docks are open via the web as they have a web cam at
http://www.towndock.net
... harbor cam link. So, we decided to stop at Whittaker Pointe Marina. We have stayed here before and it was very nice and they have a courtesy car. Susan wanted to pick up a few groceries and it would also give us a chance to fill our water tanks and do some laundry.
As we arrived it was raining and foggy... visibility was down to 1/8 of a mile... made the approach a little slow but uneventful. We were securely docked at 1315. We traveled today for 6 hours covering 40.7 nautical miles averaging 6.8 knots. We are located at N35°01.779', W076°40.898'.


Posted at 6:05 PM