FL to CT Day 18
North Myrtle Beach, SC to Wrightsville Beach, NC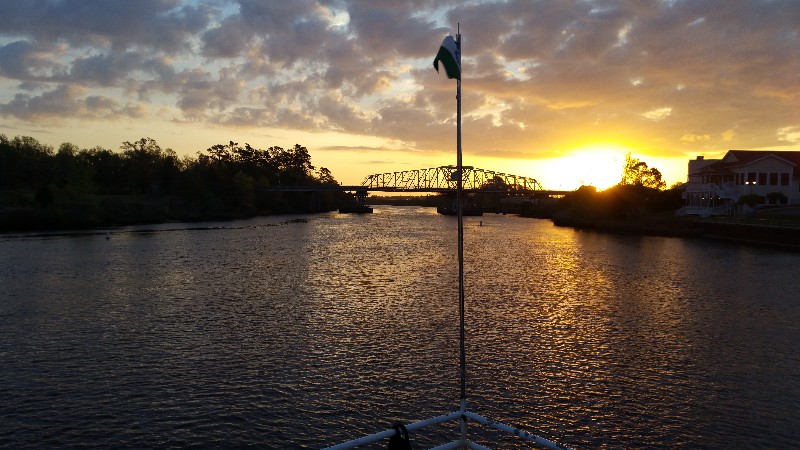 >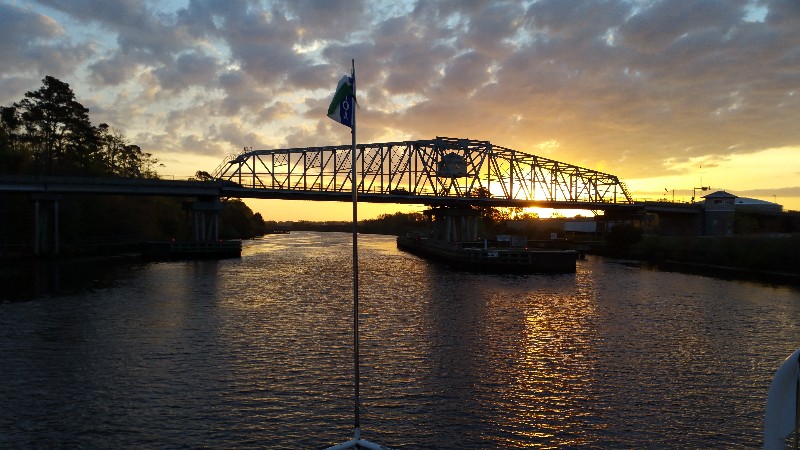 One bridge we had to open in front of us today... Little River Bridge. Plans for the day are to stop in Carolina Beach at the State Park Marina. We stop here going north and south and really like it... well protected and inexpensive at $30 per night including electric.
We had a good boost of current for the first few hours today and then we started the "yo-yo" between less than 6 knots and over 7-8 knots. Quite a few inlets along this section of the ICW.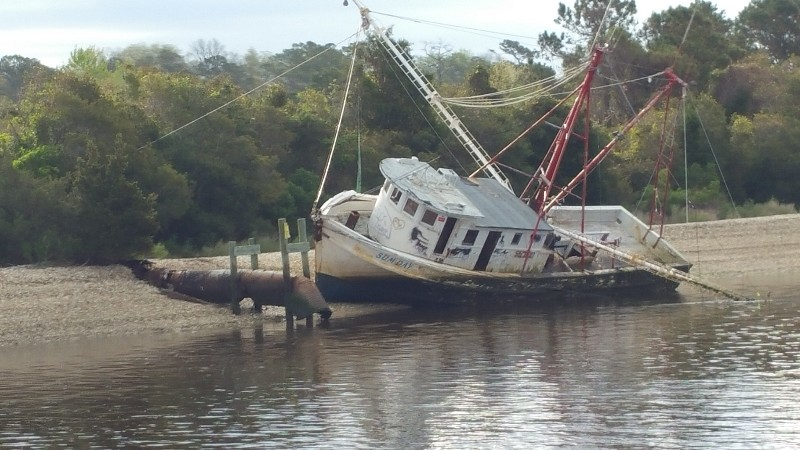 Still quite a bit of damage and boats on shore from hurricane Matthew... some look like they are not going to be salvaged and have been left to slowly rot away on the beach... like this shrimp boat.... very sad!
We reached Southport, NC... and turned north up the Cape Fear River... jumped from 5.6 knots to 9.6 knots in just a few minutes... flood current pushing us all the way to our destination for the night... Carolina Beach State Park Marina.
As we approached the marina channel we saw two boats turn in ahead of us... one smaller trawler and a larger sailboat... there is only one place we can dock here and I watched the sailboat pull into it... hailed the marina on the VHF to see by chance if there was anything else... NOPE... they were all full. Sometimes they let us stay along the side of one dock that is adjacent to their fuel dock... but not this time.
Now we had to decide where to go... we really wanted to get to the marina as it is supposed to get pretty windy tonight and the security of being tied to a dock is nice... but it looked like we would be anchoring... I searched the Active Captain anchorages ahead of that would provide good wind protection for southerly winds... found one just past Wrightsville Beach... Big Lollipop Bay just one mile north of the Wrightsville Beach Bridge.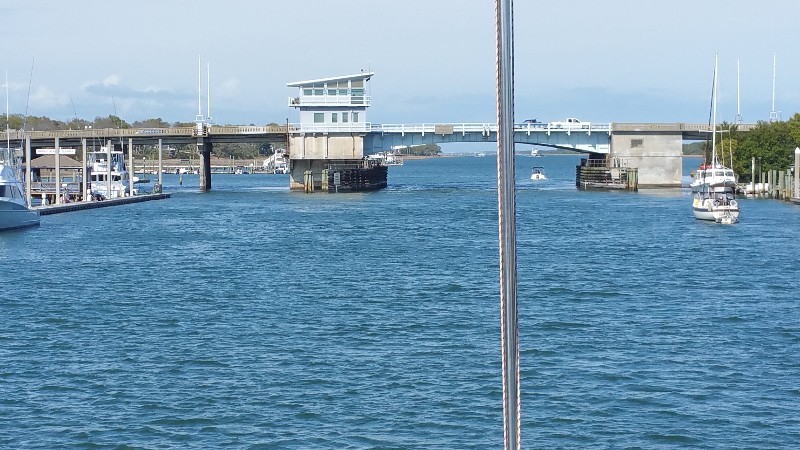 Once we passed the Carolina Beach Inlet we had current pushing us again and I did not pay good attention to our arrival time to the Wrightsville Beach Bridge... we arrived about 15 minutes early for the once an hour opening at the top of the hour.... so we waited at the bridge a little longer than we like to but finally went through at their 1600 opening.
We arrived the entrance to the anchorage at about 1610 and slowed to an idle to transit the channel back to Big Lollipop Bay... was not sure of the depths so slow going is best... the reviews stated 7' deep mid channel and that is what we saw all the way in then the anchorage area is 18-25' deep. We were securely anchored at 1640. Our location for the night
N34°13.388', W077°47.246'
. We traveled today for 9 hours and 30 minutes covering 63.1 nautical miles averaging 6.6 knots.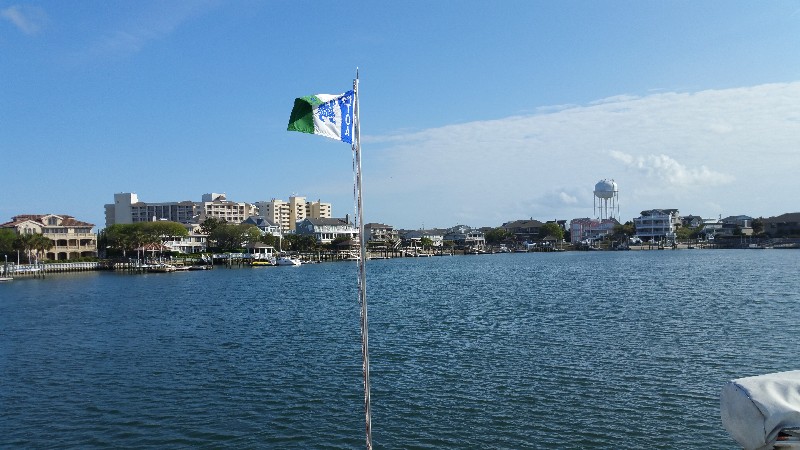 The anchorage is wrapped to the east south and west with 2-3 story homes and some high rise condos.... marsh to the south. With the winds tonight from the south we should have good protection here... forecast for 20-25 knots with gusts to 35 knots. I have 200 feet of chain out so we should be secure.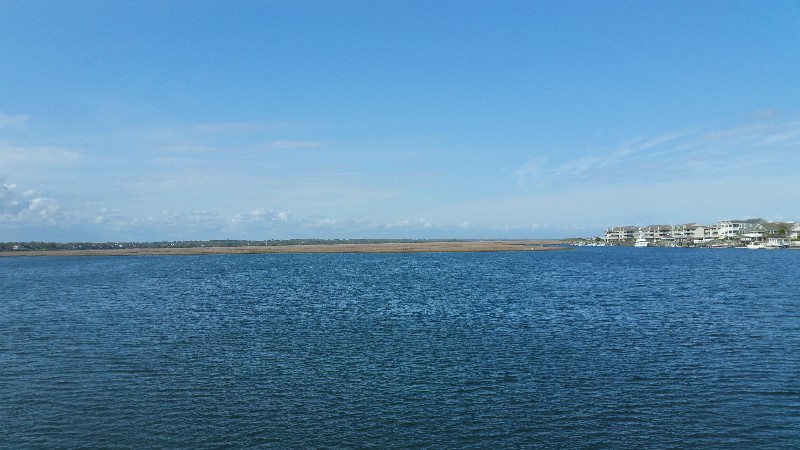 Posted at 5:32 PM


FL to CT Day 17
Georgetown, SC to North Myrtle Beach, SC

Underway bright and early at 0710... sun was up and the day looked great.
We did have some higher winds than what we had thought was forecast with NE winds 20-25 knots for a good part of the day. We also had the current against us all day... this does not happen that often but sure sucks when it does.
To top things off when we reached the only bridge we had to open all day... The Socastee Swing Bridge... it was broken... they tried to open it but it was not working... this was 1230... the bridge operator finally told the boats waiting that we should probably anchor. We dropped the hook dead center of the channel and waited till 1400 before they finally managed to get the bridge open.... 1.5 hour wait.
By the time they managed to get it open there must of been a dozen boats waiting... only one south bound... the rest were heading north and all but two of them passed us after the bridge... most were not courteous and passed with huge wakes... some not even hailing us on the VHF before they passed.
With the delay at the bridge we decided to stop at Barefoot Landing Marina in North Myrtle Beach. We arrived at 1615 and were securely docked at 1625. Our location for the night
N33°48.070', W078°44.754'
. We traveled today for 9 hours and 15 minutes covering 45.2 nautical miles averaging 4.9 knots.


Posted at 5:35 PM


FL to CT Day 16
St. Johns Island, SC to Georgetown, SC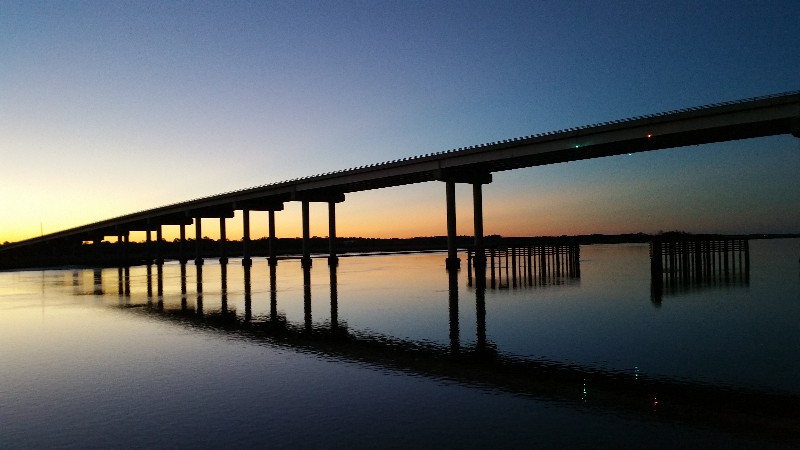 We were up early and left the dock at 0700... the sun was not up but the sky behind the bridge in front of us was awesome.
Beautiful day on the water... sunny but a bit windy with 15-20 knot winds. Had one cruising boat pass us and a lot of small recreational boats.... it is Saturday so we expect those...


Most of the day we had current giving us a boost in speed... of course we did have some spots where we dropped to less than 6 knots... it all averages out... but it felt as if it was more in our favor today.

We decided to stop in Georgetown when the current switched against us and would be that way for as long as we continued on... no need to fight the current... Georgetown it was... we had not stopped here in a couple of years so it will be nice to see how things have changed.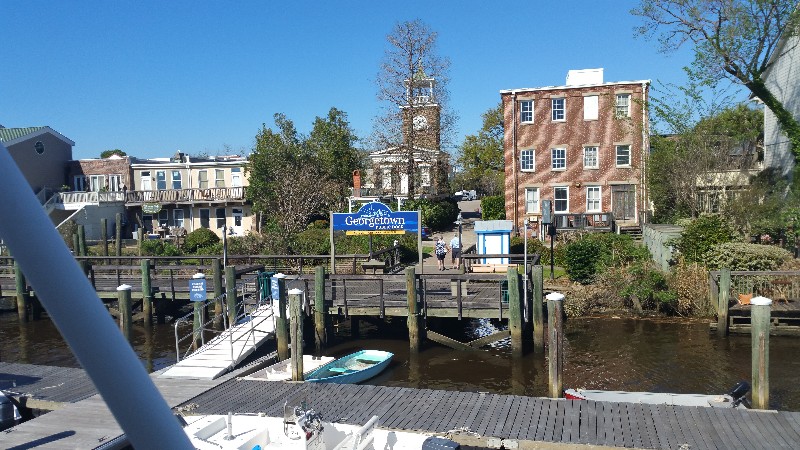 We arrived to the town dock and were securely docked at 1600. Our location for the night N33°21.956', W079°17.042'. We traveled today for 9 hours 61.2 nautical miles averaging 6.8 knots.


Posted at 4:56 PM