Moore Haven, FL to Stuart, FL
Florida to Rhode Island - Day 4

We departed from the Riverhouse Marina in Moore Haven just before sunrise at approximately 0630 hours. The first task of the day was to go through the Moore Haven Lock… we arrived at approximately 0630 hours and were able to enter the lock chamber with no delay… a quick 1 foot rise and we were back underway at 0658 hours.
Lake Okeechobee water level is down… that's the reason for the outer locks having restricted opening schedules…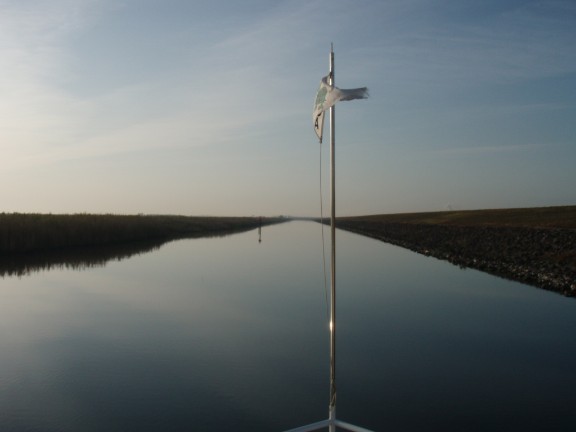 Route 1 across the lake according to the Army Corp of Engineers website had a navigable depth of 5.91 feet… so it would be slow going in many locations… the rim canal from Moore Haven to Clewiston had a few spots where we saw 6 foot on the depth sounder… and the channel from Clewiston out in to the lake was very shallow… I saw many places where it was less than 6 feet.
Once into the lake we had two boats pass us… a 38' trawler cat and 40' trawler… the trawler was taking some shortcuts that I would of not even tried… cutting the corners of the channel… he made it without any problems… but I would not of done it… with his corner cutting he did get quite a ways ahead of us… not sure what his hurry was as the St Lucie Lock was either 1300 or 1500… there was no way he could make the 1300… the trawler cat and I followed each other across the lake and we went through the Port Mayaca Lock together… but after the lock he took off and was soon out of sight.
Not sure why the Port Mayaca Lock was even functioning… when they opened the gates on the St. Lucie side there was no noticeable change in water height… and the gates open and close on that lock REAL SLOWLY… took a long time to lock through.
We did have see a lot of boat traffic heading west back towards Fort Myers… at least a dozen power boats passed us… several were the same make… I assume they were dealer boats either coming or going to a boat show… and of course none of them were very courteous boaters… if they did slow down it was to a "plow through the water" speed that made their wake even bigger… not that any of their wakes really had much effect on us… it's just the principle of the thing… they should slow down and be courteous.
We had about 20 miles to make the St. Lucie Lock by 1500 and we needed to average over 6.5 knots to make it… the problem was the water depth… for SAILS to get up to cruise speed she likes minimum 10-12 feet of water under her keel… we were running in 7-10 feet most of the way… so keeping the 6.5 knot average was touch and go… but we managed to make it… arriving at the St Lucie Lock 1459 hours.
And who did we see there sitting and waiting for the lock… the 40' "corner cutting" trawler and the 38' trawler cat that had passed us earlier… rushing ahead did nothing for them…


After the lock we did not have far to go to reach our destination for the night… one more bridge that opens on demand.. Roosevelt Bridge" in Stuart… made that bridge with very little delay and just east of it we turn to starboard and dock at the Stuart City Docks… approximate location N27°12.136', W080°15.218'.

Today we traveled for 10 hours and 5 minutes covering 62.12 nautical miles averaging 6.16 knots.


Posted at 5:50 PM


Cape Coral, FL to Mooore Haven, FL
Florida to Rhode Island - Day 3

We departed from Rum Runners Docks early before sunrise at 0640 hours... plans to go to Moore Haven for the night. The outer locks of the Okeechobee Waterway are on a restricted opening schedule so we needed to be at Franklin Lock by either 0900 or 1100… after getting underway we were just not going to be able to make the 0900 locking so we set our speed to be there by 1100 hours.

We arrived at Franklin Locks at 1054 hours and joined two other boats waiting for the 1100 locking… a 40' sportfish and a sailboat… the sportfish was handing bug control for us… billowing smoke out it's exhaust… almost needed a mask for the fumes… 1100 hit and we got the green light to enter the lock… 22 minutes later after being raised 2 feet we were again underway.

We had several bridges today… only one we have to open… Fort Denaud Swing Bridge… the others I lowered the antennas and mast to clear them. Just after going through the Franklin Lock I heard the Fort Denaud bridge tender talking with a boat.. telling them that the bridge would not open and she was waiting for county maintenance to arrive to fix it… we still had quite a distance to go so we hoped for the best and that the county workers would get the bridge repaired… then a few minutes later we heard the same boat thanking the bridge for an opening… guess the old swing bridge was just being a little cantankerous… later in the day we had no problems and she swung the bridge open for us with no major delay.

There was a lot of boat traffic going west back towards Fort Myers… must have had a dozen boats of all types pass us heading west… of course there were a few that greeted us with a big wake as they passed without slowing down.

We arrived to the last lock for today… Ortona Lock… at approximately 1455 hours and the lock was open and waiting for us to enter with no delay at all. Twenty minutes later after a rock and roll 8' rise we were back underway… Moore Haven next stop.

We arrived and docked at the Riverhouse Marina in Moore Haven at 1655 hours. Approximate location N26°49.858', W081°05.447'.

Today we traveled for 10 hours and 15 minutes covering 59.6 nautical miles averaging 5.81 knots.


Posted at 5:23 PM


Pelican Bay to Cape Coral, FL
Florida to Rhode Island - Day 2

Well we had a plan and it did not go exactly as we would have liked. Got up early and cleaned the bottom of SAILS but everything else fell apart… we pulled the anchor and departed from Pelican Bay at 1615 hours… only 4 hours later than we planned… destination for the night Cape Coral.

It was an uneventful cruise… although there was a lot more boat traffic than I expected for a Monday… we had the current against us the entire trip… well when we turned out of the ICW at marker 92… Tarpon Point… we had the current with us for 5 minutes. We were going to anchor in Glover Bight just off of Tarpon Point Marina but opted to go a little further into the Cape to Rum Runners Restaurant Docks... we have stayed here before and it makes it much easier to walk Beecha… no dropping the dinghy off the boat. Also, we have an early start tomorrow… need to be underway by 0700 hours in order to make the 0900 opening of Franklin Locks… the two outer locks are on a restricted opening schedule… opening only on the odd hours… 0700, 0900, 1100, etc… to make Moore Haven tomorrow before dark we need to make the 0900 opening. We won't have to get up so early if we are at a dock.

Today we traveled for 4 hours covering 25.54 nautical miles averaging 6.39 knots.


Posted at 9:04 PM