CT to FL Day 11
Kilmarnock, VA to Smithfield, VA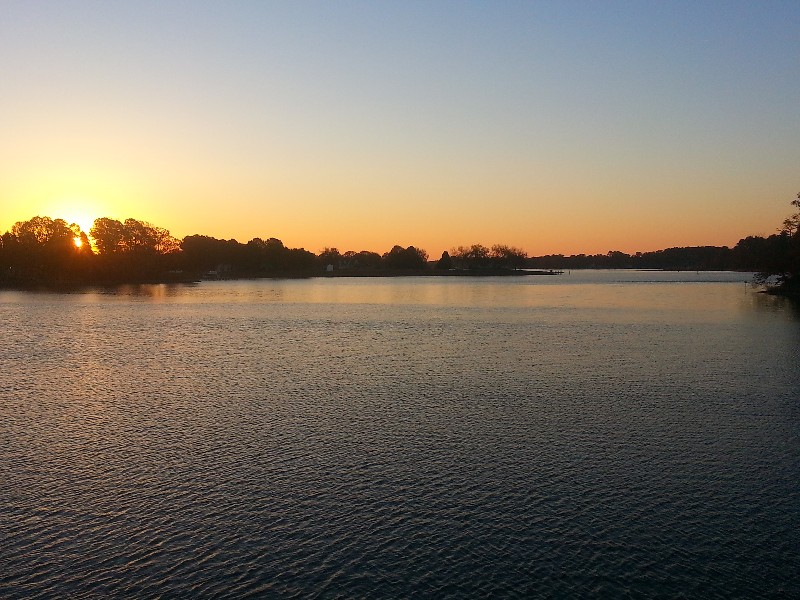 We departed Chesapeake Boat Basin this morning at 0715… 36 degrees which felt sort of warm compared to what we have had the last several days. The forecast was for 10-15 knot SW winds and 2-3 seas.
Things seemed to be much calmer than that but being in the narrow Indian Creek any winds were totally blocked. About 30 minutes out we started seeing the wind and it was out the SW as forecast. The velocity was a slightly off and was blowing over 20 knots and gusts to 25 knots… the waves were soon 3-4 and increasing the further we went.
We had several places that we had to be 3-4 miles off the shore line and seas were 4-6 in these locations. We decided to not take a straight course and after each point/shoal we were head back toward the shore to let the land break as much of the wind as possible… took a little longer but was much more comfortable ride once we got back close to shore.
The farther south we get the more boats we are starting to see moving south… passed a sailboat just after leaving and another boat just before Hampton, VA. There was quite a bit if commercial traffic moving in all directions.
Just before Hampton the winds picked up even more. We were seeing steady 27-30 knot winds and gusts to over 35 knots… we were close enough to shore for the winds to not have not much effect on the seas only producing 3-4 waves.
Our plans were to go to Smithfield, VA and stop and visit with our friends Judy and Wayne McPhail. They live on the Pagan River in Smithfield. The problem we had to day was the tide and SW winds. Low tide was at 1500 and the Pagan River has one strip that is very skinny… especially at low tide... Bob's Shoal. We were due to arrive at 1700 just 2 hours after low tide and the SW winds were making the tide even lower than normal.
I slowed to idle speed as we approached marker 15… the depth sounder started dropping… 8 ft, 7 ft, 6 ft, 5ft, then it started blinking… LAST and 5.0 feet. We had run out of water and you could feel SAILS just sliding along through the mud. Stayed like this past marker 16 and 17 and then we started seeing the depth sound work again. We made it through and there was a trail of muddy water behind us.
We arrived at our location for the night at 1720 and Wayne and Judy were on their dock waiting to greet us. 1730 and we were securely docked at
N36°59.508', W076°37.458'
. We traveled today for 10.25 hours covering 66.7 nautical miles averaging 6.5 knots.


Posted at 5:09 PM


CT to FL Day 10
North Beach, MD to Kilmarnock, VA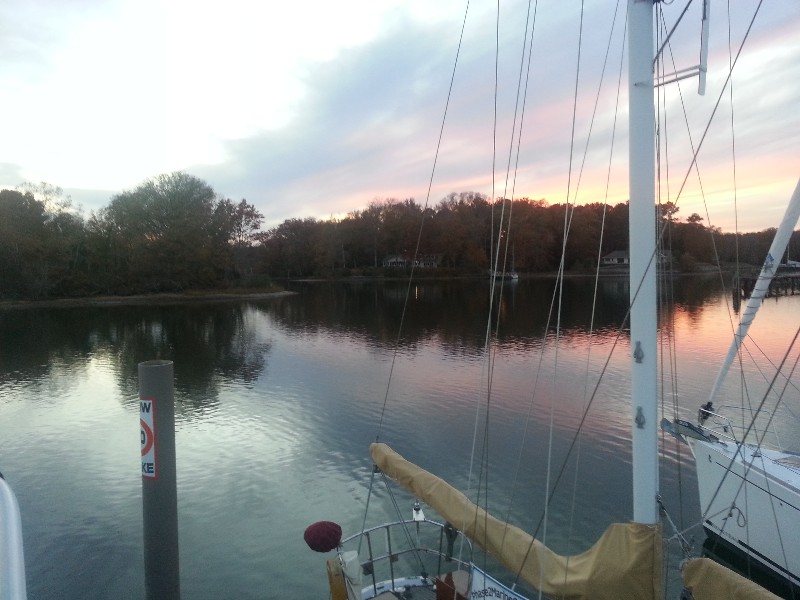 We departed Herrington Harbour south Marina just before sunrise at 0645. I was a very cold 21 degrees and the channel had a thin layer of ice on the surface… VERY COLD INDEED!
The forecast was for W winds 10-15 knots switching to SW 15-20 in the afternoon… 1-3 seas. I can say that the forecast was accurate today. We never saw the temperature above freezing today remaining mostly in the upper 20's. We ran with the generator and heat all day… just too cold not to.
We had a couple of large ships pass us and some of the large menhaden fishing boats near Reedville. It was in the same area that we saw the first boat traveling south. Until today all the boat traffic has been either local boaters or commercial boat of some type.
I guess we a little behind the fall migration of cruisers.
We planned to go to Reedville or Deltaville today… eta to Reedville was too early to stop and Deltaville eta was too long of a day… so we picked a new location we had never been before… Chesapeake Boat Basin on Indian Creek off of Fleets Bay… about the half way point between Reedville and
Deltaville. A new area and marina is always a nice treat.
We arrived at our location for the night at 1645… Approximate position for the night N37°41.950', W076°21.063'. We traveled today for 10 hours covering 74.0 nautical miles averaging 7.4 knots


Posted at 4:10 PM


CT to FL Day 9
North Beach, MD

It's was a bone chilling 25 degrees this morning at 0600... felt much colder with the winds blowing at over 25 knots... SO... we are spending another day here at
Herrington Harbour South Marina
. The winds were howling all night out of the NW and this morning the forecast was for 6 foot seas in Chesapeake Bay and a Gale Force winds warning till 1600. Tomorrows forecast looks better but we'll see what it looks like as the day progresses... :)


Posted at 9:26 AM