FL to CT Day 18
Duplin River, GA to Hilton Head, SC

We left Duplin River this morning at 0730 in the fog… not bad had 3/4-mile visibility… winds were less than 5 knots… would have been nice to have been a sunny day but we knew it was going to be gloomy… the fog was a surprise… fog slowly disappeared and by 1000 was pretty much non-existent.
AIS showed we had one of the same boats we trailed yesterday just ahead of us a couple of miles and a new one we had not seen before "Eye of the Storm"…. Don't think I would have named my boat that, but it was a nice boat… 49 ft Krogan Whaleback… the Krogan stopped at noon just north of Kilkenny Creek in Buckhead Creek… the other boat "Vignette" stopped at a marina in Thunderbolt… they were out on the dock waving to us as we passed them… Had a few boats pass us that we had seen the day before passing us… not sure how they run so fast and end up passing us each day…


Another weather system forecast to hit us tonight around 2000 per radar forecast… looks lie a nasty system… there is a tornado watch issued till 2300.

We arrived at the Hilton Head area at approximately 1715… we had decided to anchor in Bull Creek just north of Dufuskie Island… At approximately 1730 we were secure at anchor in 15 feet of water with lots of chain out for the weather we are supposed to get tonight. Our position for the night is N32°09.579', W080°51.089'. We traveled today for 10.0 hours covering 73.6 nautical miles averaging 7.4 knots.



Posted at 6:13 PM


FL to CT Day 17
Fernandina Beach, FL to Duplin River, GA

Alarm went off at 0630... needed to get a little fuel this morning at Fernandina Harbour Marina before we continue north... there fuel dock opens at 0800 so not a big rush to get underway as we were only 1000 yards off the fuel dock on the mooring ball.
Dropped the mooring line at 0745 and idled over to the fuel dock and tied up... There was a dock guy there opening the fuel dock office up... few minutes after 0800 he handed me the fuel nozzle... put approximately 100 gallons in each tank.... Should have started with the tank away from the dock so I could of seen the pump... got exactly 100 gallons in the starboard tank as I could see the pump and stop at 100 gallons... I asked the dock guy to watch the pump for me on the port tank for 100 gallons... it seemed like it was taking a long time to reach 100 gallons and I had not heard any status reports from the dock guy... I stopped and walked over to where I could see the pump.... 107 gallons... so we put 207 gallons in total instead of 200 as I had planned... 7 gallons more was no big deal but at $5.949 per gallon it's $40 more...
We only wanted the 200 to get us to the Carolinas where fuel is not $6 per gallon... still a few places less than $4.00 per gallon... that's a big difference in cost when you're filling up SAILS.

Finished fueling and away from the dock at 0830 and headed north on the ICW... we would be in Georgia today... had plans to go to Walburg Creek today and anchor but there was a strong weather system coming across the area and we would need good protection from it... decided to go as far as the Duplin River and anchor... good protection from all directions.

Today was very windy... winds all day were SSE 20 to 25 knots with gusts to over 30 knots... St. Andrews sound was a little lumpy with 2 to 4 foot seas as we crossed it... the ICW and other areas had a moderate chop... back and forth with current in our favor and against us but overall felt like it was more in our favor.

The weather system was not supposed to hit us until around 2000 but we started getting a few bands of rain from it around 1600... during the rain bands the winds almost stopped... less than 10 knots... once the rain stopped winds were back to over 25 knots... CRAZY!

We arrived at the Duplin River at approximately 1630 and at 1645 we were secure at anchor in 15 feet of water. Our position for the night is N31°25.485', W081°17.714'. We traveled today for 8.5 hours covering 59.0 nautical miles averaging 6.95 knots.



Posted at 5:34 PM


FL to CT Day 16
Palm Coast, FL to Fernandina Beach, FL

We have a great time visiting with friends in Palm Coast... Sarah and Phil Lowe and Mary and John Slattery... wish we had more time to stay as we have several other friends in Palm Coast...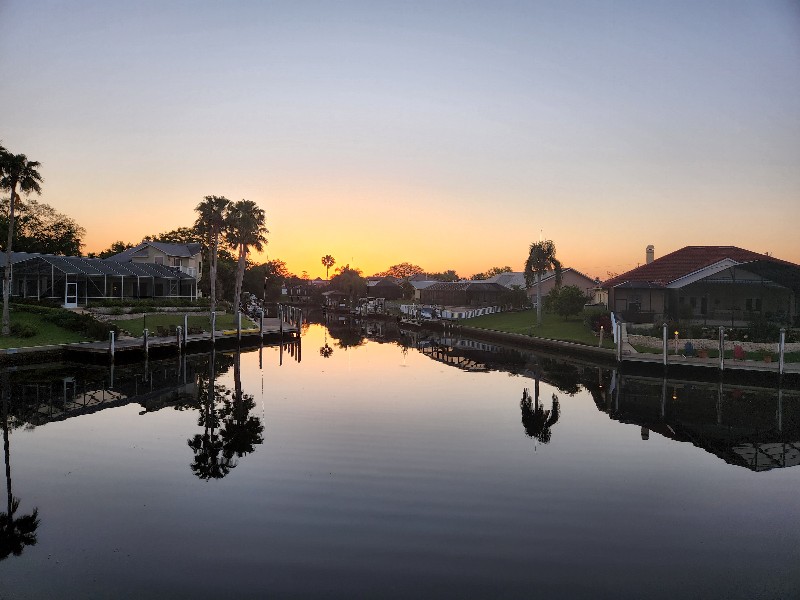 Up early at 0630 and prepared SAILS for departure... underway at 0730... tide a bit low but we did not have any issues other that the depth alarm going off... once we turned into the ICW we had deep water... well not deep but much deeper than the canal coming out....

We had a favorable current pushing most of the day... couple of times it was against us but overall, in our favor... couple of bridges we had to deal with... Crescent Beach Bridge and the Bridge of Lyons in St. Augustine... we can make it under both of these bridges with everything lowered but timing was just right and other boats were requesting openings and we were able to go through with them.

We were actually in a parade of boats going north today... 4 or 5 other boats all running about the same speed as we were... slowly they all disappeared on AIS... I assume stopping for the night earlier than we were. We wanted to make Fernandina Beach and get a mooring ball... had hoped to get hear early enough to get a little fuel... want to get about 200 gallons to get us to the Carolinas where fuel is not so expensive... seeing fuel in Florida in the $6.00 to $7.00 range per gallon for diesel... a few places in South Carolina still have fuel at less than $4.00 per gallon... so we will 200 gallons in the morning as the marina closed at 1700.

We arrived at Fernandina Beach at approximately 1745 and were secure on a mooring ball at 1800. Our position for the night is N30°40.479', W081°28.089'. We traveled today for 10.5 hours covering 74.4 nautical miles averaging 7.1 knots.



Posted at 6:42 PM