CT to FL Day 23
Layover Myrtle Beach, SC

Layover day at Osprey Marina in Myrtle Beach... waiting on mail we had forwarded to Marina... was supposed to arrive on Saturday but was delayed... so we will have to wait until Monday.


Posted at 8:41 AM


CT to FL Day 22
Carolina Beach, NC to Myrtle Beach, SC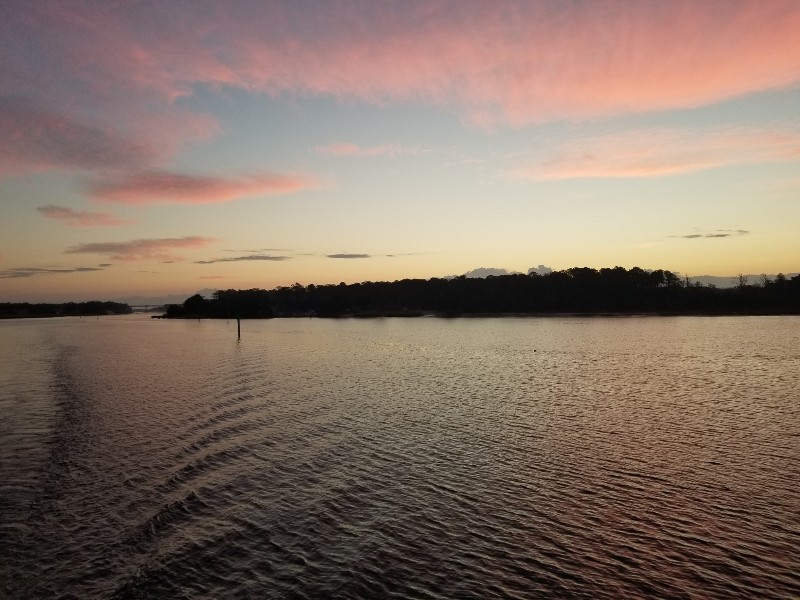 Up early again today to leave by 0700... this was about an hour before low tide... at the dock I was not getting a depth reading... we were sitting on the bottom... not a good sign... we tossed the lines and pushed through what must of been soft mud for about 300 feet until we reached the small jetty at the entrance of the marina... the depth jumped to 8 feet... Cool. At the end of their channel heading out o the ICW we hit a bump... bow rose up a foot and immediately dropped down... I could head the bottom scrapping on the bottom as we crossed over what must of been bar right at the edge of the ICW channel and the channel into the marina.... over the bar and again we were back in 8 ft of water and we were in the ICW.
We were at peak ebb current so we were soon flying down the Cape Fear River at over 9 knots... ended as we turned in the ICW at Southport.... BRAKES APPLIED.... 6 knots... we did this back and forth slow and fast most of the day until we reached Little River and we had a favorable current the rest of the day... not 9 knots but that is rare to see that much push.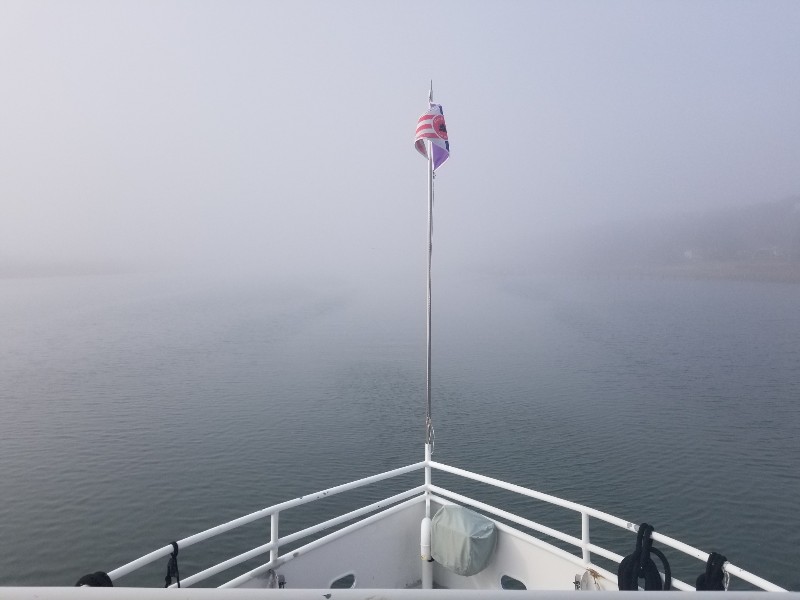 At Holden Beach we hit fog... thick fog... about 100 ft of visibility... had this fog till just before Little River Inlet where it just disappeared as quickly as it arrived... very weird! I am really surprised we did not have one of the small recreational boats hit us.. they were flying past us full speed... a couple I saw had radar domes but most popped out the fog did not have any radar and swerved quickly to avoid us... crazy for them to run at the speed they were in this thick fog.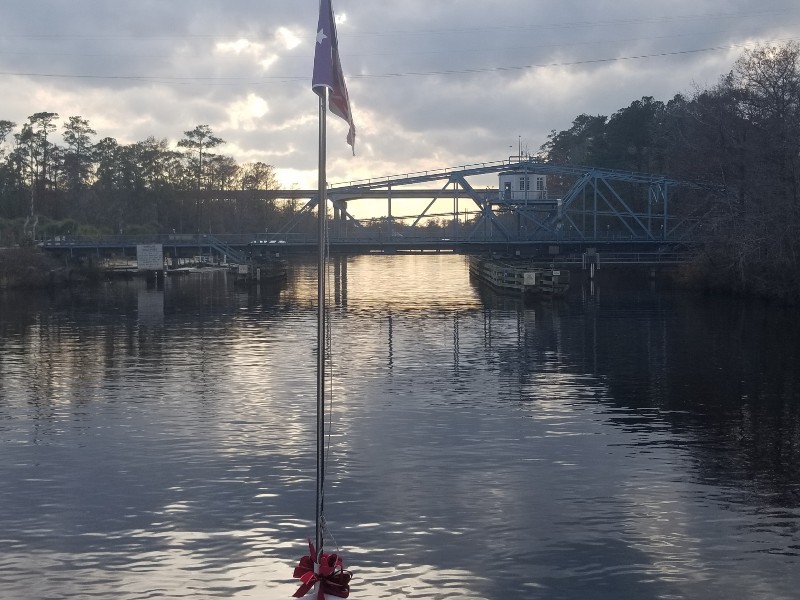 Two bridges today... Little River Swing Bridge was no issue at all... no wait... was ready and open when we arrived... nice when this happens... second bridge was the Socastee Swing Bridge... we arrived to it at 1545 and when I hailed them for an opening was told it would be 15-20 minutes as they had a shift change at 1600 and would not be able to open until the new person came on duty... so we waited....
We arrived to our destination Osprey Marina and were secure at the dock at approximately 1640. Our position tonight is N33°40.875', W079°02.498'. We traveled today for 9.5 hours covering 66.6 nautical miles averaging 7.0 knots.


Posted at 5:33 PM


CT to FL Day 21
Swansboro, NC to Carolina Beach, NC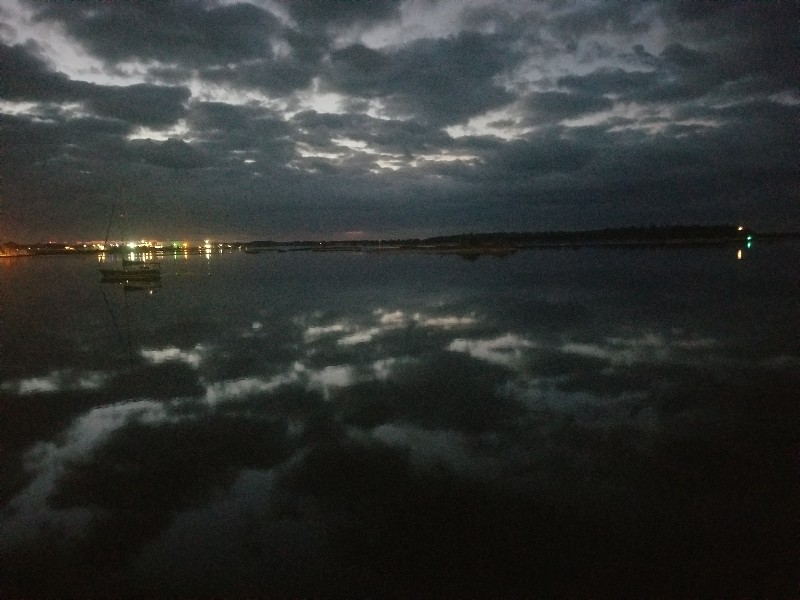 We departed from Swansboro Town Docks this morning at 0730... destination planned for today Carolina Beach State Park Marina... water when I got up was like a mirror reflecting the clouds in the sky... was pretty cool looking.
A little longer today that we have been doing... between 8 and 9 hours depending on how the current treats us. No wind to speak of and tons of small recreation boats... you would of thought it was Saturday or Sunday... not a week day... weekends when they come out in swarms... We'll have that tomorrow and probably much worse than today since it will be warmer in the 70's.
We really only had current in our favor a couple of times... speeds today from 5.7 to 8.5 knots... we have 4 bridges we deal with in this leg of our trip... Onslow Beach Bridge at Camp Lejeune... I planned for 2 hours to make the bridge using our average speed of 6.5 knots... of course this was one of the spots we had a favorable current and arrived 15 minutes early and had to wait for the opening... no big deal... The next bridge is the Surf City bridge which is now a high rise so no problems with it... the next bridge is the Figure Eight Bridge... clearance 21 ft... we can clear this bridge without an opening with antennas and mast down... today we arrived at high tide and the bridge clearance board was right on 21 ft... we slowed to idle and cleared by maybe 2-3 inches... That sure makes your heart rate race... last bridge is the Wrightsville Beach Bridge that only opens on the hour... Chartplotter said we would arrive at 1402... 2 minutes late but we had a sailboat already waiting at the bridge missing the 1300 opening and a power boat that raced past us after the Figure Eight Bridge... they would be sitting there waiting for the 1400 as well... so being 2 minutes late would not be an issue... and it was not... in fact we went through the bridge opening first... sailboat and power boat were hanging way back and not moving... they slowly trailed in behind us... we could of been 15 minutes late and still made the opening.
We arrived to our destination Carolina Beach State Park Marina docked at the head of A dock. We were secure at the dock at approximately 1600. Our position tonight is
N34°03.017', W077°55.153'
. We traveled today for 9 hours covering 58.8 nautical miles averaging 6.5 knots.


Posted at 5:29 PM