GA to CT Day 17
Manasquan, NJ to Stamford, CT

We had a great dinner at the Shrimp Box Restaurant... twin stuffed flounder filets stuffed with crab... It was Awesome!
Overnight there was still a large ocean swell that was causing a surge effect in the basin... SAILS was rocking gently like a baby's cradle... so we had a good nights sleep.
Up well before sunrise and underway at 0615 in the depths of some thick fog... 1/4 mile visibility in the basin and half that or worse once we cleared the inlet and heading north along the New Jersey shoreline. Seas were still quite large with a 3 to 4 foot SE swell... was not the best ride but tolerable for the next 4 hours to reach New York Harbor.
We had fog all the way to Sandy Hook where it cleared up to about 2 mile visibility... but still many patchy spots of pea soup thick fig.
We missed the timing with current today having a tremendous current against us for most of the day. The East River and Hell Gate were the worst areas fighting a 3 knot plus current... dropping our speed to less than 4 knots a few times. The water just boiling in Hell Gate. We did a reprieve once we reached the Throgs Neck Bridge and Long Island Sound the turning point in the current and we had the current pushing us along at about 7.5 knots all the way to Stamford.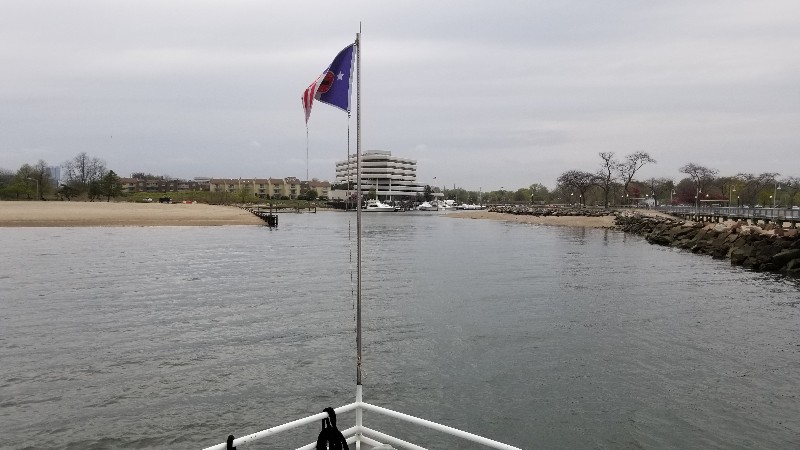 We arrived to Stamford at 1830. Our location for the summer
41°02.392'N,73°31.318'W
. We traveled today for 12 hours covering 71.8 nautical miles averaging 6.0 knots.


Posted at 7:05 PM


GA to CT Day 16
Atlantic City, NJ to Manasquan, NJ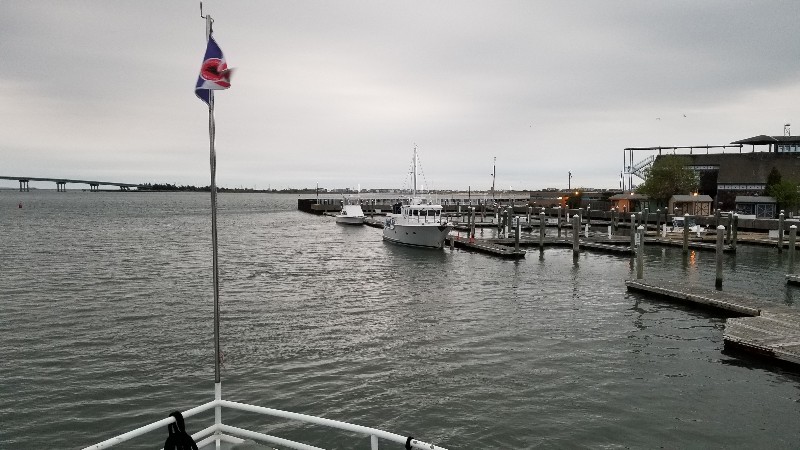 After yesterdays last few hours in the Atlantic we decided to not venture back outside and took the NJ Intercoastal Waterway inside route... the winds were blowing 15-20 knots out of the east and it surely would be as rough or rougher than it was yesterday... we needed a smoother ride today... We departed at 0600.
This route is very skinny water in quite a few places so it a slow day running at well below normal cruising speed most of the day due to the shallow water... and if anything I believe it was even shallower than it was our last trip through here... we did not touch bottom anywhere so all is good... just so slow at times... :(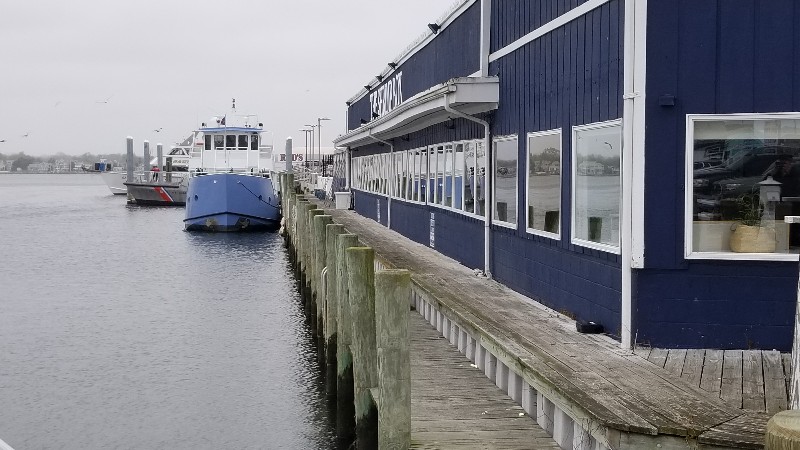 We arrived and docked at the Shrimp Box Restaurant Docks at 1500... our location tonight is
40°06.109'N, 074°02.255'W
. Traveled today for 9 hours covering 56.7 nautical miles averaging 6.3 knots.
Tomorrow we will have to go back outside into the Atlantic... no inside route from Manasquan to New York City... we have about 3 to 4 hours to get to New York Harbor and hopefully calm seas... winds are supposed to be calm over night and not too bad tomorrow so finger crossed it's not HORRIBLE.


Posted at 5:07 PM


GA to CT Day 15
Chesapeake City, MD to Atlantic City, NJ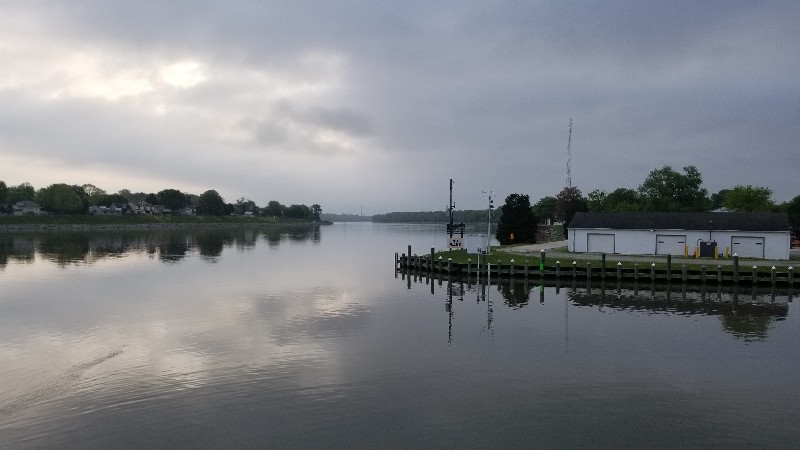 I believe we finally have this leg of our trip down as far as getting a favorable current... need to leave Chesapeake City so that you arrive to Reedy Point an hour after high tide... this meant leaving at around 0700... we actually got away 15 early at 0645 and those 15 minutes made a difference in favorable current in a couple of places... some negative and some positive... we did have current on our bow for a few minutes just after exiting the C&D Canal into the Delaware River.... but soon we got our boost back running over 8 knots all the way to Cape May where we had current back on our bow as we crossed through Cape May to the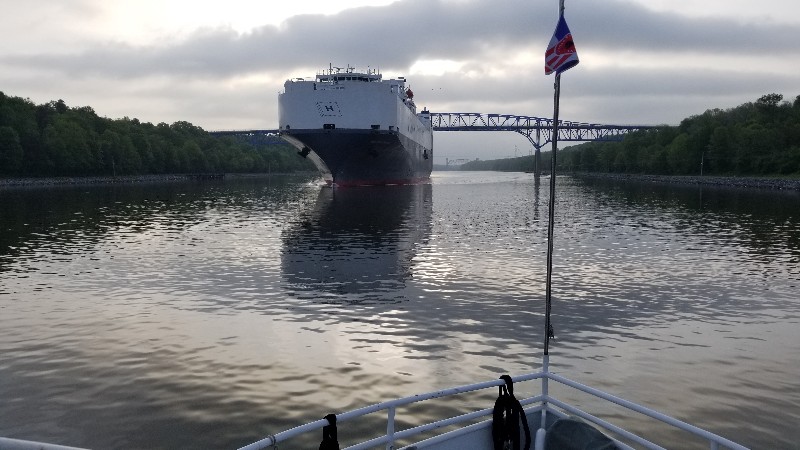 Atlantic Ocean... once we were a few miles north of the Cape May Inlet we started getting our boost back but we also had some serious swells out of the ESE that tend to slow us down a bit... overall even though leaving a bit early we for the most part ad favorable current all day.
We met this huge ship as we transited the C&D Canal... we see them pass all the time when we are docked in Chesapeake City but rarely to we actually pass one underway in the canal.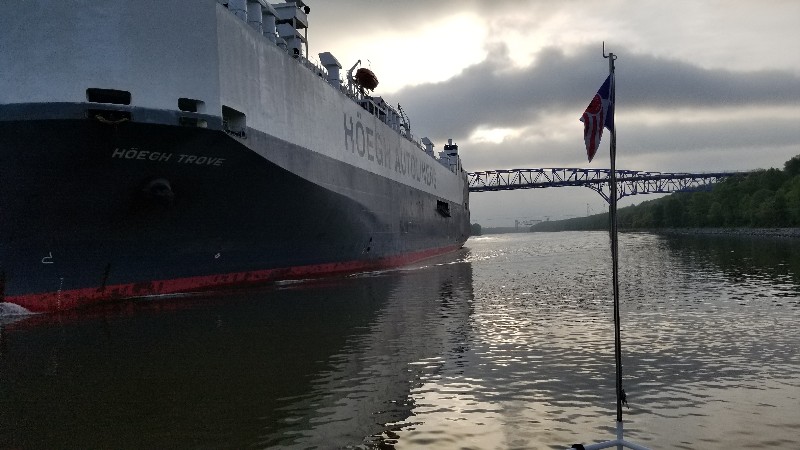 Two hours from Atlantic City the winds suddenly picked up as if someone turned on a fan... blowing 25 to 30 knots from the NE... very strange but it did create a waves running at 45 degrees to the 4 foot swell we had making the seas very and the ride a bit uncomfortable... it was sure nice to get to Absecon Inlet at Atlantic City and get into smooth water.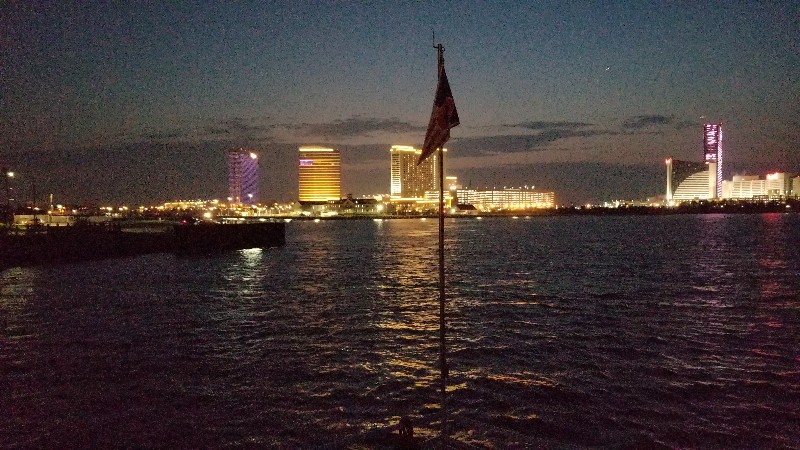 We arrived and docked at the Gardner's Basin Docks at 2100... our location tonight is
39°22.577'N, 074°25.275'W
. Traveled today for 14 hours and 15 minutes covering 99.5 nautical miles averaging 7.0 knots.


Posted at 10:54 PM