FL to CT - Day 19
Jacksonville, FL to Brunswick, GA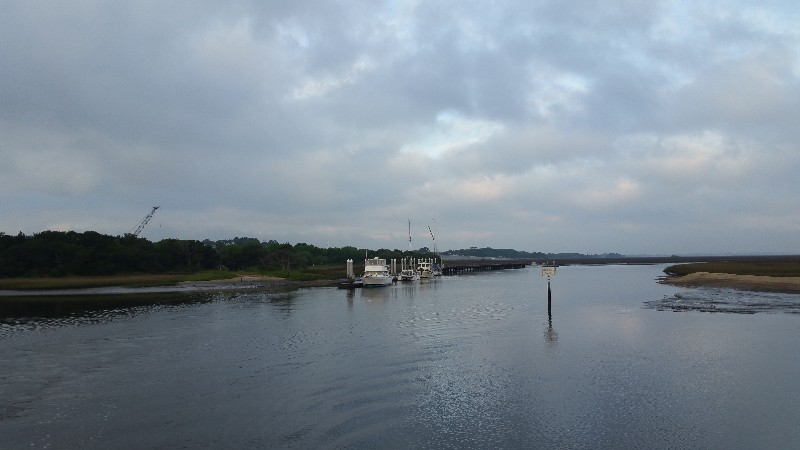 We left Sisters Creek this morning at 0800 and headed north on the ICW... destination planned for today is Brunswick, GA... Yeah! we will finally be out of Florida.
It was a little foggy when we left but cleared quickly... visibility was never an issue. Tide was gong out so we had current against us as we left and it would be near low tide when we hit some of the trouble areas before Fernandina Beach.
Virtually, no boat traffic today... guess the weather kept most people at the dock... cloudy with the clouds hanging low and very windy... 20 to 30 knots all days out of the NE. This meant we would not be doing St. Andrews Sound/Inlet... we took an alternate route that takes a little longer but would calm... we heard a report over the VHF that the waves in the inlet were 7 feet... NOT DOING THAT!
The alternate route takes you off the ICW about 11nm from St. Andrews at Floyd Creek... Satilla River... Dover Creek... Dover Cut... Umbrella Creek and dumps you into Jekyll Sound about 8nm north of St. Andrews. It was a rising tide and most of the route we had good water... couple of places we would not of made it at anything but high tide... The center of Dover Cut we hit a spot less than 6 feet deep and exiting Umbrella Creek we ran at idle speed and drug the bottom for about 1/8 mile... was not sure of we were gong to make it through this past spot... but, luckily we did... :)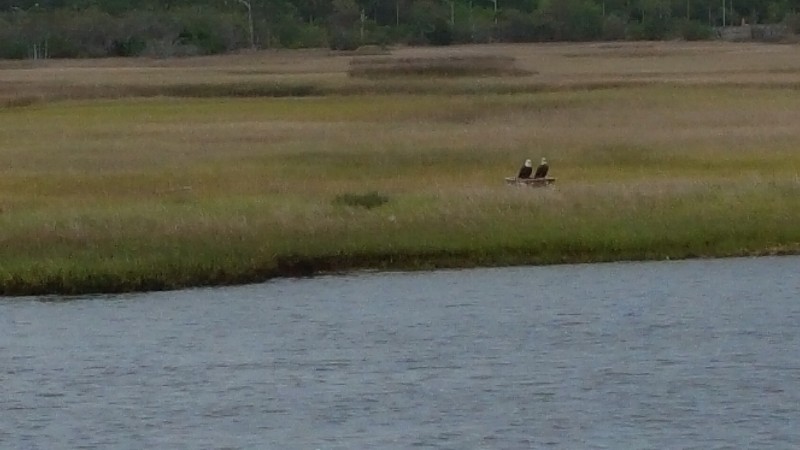 We did see a lot of wild pigs and eagles... the pigs scurried away before we could get close enough for a photo... but did manage to get one photo of two eagles perched on a stake before they flew.
Jekyll Creek which is always an issue was a breeze at near high tide... typically we hit Jekyll Creek at near low tide and push through the mud in a several places.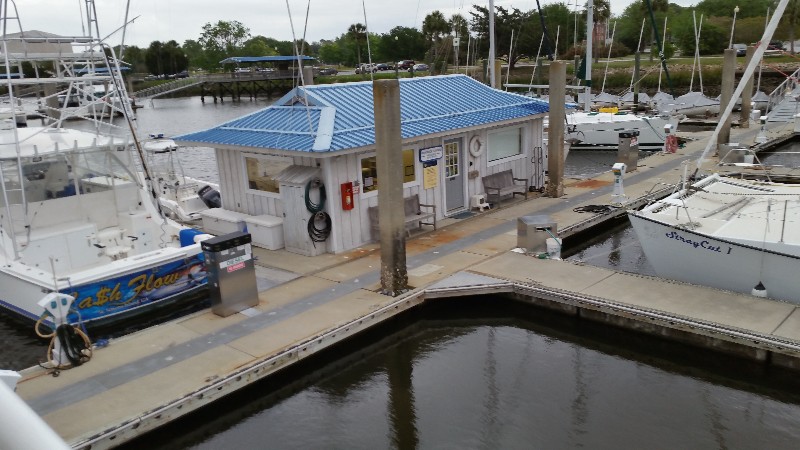 We arrived to our destination for the night at approximately 1700. We docked at Brunswick Landing Marina right next to the office at
N31°09.622', W081°29.991'
. We traveled today for 9 hours covering 60.5 nautical miles averaging 6.7 knots.
After docking we fueled SAILS taking on 1035 gallons of diesel... took an hour to complete... very slow pumps... :(


Posted at 6:26 PM


FL to CT - Day 18
St. Augustine, FL to Jacksonville, FL

We dropped the mooring this morning at 0800 and headed north... destination undetermined. Weather was on the cloudy side and wind was below 10 knots all day.
There were tons of boats moving north today... we are definitely within the north migration that takes place each spring. Today was the day of sailboats... we must have passed a dozen or more... some answer the radio when you hail them to pass... others do not... most wave as you pass them... others totally ignore you... :)
We had a mix of current both helping and slowing us down... lowest speed I saw was 5.1 knots.... highest was 9.1 knots. It normally balances out and we end up averaging between 6.5 and 7 knots... I try to figure out best times to leave areas based on tide levels/currents but have only found a few places that really work out well to give you boost all day.
I received a ton of emails requesting work today so we opted to stop early in Jacksonville at Sister Creek at the free city docks. It is a very nice concrete floating dock and they even have water... no power... :)
We arrived to our destination for the night at approximately 1315...
N30°23.890', W081°27.466'
. We traveled today for 5.25 hours covering 34.3 nautical miles averaging 6.5 knots.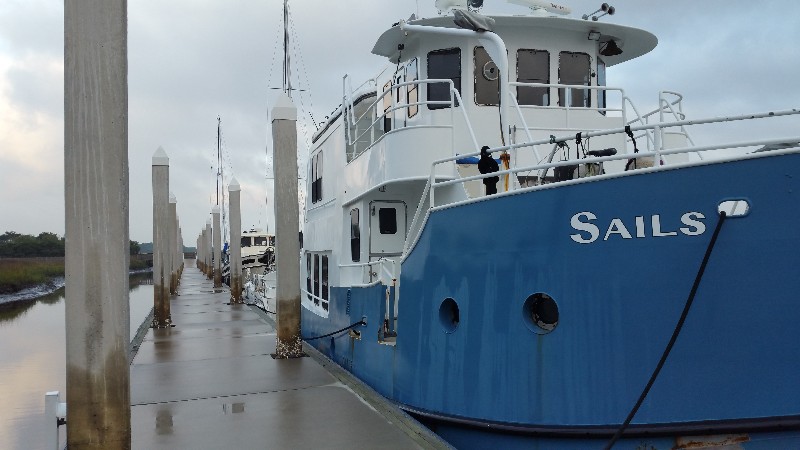 The docks were empty when we arrived but soon we were joined by four other boats... Two power boats and two sailboats. The power boats were MTOA members. We also had another MTOA couple stop by car and visit us... they had seen us arrive and came to say hello.


Posted at 7:20 PM


FL to CT - Day 17
New Smyrna, FL to St. Augustine, FL

We departed from New Smyrna at 0810 and headed north on the ICW. Another windy day with 15-20 knots winds all day... light chop... the wind was cooler than it had been... at least it felt cooler this morning as we left the dock.
Nothing out of the ordinary today... about as many boats moving north as yesterday but being Monday far less local boats.. We did have the same pair of boats pass us again today... PUKALANI and STARY NIGHTS... they are traveling together and are on the VHF a LOT! All for legitimate reasons typically passing another boat... but after hearing them say the same thing over and over again with each boat they pass became rather annoying very quickly... hopefully, they made far enough today that we will not hear them again... :)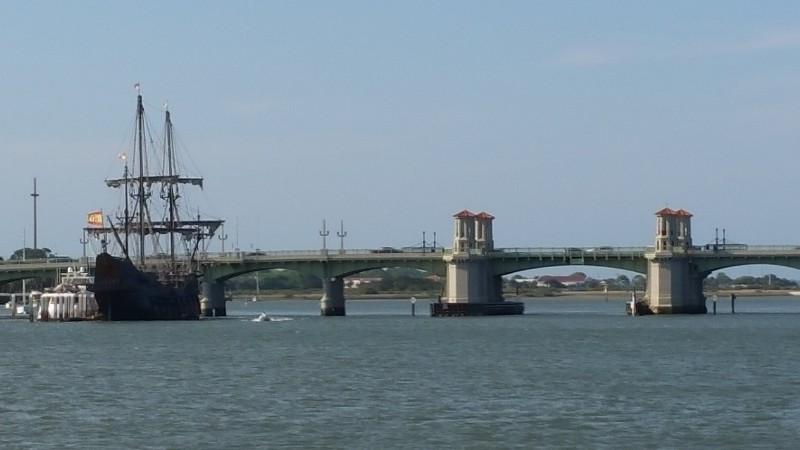 We arrived to our destination for the night in St. Augustine at approximately 1655 and picked up
Mooring Ball 30
at the St. Augustine Municipal Marina. We traveled today for 8.75 hours covering 59.5 nautical miles averaging 6.8 knots.


Posted at 4:46 PM