CT to FL Day 14
Smithfield, VA to Portsmouth, VA

We departed from Smithfield at 1015 about an hour before high tide. We did not want to have any trouble with Bob Shoal as we exited. Forecast for today was rain with 20-25 knot winds and 2 foot seas and was very accurate for a change. Destination for the day planned as Top Rack Marina, Portsmouth, VA. We planned to top off the fuel tanks and spend the night.
We called Top Rack to verify their fuel prices and that we would be able to spend the night. Top Rack is a dock and dine marina restaurant and if you eat in the restaurant you can spend the night at the docks free. We found out that the restaurant is closed on Monday and we would not be able to dine. We told them we were going to purchase about a 1,000 gals of fuel and would be still able dock for free…. Answer was NO! and they were very unpleasant about it. Saying if we wanted to get a free night dockage we would have to come on Tuesday… did not matter how much fuel we bought... ?
We made a few calls and found the price to be the same at Ocean Marine in Portsmouth so after the way Top Rack dealt with us on the phone we opted to not go to Top Rack and stopped at Ocean Marine. We topped the tanks off with 916 gallons of diesel… took about an hour and we backtracked maybe a quarter mile to one of our regular stops… High Street Landing in Portsmouth. No power or water but not an issues today as the temperature was about 65 degrees… a nice change from the freezing temps we had been having.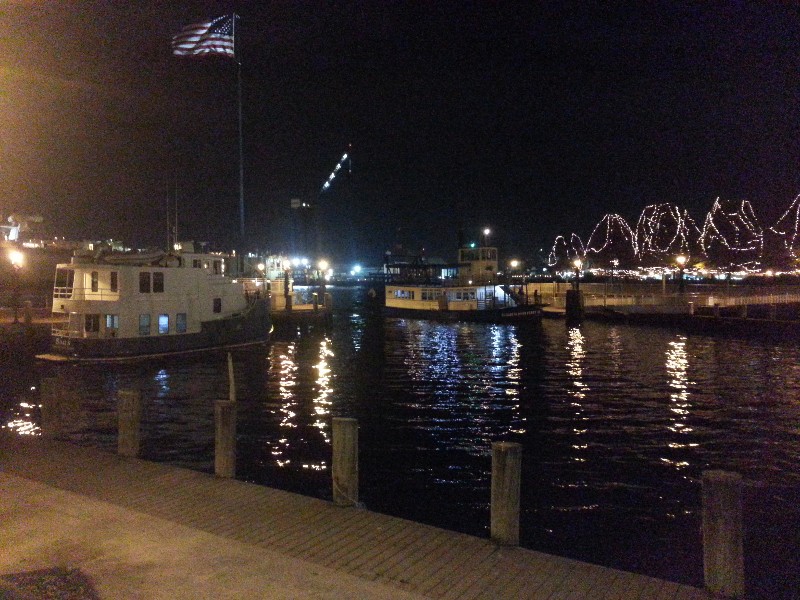 We were secure at the dock at 1530. Our location for the night…
N36°50.131', W076°17.768'
. We traveled today for 4.25 hours covering 24 nautical miles averaging 5.6 knots.


Posted at 4:08 PM


CT to FL Day 13
Smithfield, VA

Another layover day in Smithfield. I had a lot of computer/cabinet work to catch up on and spent the day sitting in front of my computer.

We had dinner with Wayne and Judy McPhail and a pleasant evening visiting in their home. We plan to leave tomorrow on Monday at near high tide. Do not want to transit Bob's Shoal and the Pagan River again at low tide.


Posted at 5:26 PM


CT to FL Day 12
Smithfield, VA

Spent today cruising aboard Wayne McPhail's boat "Atlantic" 61' Hatteras Motor Yacht. Wayne had just sold his boat before we had arrived and he needed some help delivering it to it's new home/owner in Urbanna, VA. It was about a 60nm trip from Smithfield and the weather was great and made for a nice trip.... 0730 departure and 5.5 hours later we were in Urbanna.


Posted at 5:18 AM