CT to FL Day 24
St. Augustine, FL to New Smyrna Beach, FL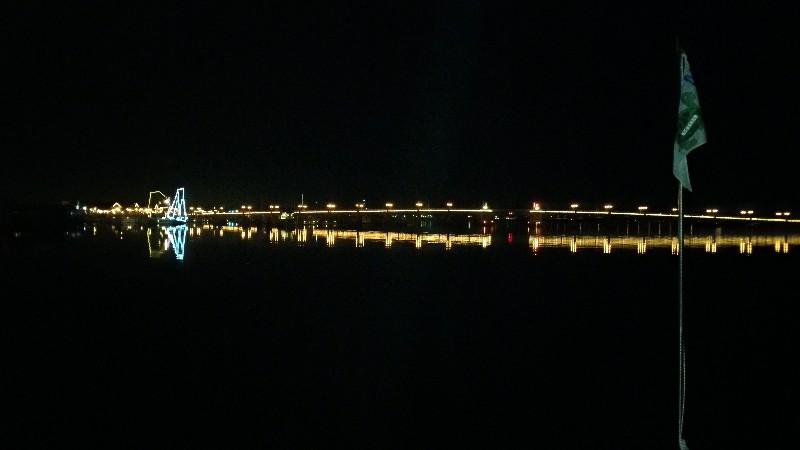 I woke up this morning before the alarm went off... 0515 and wide awake. Susan and Lily still sound asleep... no sense in laying in bed... up and prepared to leave. Dropped the mooring line and was underway at 0615.
Destination for the day... New Smyrna Beach.
We had the half and then it switched to on our nose till we reached the south end of Daytona Beach and it boosted us to 7.5 to 8.0 knots until we reached New Smyrna Beach and it was back on our nose for the last few miles.
Tons and tons of boats out today... Saturday and the small boats and wave runners were everywhere.
We found out from Peter and Charlotte Behr that the free docks were full so we reserved a slip at the New Smyrna Beach Marina just a half male back from the free docks. Never have stayed here before... seems like a nice place.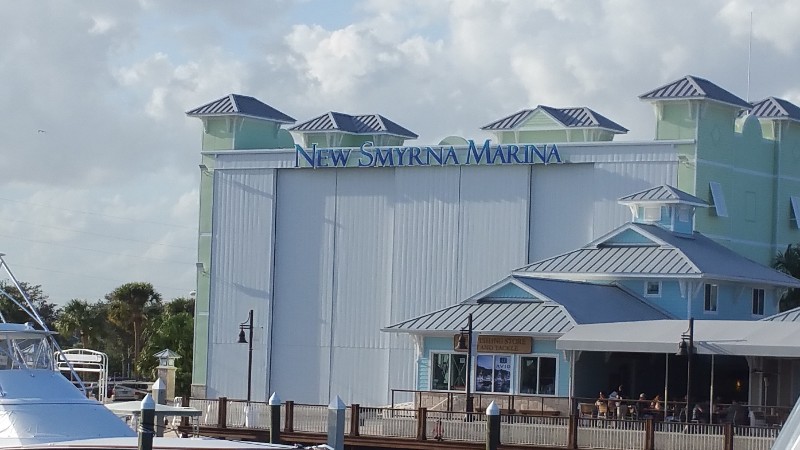 Our location for the night
N29°01.917', W080°54.776'
. We traveled today for 9 hours and 15 minutes covering 59.0 nautical miles averaging 6.4 knots.
We will get to see Peter and Charlotte Behr tonight... that is the best part about New Smyrna Beach.


Posted at 3:38 PM


CT to FL Day 23
Cumberland Island, GA to St. Augustine, FL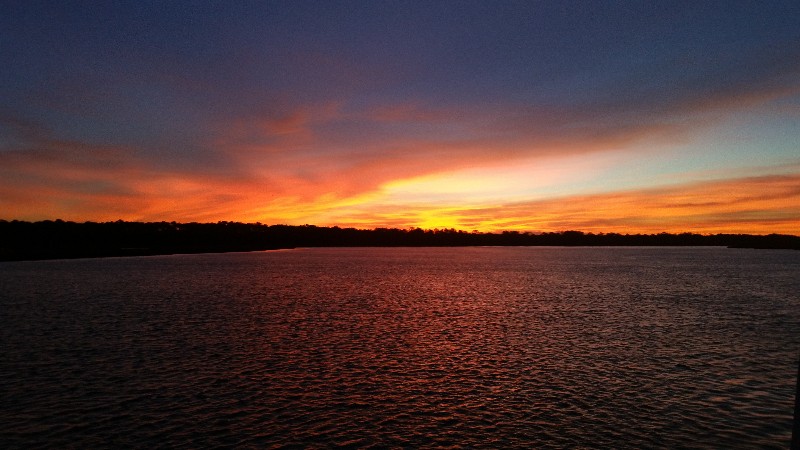 Anchor up and underway at 0700 just before this sunrise... again the anchor chain was clean... except for some type of vegetation that was infested with small crabs.
10 minutes and we were back out to the ICW and heading north. The decision to cross St. Andrews sound yesterday was a good one... soon as we cleared the trees of the anchorage we had 25 knot winds out of the NE and the waves were 2 footers even this far in from the sound. They only lasted for about 5 minutes and we turned to run with them and did not even notice them.
The weather was nice again today... sunny for the most part... and windy in the morning... subsiding in the afternoon.
More boat traffic today with two trawlers passing us and a lot of small recreational boats. We also heard a lot of boats on the VHF.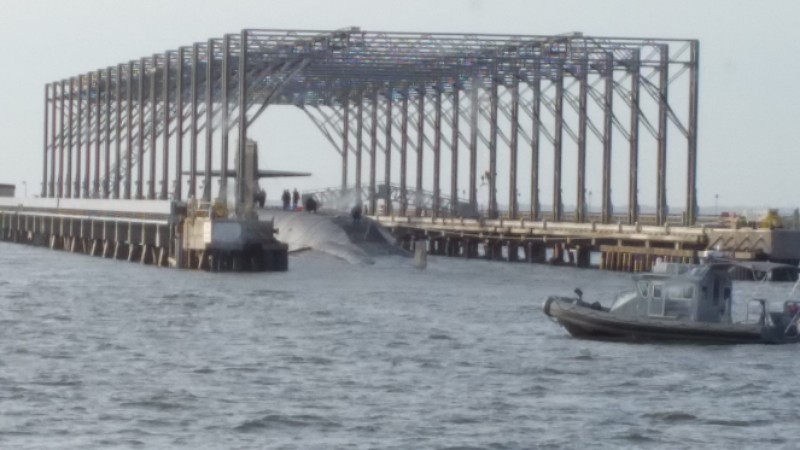 We did get to see a submarine in Kings Bay... after we passed through the area the Coast Guard started hailing boats to warn of the impending escort of the sub out to sea... we made it through just in time as they were actually have boats stop... pull out of the channel and hold station until the sub and escort boats had passed.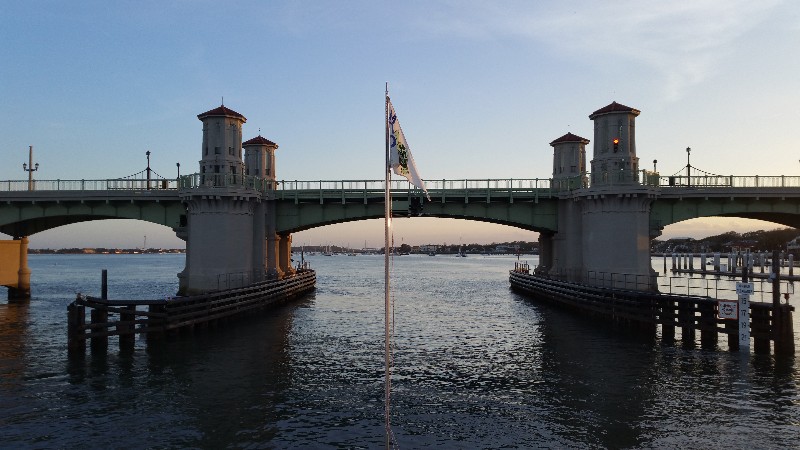 We ran until sunset which landed us in St. Augustine. We took a mooring ball at the St. Augustine Municipal Marina. Our location for the night
N29°53.339', W081°18.439'
. We traveled today for 10 hours and 15 minutes covering 72.0 nautical miles averaging 7.0 knots.


Posted at 4:59 PM


CT to FL Day 22
Kilkenny Creek, GA to Cumberland Island, GA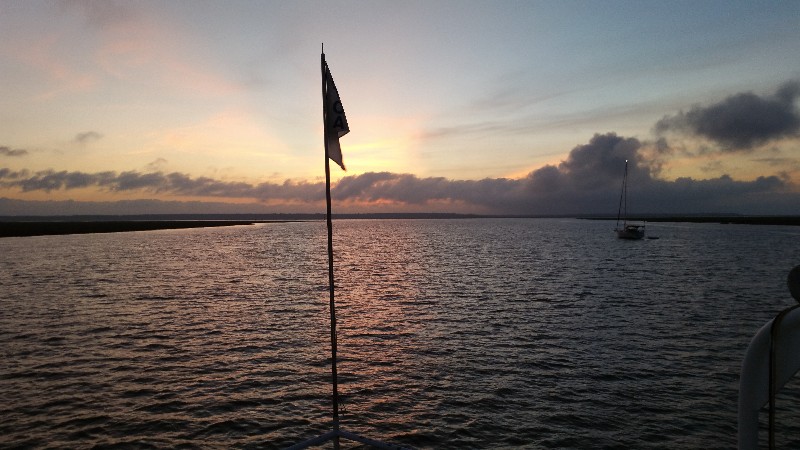 We pulled the anchor this morning at 0650 and were underway at 0700... surprisingly the chain came up totally clean... NO MUD at all.
5 minutes and we were back in the ICW heading south... full current on our nose running 5.3 knots. That lasted until we crossed Sapello Sound and then we running 8 to 9 knots... this yo-yoing in speed continued all day.
The weather was nice today... sunny for the majority of the day... a little windy at times but had no effect on the seas.
Very little boat traffic... we passed one sailboat in Sapello Sound and the 1965 Trumpy "America" followed us through Little Mud River and once out of the south end of the river he passed us. We had seen them a few days ago... such a beautiful boat.
Little Mud River can be a problem area with very shallow water but we had a 6 foot plus tide as we went through and had no issues.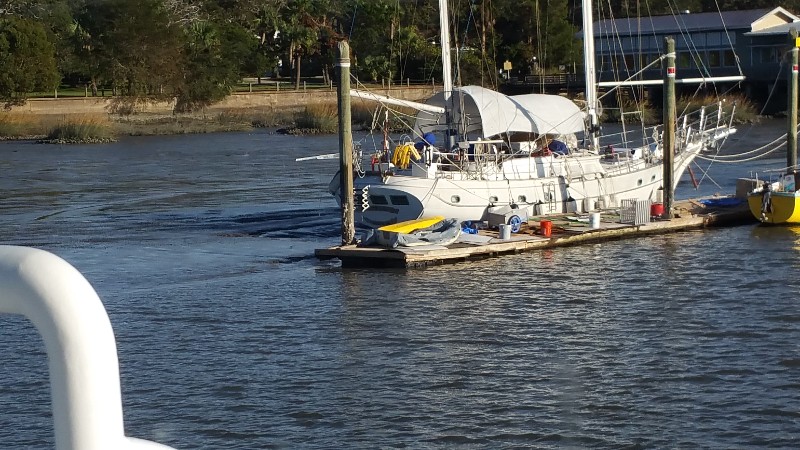 We did have issues with Jekyll Creek just south of Brunswick... we arrived there at dead low tide and with the full moon it was a -1.3 foot tide... yep that was minus 1.3 feet... the mile and half or so was basically clean the bottom of the boat... I could hear us dragging on the bottom... but we made it through at idle speed. The sailboat in the photo was at the dock sitting in mud... no water at all behind the dock.
We had planned to stop at a dock just at the south end of Jekyll Creek but it was only 1600... wind conditions were good for crossing St. Andrews Sound so we decided to continue on. The forecast for tonight was NE winds 15-20 knots seas building offshore to 4-6 feet... this would make St. Andrews Inlet crossing rough enough that we would need to take the back passage to avoid the breaking waves in the sound. Today was the day to cross.
It was a good choice and we had almost flat calm seas at the extreme eastern portion of the crossing. The area seems to have shoaled quite a bit after Hurricane Matthew... area we cross has charted depths of 9-11 feet and we saw depths below 6 feet as we crossed.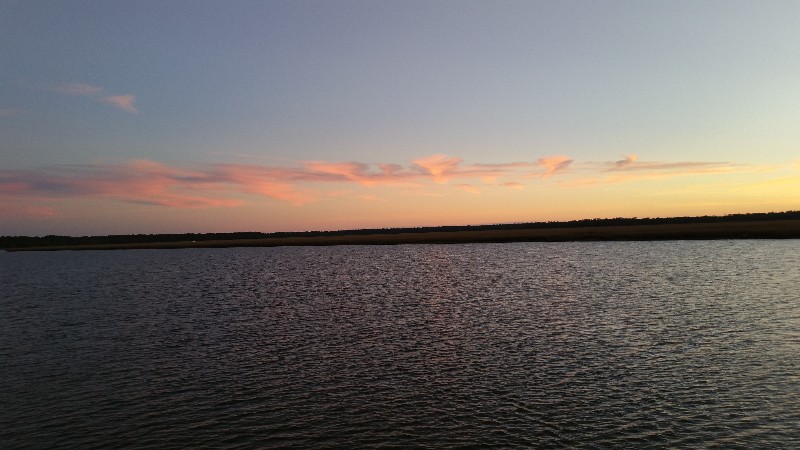 We decided to anchor in Brickhill River Cumberland Island and arrived just at sunset. We were secure on the hook at 1730 at location
N30°54.180', W081°27.393'
. We traveled today for 10 hours and 30 minutes covering 71.4 nautical miles averaging 6.8 knots.


Posted at 5:10 PM