CT to FL Day 17
Layover Oriental, NC

Another day layover in Oriental for Deaton Yacht Service to diagnose our engine trouble. They found the engine had water in the cylinders and when the first oil change was done a gallon of water was removed. The cause a defective exhaust anti vacuum/syphon air loop that was stuck and allowed the exhaust water to syphon back into the engine. Since the engine had never been started after the water intrusion the water had never mixed with the oil. They also felt that we "may" have a blown head gasket... but hydro carbon testing of the coolant was inconclusive to support this. Drained the exhaust hoses... Replaced the Vetus Air Loop... cleaned out the engine with a half dozen washes and oil changes. Tested everything again and tests for head gasket still inclusive to prove a blown head gasket and the boat ran fine on a sea trial... They also told me that my turbo needs to be serviced that they could see evidence that it may have the beginnings of bearing failure. Bottom line... we are back underway tomorrow morning with advice to not push the engines... which I never do anyway.


Posted at 4:15 PM


CT to FL Day 16
Layover Oriental, NC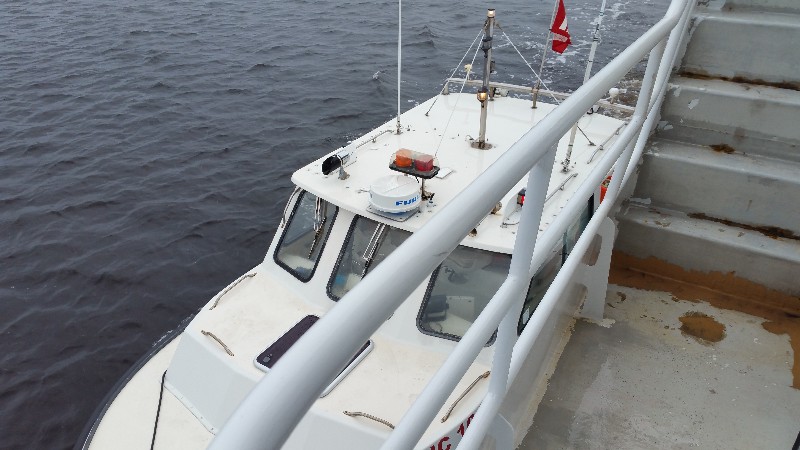 Towed this morning by TowBoatUS Oriental from the Oriental Town Dock to Deaton Yacht Service on Whittaker Creek Oriental, NC.
Our position is
N35°01.943', W076°41.064'
.


Posted at 10:07 AM


CT to FL Day 15
Layover Oriental, NC

Hanging at town dock... will be towed to Deaton Yacht Service Whittaker Creek on Monday


Posted at 9:55 AM