CT to FL Day 24
Jacksonville, FL to Palm Coast, FL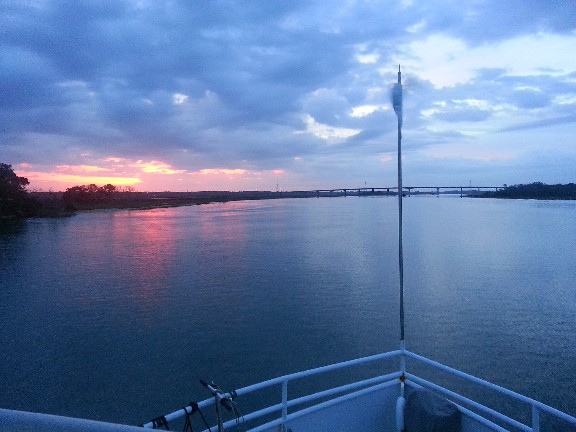 We got away before sunrise this morning at 0645 and headed south down the ICW. As we left the dock I hailed the Sisters Creek Bridge for an opening. The bridge was less than an 1/8 of a mile away. the bridge tender was very prompt and we did not have to wait at all for the opening.
Bridges we encountered the rest of the day were not an issue as we could pass under them without an opening... McCormick Bridge and the Bridge of Lions at St. Augustine.
First half of the day we had current boosting us up to over 9 knots at times.... second half or I should say from St. Augustine Inlet we had current against us... slowing us to under 5 knots at times.
We seemed to have lost our group of boats we had traveled with the last few days... they did not seem to be leaving as early as we were and stopping at about the same time of the day as we were so we have crept ahead of them. I did hear them on the radio a few times and actually talked with "Dorcas Ann" once. But her home port is Marine Land just north of Palm Coast so we will not see or talk to them again this trip.
Our destination for today was Palm Coast, FL. Palm Coast is one of favorite stops along the trip south or north. We have so many MTOA friends here that it makes it hard to just stop for one night. Luck was with us this trip as tonight is the Palm Coast Lighted Boat Parade. We are going to ride in the parade... not on "SAILS" but on one of our friends boat "IFFIN"... Barbara and Barry Kipnis. Should be a lot of fun.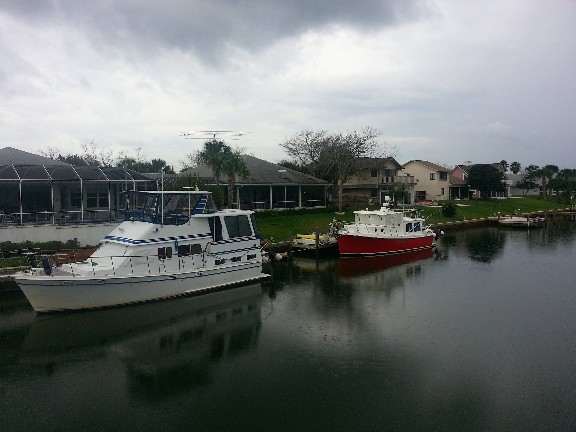 We arrived to Palm Coast and were securely docked at 1515 across from Phil and Sarah Lowe's home and boat (red American Tug) at N29°35.194', W081°12.325'. We traveled today for 8.5 hours covering 55.2 nautical miles averaging 6.5 knots.


Posted at 3:56 PM


CT to FL Day 23
Jekyll Island, GA to Jacksonville, FL

We departed from Jekyll Island this morning at 0650. Our destination for today was Jacksonville, FL.
First obstacle for the day was St. Andrews Sound... crossing in high winds can make the crossing very nasty. Today was not that bad.... NE 15 -20 knot winds were producing 3-5 seas in the Atlantic but the breakers off the sound cut these back some... we saw 2-3 waves on the most easterly leg of the crossing. It did however pickup as we proceeded down the ICW along Cumberland Island with wave on our stern at 3-4 feet.
It was an ebb tide so we fought current quite a bit today and also dealt with a lot of shallow water... just past Fernandina Beach was tricky and several others places along the way. We overheard several boat hailing TowBoatUS that had gone aground.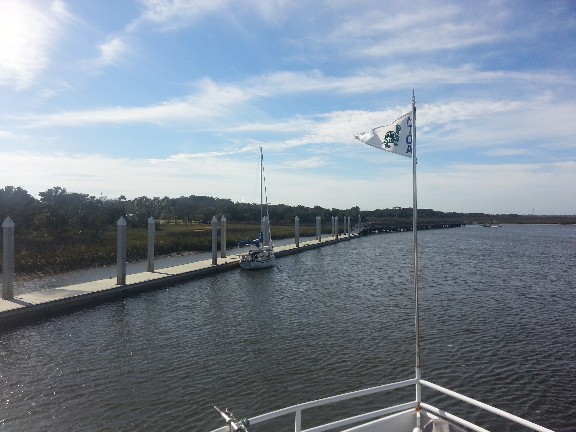 Best part of the entire day was we arrived to FLORIDA! Still 8 days or so before we reach our final destination Punta Gorda, FL... but it's just nice to be back in the Sunshine State... and it was sunny all day!
We arrived to Jacksonville, FL at 1350 and docked the free docks at Sisters Creek located at N30°23.890', W081°27.502'. We traveled for 7 hours covering 46.7 nautical miles averaging 6.7 knots.


Posted at 2:20 PM


CT to FL Day 22
Kilkenny Creek, GA to Jekyll Island, GA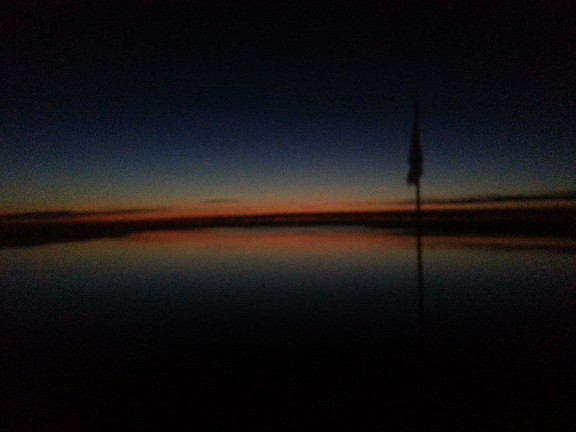 We departed from Kilkenny Creek before sunrise at 0630. Destination for the day Jekyll Island, GA.
We arrived to Jekyll Island, GA at 1530 and docked at N31°02.543', W081°25.387'. We traveled for 9 hours covering 62 nautical miles averaging 6.9 knots.


Posted at 4:47 PM