CT to GA Day 9
Hampton, VA to Great Bridge, VA

Departed from Salt Ponds this morning at 0930... planned destination as Great Bridge, VA so no need to leave early... can't dock there until after 1300 so slept in till 0800.
This section of the ICW is always interesting... passing the Norfolk Naval Yard and all the Navy ships and lots of commercial traffic... got waked by one inbound container ship that was running 18 knots and putting out a 6 foot wake... a few things tumbled here and there in the boat. It always amazes me how fast these huge ships can move.
No bridges to deal with until you get to Great Bridge and the Great Bridge Lock... we arrived to the lock at 1325 and waited about 5 minutes before being able to enter the lock... we were the only boat in the lock... no troubles... 15 minutes and we were out the south end headed to the Great Bridge Bridge... the bridge opened as scheduled at 1400 and 15 minutes later we were securely docked at the Atlantic Yacht Basin.
Forecast for tomorrow is gale force winds so we may end up staying another day here but we will wait and see what the weather forecast is in the morning... things can change overnight with the weather.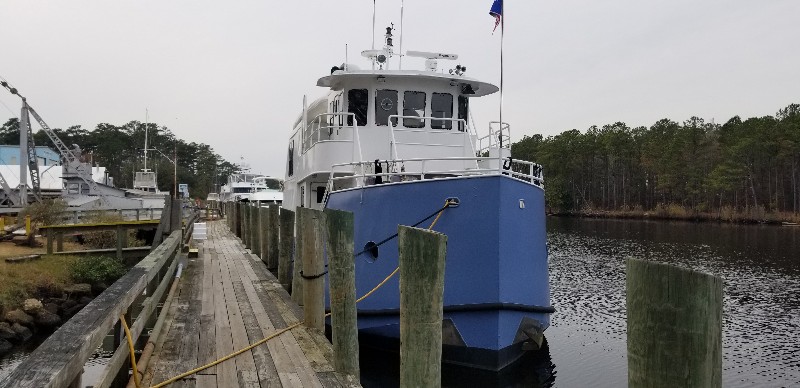 We arrived to Great Bridge and were securely docked at the Atlantic Yacht Basin at 1415. Our position tonight is
N36°43.209', W076°14.075'
. We traveled today for 4 hours and 45 minutes covering 26.2 nautical miles averaging 5.5 knots.


Posted at 2:54 PM


CT to GA Day 8
Layover in Hampton, VA

Another layover day Salt Ponds, Hampton, VA... spent the morning hunting down the freeze plug for the port engine turbocharger... 20 mm is a tough size to locate.


Posted at 1:46 PM


CT to GA Day 7
Layover in Hampton, VA

We will spend a couple of days here in Hampton, VA... four reasons...

1) Spend some time with our great friends here in the area.

2) Need to replace a freeze plug in the port engine turbo... has a small pinhole leak and is bubbling coolant when engine is running.

3) The Norfolk Southern #7 Railroad Bridge is undergoing maintenance and in the closed position. Only open before 0700, 1130 - 1330 and after 1730.
No maintenance on Saturday and Sunday and will be open as normal. We could easily make the mid-day hours when the bridge will be open but we have been through this same situation in the past and during the mid-day hours there are many boats trying to go north and south all waiting at the bridge... would rather just avoid it all together.

4) Two Bridges south of Norfolk... the Centerville Turnpike Bridge and the North Landing Bridge open on demand on weekends rather than their normal restricted schedule on the hour and half hour. The restricted schedule is a pain because of the distance between them and our speed... we cannot make it from one bridge to the other in 30 minutes... takes us about 36 minutes so we end up slowing way down and taking an hour between the two bridges... not an issue on the weekends.


Posted at 2:43 PM