CT to FL Day 22
Murrells Inlet, SC to Charleston, SC

We had a quick dinner at the marina restaurant K-Rae's and to bed early... 0530 alarm clock as we have a long day planned for today.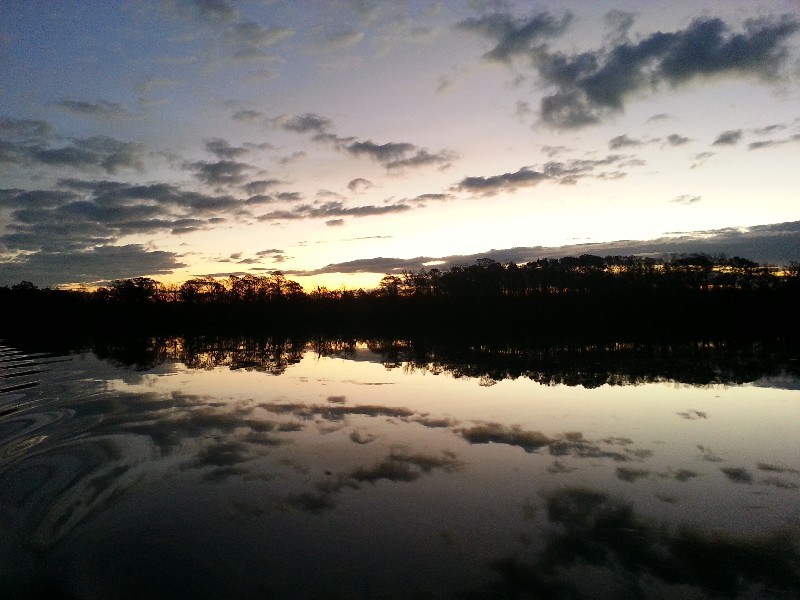 We departed from the marina at 0610 about 45 minutes before sunrise and the Waccamaw River was VERY DARK…. Almost spooky! The biggest problem the debris floating in the river was horrible... Tons of vegetation but also logs and even trees... so it was slow going till we got enough light to actually see well.
We had current against us for about an hour and then it switched to our favor just before Georgetown, SC and we picked up a great boost of speed running over 9 knots for a couple of hours and then we began the "yo-yo" current... Helping slowing us down for several hours.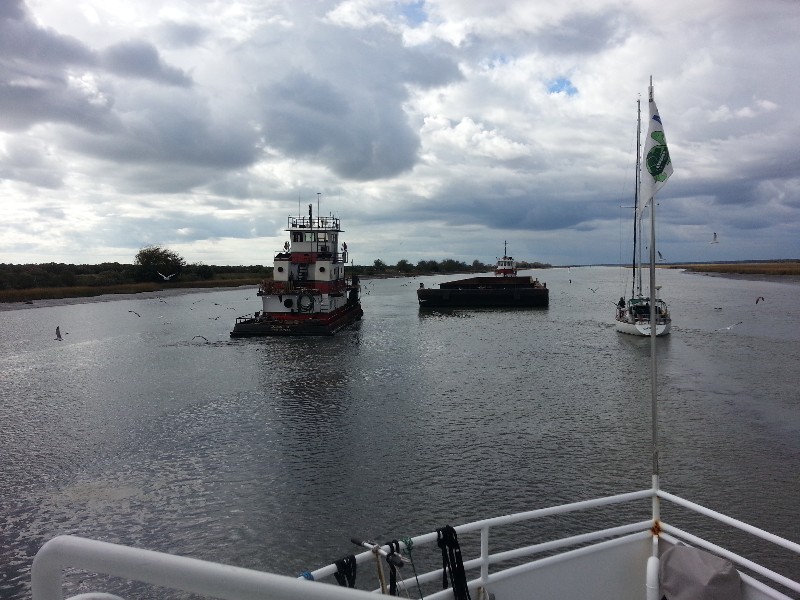 Near McClellanville, SC we caught up with two sailboats that were very nervous about shallow water in the area. They had been going on about it for quite a while on the VHF. Just ahead of them was a large tugboat that must have had an 8-9 draft minimum... he was moving very slowly and we discovered that he was headed to assist another tug and barge that was aground a 1/4 mile south of McClellanville... Dead center of the channel.
I eased past the first of the sailboats and fell in behind the second sailboat right as we approached the tugboats and barge. The tugboat that had come to assist had also gone aground blocking the left side of the channel. Our only clear passage was down the port side of the tug and barge. The sailboat went first and I followed with the other sailboat following us. We passed maybe 5 feet off the side of the barge... Depth sounder stopped working flashing LAST over and over…. The sailboat had said he had a 5 foot draft so if he could make figured we could as well... And we all made it past and back to the center of the channel... depth sounder finally started working again showing 5.5 feet. I soon passed the sailboat in front of us and we were off bound for Charleston.
We battled shallow water and shoals all day in the area and some heavy rain which we had not anticipated at all.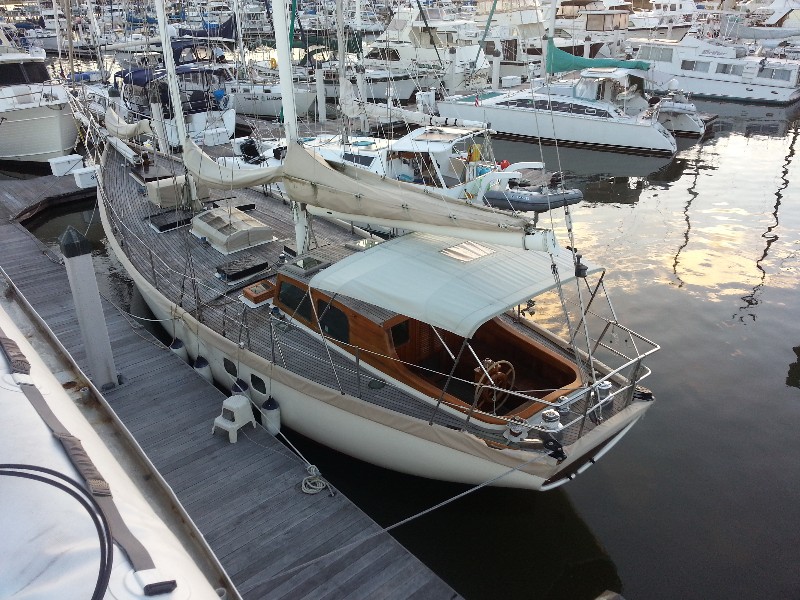 We arrived at our location for the night St. John's Yacht Harbor on the Stono River at 1640 and we were securely docked at
N32°45.307', W080°00.668'
. We traveled today for 10.5 hours covering 76.8 nautical miles averaging 7.3 knots.


Posted at 4:45 PM


CT to FL Day 21
Carolina Beach, NC to Murrells Inlet, SC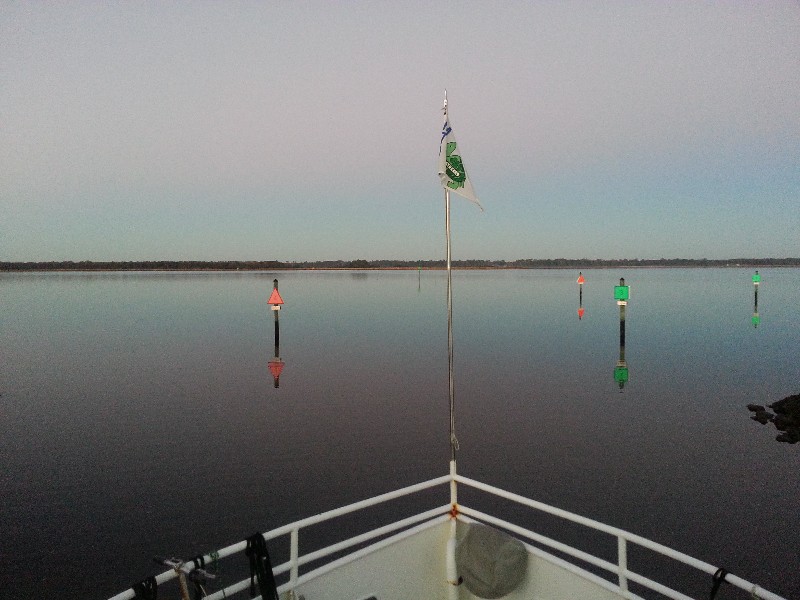 We departed from Carolina Beach State Park Marina at 0640 about 20 minutes before sunrise. We had the current with us running down the Cape Fear River pushing us over 11 knots at one point. I think this was the fastest trip we have ever made down the River to Southport.
As we passed Southport we listened to the VHF closely as we always get hailed by Robert Creech the MTOA Port Captain for Southport... But no hail from Robert... seemed wrong... it's such a regular occurrence... he must not of been home this morning.
Had a few other boats traveling south with us... the two trawlers that had been at the marina with and another motor yacht that passed us just south of Southport.
Just past the high rise bridge at Sunset Beach I receive an email with two photos of SAILS passing under the bridge... Thanks Ronnie Holden!!! Great Photos.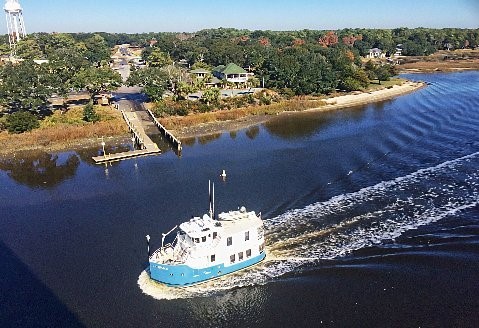 We had two bridges to open today... Little River Bridge and the Socastee Bridge... both are very slow swing bridges and we waited several minutes at each bridge 5-10 minutes but we expect this at these two bridge.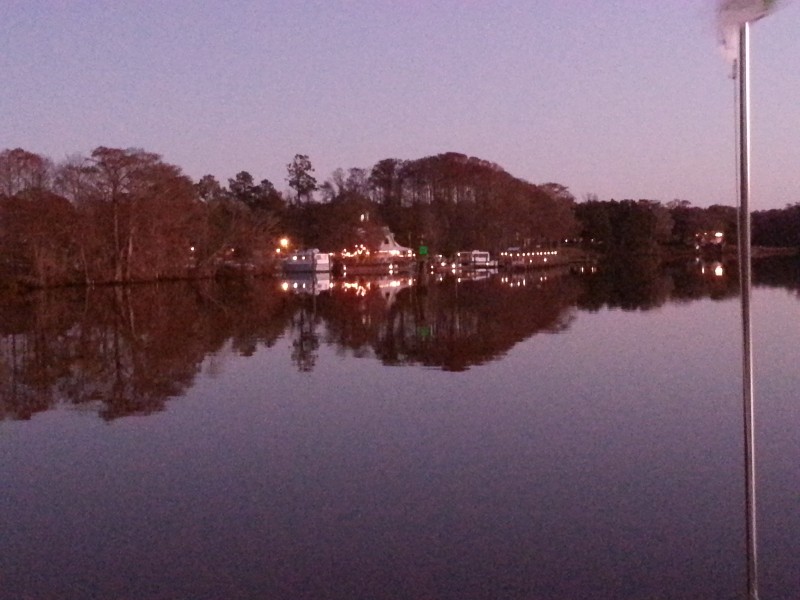 We arrived at our location for the night Wacca Wache Marina on the Waccamaw River at 1740 and we were securely docked at
N33°33.737', W079°05.173'
. We traveled today for 11 hours covering 76.4 nautical miles averaging 7.0 knots.


Posted at 4:38 PM


CT to FL Day 20
Swansboro, NC to Carolina Beach,NC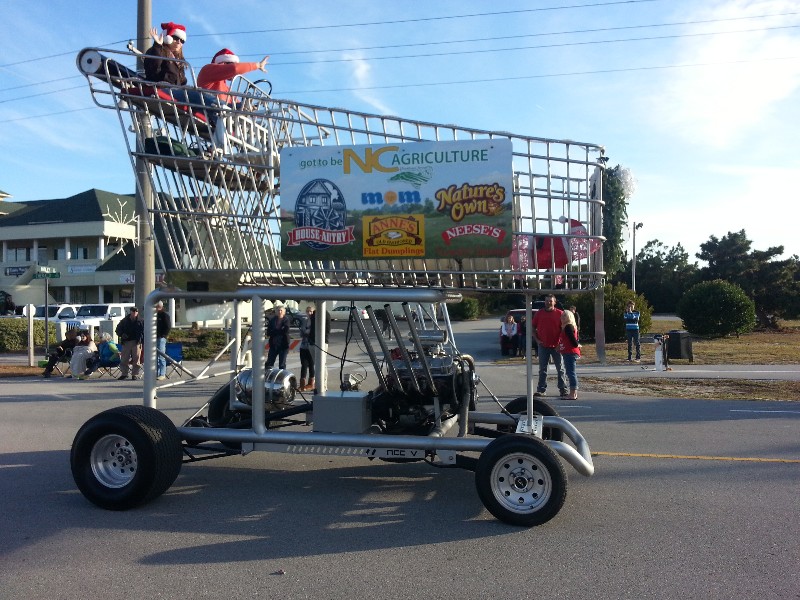 Yesterday we were able to attend the Emerald Isle Christmas Parade.... It was quite the experience and much bigger than we had anticipated. The best thing in the whole parade was this giant shopping cart powered by a V8 engine.... very cool!
After the parade we had a lovely dinner with the Erwins at their home on Emerald Isle. It's always an awesome time with them.... we really enjoy our visits with them.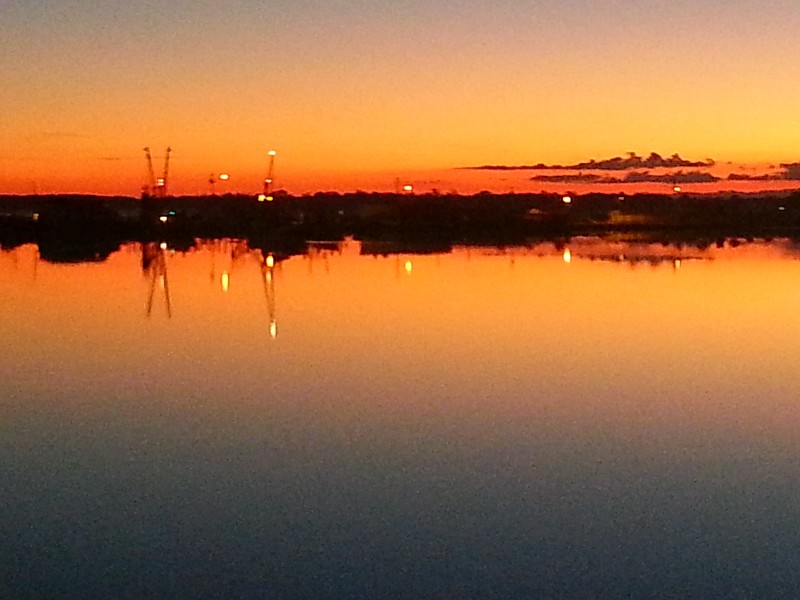 We departed from Casper's Marina at 0635 a few minutes before sunrise and the sky was absolutely beautiful.
Today we had three bridges to deal with that can a real pain.... today they went very smoothly... 0800 for the Onslow Beach Bridge... the tide was low enough that we did not need to open the Figure Eight Island Bridge... just dropped the mast and antennas and we squeezed under with 8 inches to spare. The then Wrightsville Beach Bridge at 1400... no problems at all.
We arrived to our destination for the night at Carolina Beach State Park at 1600 and found two boats docked in the only two places we fit... So I docked in the fairway next to fuel dock.... plenty of room and the fuel dock closes at 1800 so we would not interfere with any boats wanting fuel. At 1605 we were secure and power plugged in all set for the night.
I had to do an oil change on the engines during this stop so I was off to the engine room and changing the oil. Susan was off to shore to walk Beecha in the grass.
I had one engine drained and had just started draining oil from the other engine when Susan comes back and yells down to me we have to move. The park ranger said we can't dock where we were and there was no room for us anywhere else. We were not going anywhere till I finished with the oil changes and told Susan it will be 30 minutes till we could move.
Next thing I know Susan is telling me that the boat on the t-head where we normally dock is going to move to a slip for us. We had met this gentlemen last year in this exact marina. He was very nice and moved to a slip and this allowed us to move to the t-head. I sure did not want to continue on to Southport tonight which would of been the next place we could of stopped.
We were secure again on the t-head at approximately 1700. Our location for the night
N34°03.012', W077°55.156'
. We traveled today for 10.25 hours covering 66.7 nautical miles averaging 6.5 knots.


Posted at 4:46 PM