FL to CT - Day 8
Stuart, FL to Fort Pierce, FL

Awake at 0630 and up to get the boat ready to leave... short day planned with destination Fort Pierce City Marina in Fort Pierce, FL.
0700 everything checked and ready to... out to the bow to drop the line from the mooring and see the railroad bridge adjacent to the Roosevelt bridge going down... no need to drop the line yet... back to the pilothouse and wait till I can see that railroad bridge opening. Two trains pass over the bridge and see the bridge slowly opening... back to the bow to drop the line form the mooring ball... finally away at 0730.
I hail the Roosevelt Bridge for an opening and we pass through it and railroad bridge next to it and we past all obstacles for the today.
Had current with us as we headed out the St. Lucie River toward the ICW traveling over 8 knots several times... very nice!
For a Saturday there was not much boat traffic as normal for a weekend... it was forecast 50% chance of thunderstorms so maybe it kept people home.
We arrived to Fort Pierce City Marina at 1100 and hailed them to get docking instructions. They have new state-of-art docks and electric pedestals and you have to go through a pre-check of your boat's electrical system at the fuel dock before they can assign you a slip... Anyway, we were told to standby outside the marina as they has three boats ahead of us in the "pre-check" queue.... :(
At 1125 the marina hailed us and gave us instructions of where to come for our "Pre-Check"... we arrived and 10 minutes later we were given the "OK" and we could dock at the new floating docks... BUT, we would have to wait to get a slip assignment... waiting... waiting... waiting... finally at 1155 we have a dcckhand come to the boat and give us instructions as where we would be docking... 1215 we are docked in our slip... well not a slip but alongside a long side dock.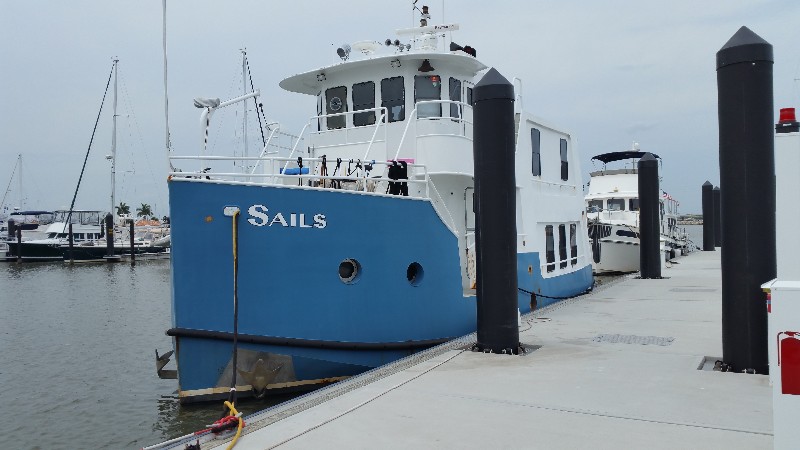 Our location for the next week as we attend the MTOA Southern Rendezvous at the
Fort Pierce City Marina
. We traveled today for 3.5 hours covering 26.75 nautical miles averaging 7.6 knots.


Posted at 7:01 PM


FL to CT - Day 7
Stuart, FL

Layover day in Stuart, FL


Posted at 6:33 PM


FL to CT - Day 6
Moore Haven, FL to Stuart, FL

Up at 0700 to start the day... fairly long day planned with final destination Stuart, Florida. Just as we about to toss the lines a car drives up and a man gets out and heads toward our boat. I wondered who could this be... Then I recognized him... it was Alan Reich our brother-in-law... Susan's sister Lisa's husband... he has customers in Clewiston and was driving over the bridge and saw us at the dock and stopped to see us... Cool surprise!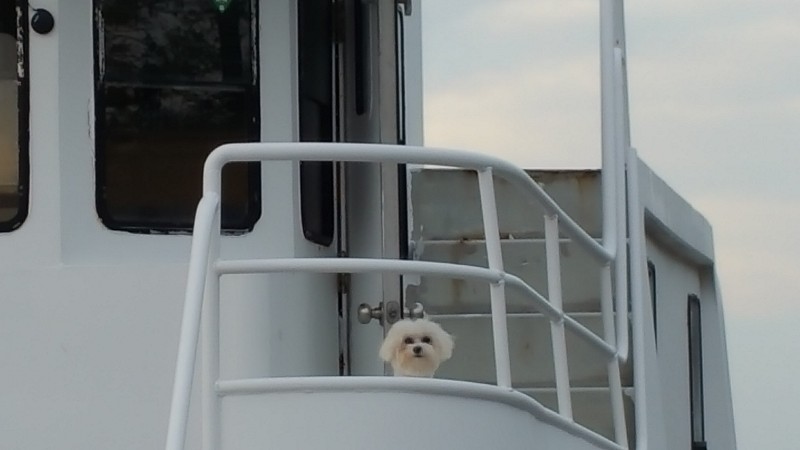 We departed the docks at Moore Haven at 0800 with Lily supervising the undocking from the pilothouse deck... most of the other boats that had docked near us had already left... the Moore Haven Lock opens at 0700 so guess everyone wanted to get through first thing.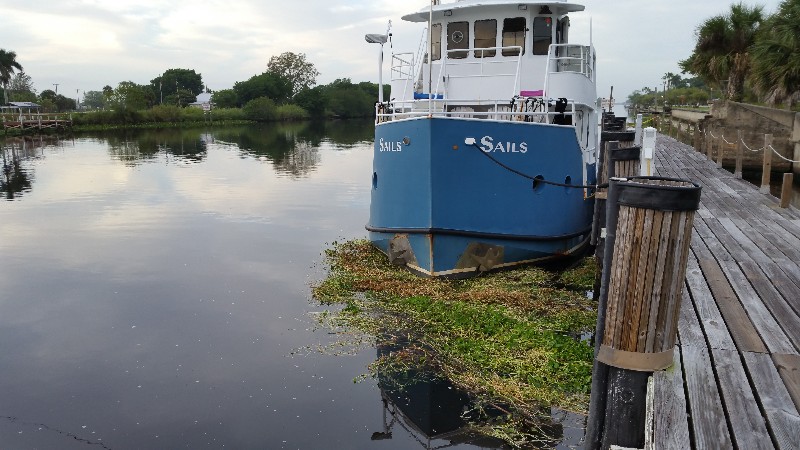 There were tons of water hyacinth floating past at the docks. They are still dumping water out of the lake and there was a good current carrying them past us... but quite a few had gathered at the bow of SAILS. Had to back away from the dock to get around them. Doubt they would of hurt anything but better safe than sorry.
As we passed the boats ahead of us we noticed something floating by one of the boats... it was a dead alligator belly up... must have been 10 feet long… didn't get a chance to snap a photo... it was pretty cool... never seen a dead one floating like this.
We went through the Moore Haven Lock with no issues and headed around the rim canal toward Clewiston. There is a small "no wake" zone a few miles up by a boat ramp. I slowed to about 1000 RPM as we entered it... a couple of fishermen were jumping up and down yelling at us to slow down... no wake zone... I checked my wake and it was nothing but a ripple… guess the size of SAILS had them upset...


We took a turn to the left a Clewiston and headed out into Lake Okeechobee. It was fairly windy with winds at 15 to 20 knots... the lake was a little choppy but not a bad ride. We heard several of the other boats on the VHF that had left ahead of us taking the rim canal past Clewiston avoiding crossing the lake... stating too windy and rough to cross.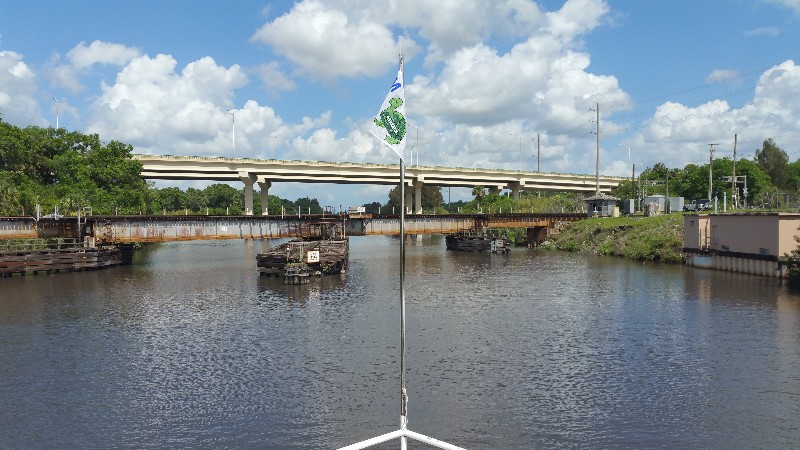 We crossed the lake and arrived a Port Mayaca Lock... it was operating and we were lowered a whole 6 inches... Next obstacle would be the St. Lucie Lock just before Stuart. Well, that is what I thought... we round the bend near Indiantown Marina to see the railroad bridge closing in front of us. It is normally open... not today... I hailed bridge on the VHF and said we were only 2 minutes away could he wait… NOPE, had a train coming.... So, we waited and within 10 minutes the train did show up… not really a train but an engine and one car attached. Cool... made the wait even less... 5 minutes later the bridge was open and we were back underway.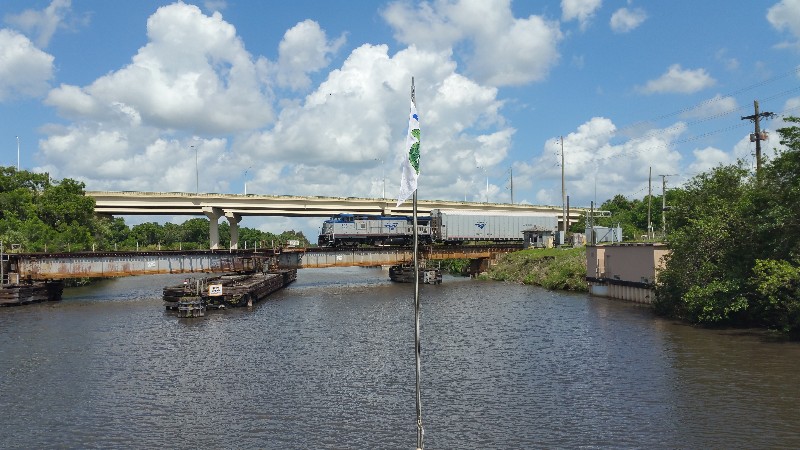 The delay was going to make it close in time to make the St. Lucie Lock by 1700 when they close. I pushed the speed up a bit and we arrived to the lock at 1645 and locked through dropping 14 feet to the level of the St. Lucie River.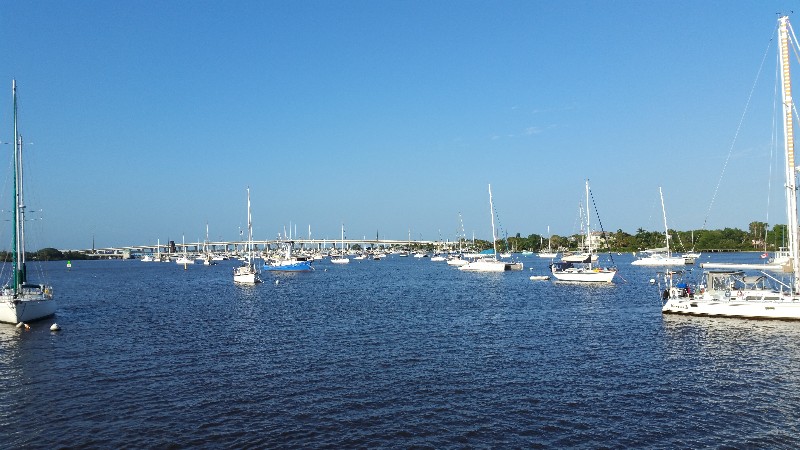 We arrived to our destination for the night and were secure on a mooring ball at Sunset Bay Marina at 1800. Our location for the night N27°11.710', W080°15.787'. We traveled today for 10 hours covering 60.9 nautical miles averaging 6.1 knots.


Posted at 5:46 PM