FL to CT - Day 21
Walburg Creek, SC to Skidaway Island, SC

We had one heck of night on the hook here in Waburg Creek... when we anchored the winds were NE and we had great protection... during the night the wind shifted to NNE, whch was just enough to allow the wind to rip down the anchorage. To add to this, when the current switched to ebb (outbound) it was running so fast and in the opposite direction of the wind... we started seeing these 1 foot waves forming... little swells that were just big enough to slap the bottom of the dive platform causing a lot of noise... slapping of the waves gusts of wind... we did not sleep that well... :)
Morning arrived after a restless night and we decided to get underway... Yesterday we had found a marina with space and a courtesy "Golf Cart" that we could take to the grocery... a Publix... Susan loves Publix.... :) Only problem was that we would have to wait for a mid tide to get in to the marina... mid tide was about 1230 and we were just 3 hours away which meant a laate departure.
We were underway at 1000... after fighting to get the anchor up for 15 minutes... normally takes 5 minutes... the wind and current made it very difficult.
We had to cross St. Catherine's Sound as we exited Walburg Creek... compared to the other sounds that had been rough this was a calm crossing... not smooth by any means, but not an issue... the winds switching to more NNE I think really helped to keep it calmer.
We had to go about 20 miles to reach the marina... we had never been there before.. in fact we never realized it even existed. Delegal Creek Marina on Skidaway Island. The channel has a shallow spot in it that at mid tide (+4 MLW) was about 7.5 feet... other than this one spot the channel was 15 feet plus.
We crossed through Hell Gate and straight across Ossabaw Sound to the marina channel. BTW Hell Gate was not an issue at mid tide... low tide wouldof been skionny but still passable with our 5 foot draft.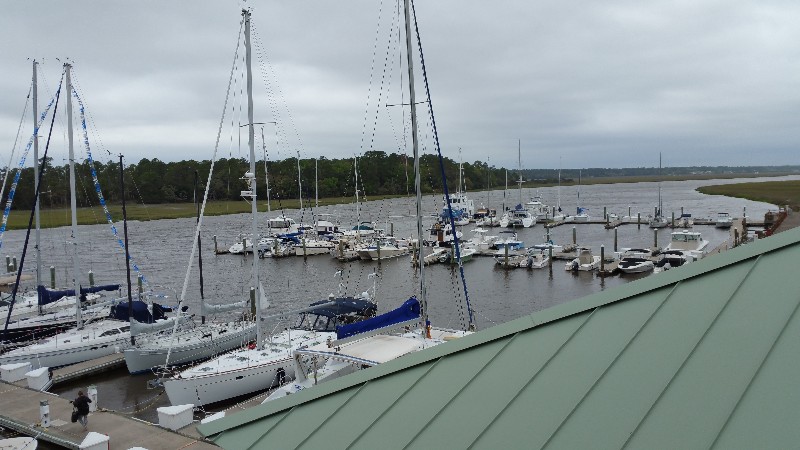 We were securely docked at Delegal Creek Marina at 1330. Our location for the night...
N31°53.460', W081°03.722'
. We traveled today for 3 hours and 30 minutes covering 19.5 nautical miles averaging 5.6 knots.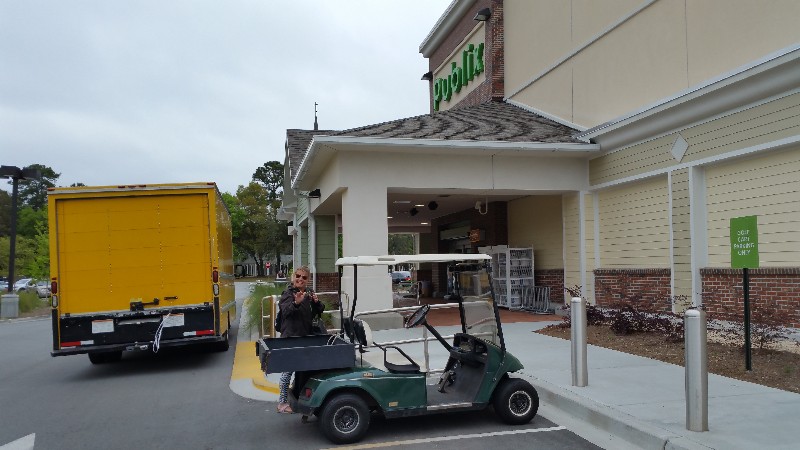 After docking we checked in and took the golf cart to Publix through a very nice upscale community designed for golf cart traffic. The marina office gace us map of the community that showed all the golf cart trails... pretty cool. Pubix was about 3 miles away and took us about 20 minutes make the trip. Publix even has designed parking spaces for the golf carts... :)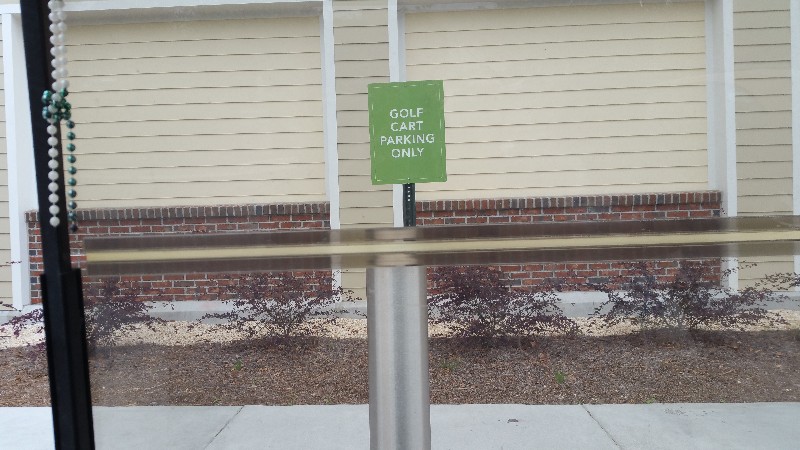 Posted at 4:04 PM


FL to CT - Day 20
Brunswick, GA to Walburg Creek,GA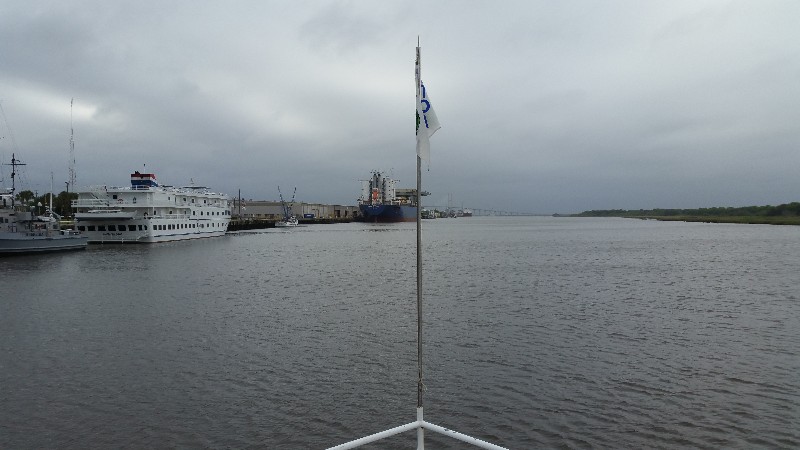 We left Brunswick Landing Marina later than planned at 0845. Our alarm clock "Lily" slept in. Normally, she wakes us up at 0600 to 0630... not today... we had to wake her up at 0800... it was one of those gloomy days out... YUK!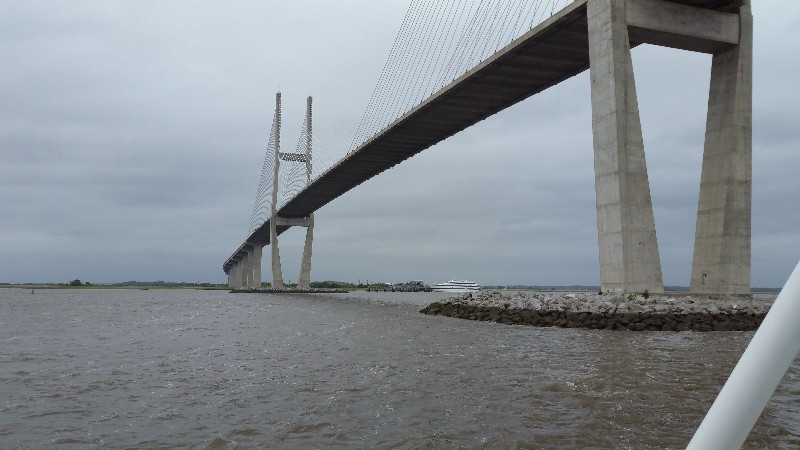 We headed back toward the ICW past the ship docks and under the Sidney Lanier Bridge... it's huge! Takes about 45 minutes to get back to ICW. At least we had the current with us out and to the inlet... pushing us along at over 8 knots... bad part was the current would end at the inlet and the wind was blowing over 30 knots out of the NE. Ready for this wind to stop!
We passed one sailboat and had three power boats pass us... other than that we did not see another boat. Guess when it's raining, wind over 30 knots most people stay docked. We wanted to get to a grocery store soon and tried all day calling marinas to get a slip... every one was full... we did mange to find one in the Savannah area... Delegal Creek Marina located at the moth of the Vernon River just past Ossabaw Sound. They provide a golf cart and Publix is just 10 minutes away... NICE!
We can't make it that far today so we decided to anchor in Walburg Creek just south of St. Catherine's Sound. we have anchored here before and it's a nice protected area from the NE winds that never let up today... saw gusts to 40 knots.... very nasty day!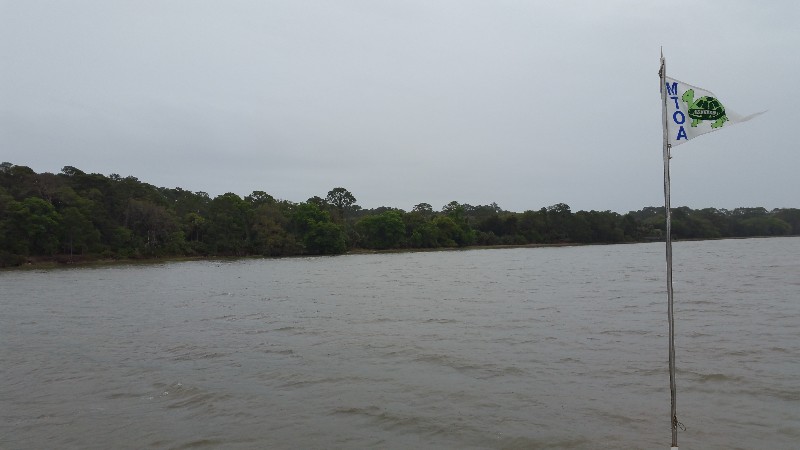 We arrived and anchored for the night at approximately 1730. Our location Walburg Creek at
N31°40.601', W081°09.558'
. We traveled today for 8 hours and 45 minutes covering 56.03 nautical miles averaging 6.4 knots.


Posted at 5:25 PM


FL to CT - Day 19
Jacksonville, FL to Brunswick, GA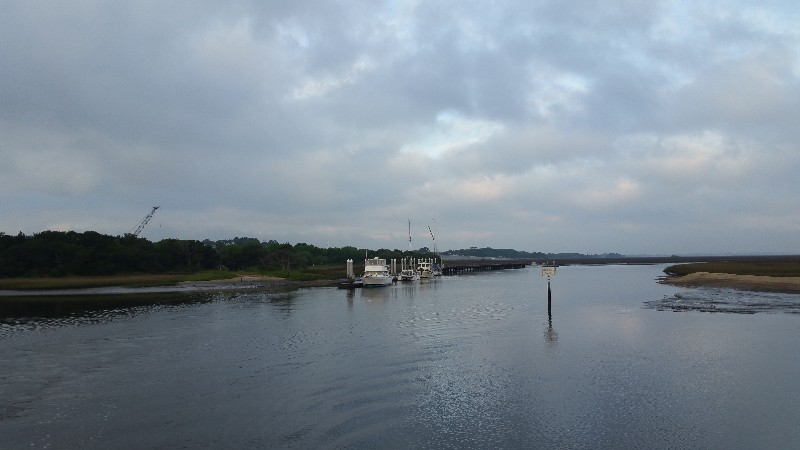 We left Sisters Creek this morning at 0800 and headed north on the ICW... destination planned for today is Brunswick, GA... Yeah! we will finally be out of Florida.
It was a little foggy when we left but cleared quickly... visibility was never an issue. Tide was gong out so we had current against us as we left and it would be near low tide when we hit some of the trouble areas before Fernandina Beach.
Virtually, no boat traffic today... guess the weather kept most people at the dock... cloudy with the clouds hanging low and very windy... 20 to 30 knots all days out of the NE. This meant we would not be doing St. Andrews Sound/Inlet... we took an alternate route that takes a little longer but would calm... we heard a report over the VHF that the waves in the inlet were 7 feet... NOT DOING THAT!
The alternate route takes you off the ICW about 11nm from St. Andrews at Floyd Creek... Satilla River... Dover Creek... Dover Cut... Umbrella Creek and dumps you into Jekyll Sound about 8nm north of St. Andrews. It was a rising tide and most of the route we had good water... couple of places we would not of made it at anything but high tide... The center of Dover Cut we hit a spot less than 6 feet deep and exiting Umbrella Creek we ran at idle speed and drug the bottom for about 1/8 mile... was not sure of we were gong to make it through this past spot... but, luckily we did... :)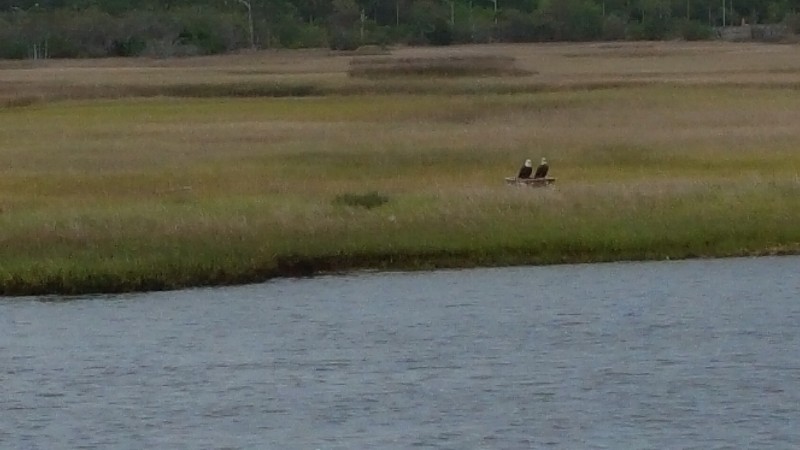 We did see a lot of wild pigs and eagles... the pigs scurried away before we could get close enough for a photo... but did manage to get one photo of two eagles perched on a stake before they flew.
Jekyll Creek which is always an issue was a breeze at near high tide... typically we hit Jekyll Creek at near low tide and push through the mud in a several places.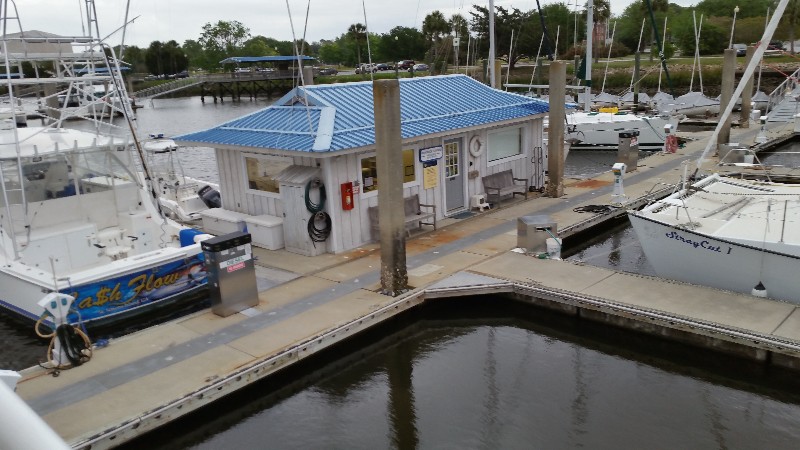 We arrived to our destination for the night at approximately 1700. We docked at Brunswick Landing Marina right next to the office at
N31°09.622', W081°29.991'
. We traveled today for 9 hours covering 60.5 nautical miles averaging 6.7 knots.
After docking we fueled SAILS taking on 1035 gallons of diesel... took an hour to complete... very slow pumps... :(


Posted at 6:26 PM