FL to CT Day 10
Lantana, FL to Fort Pierce, FL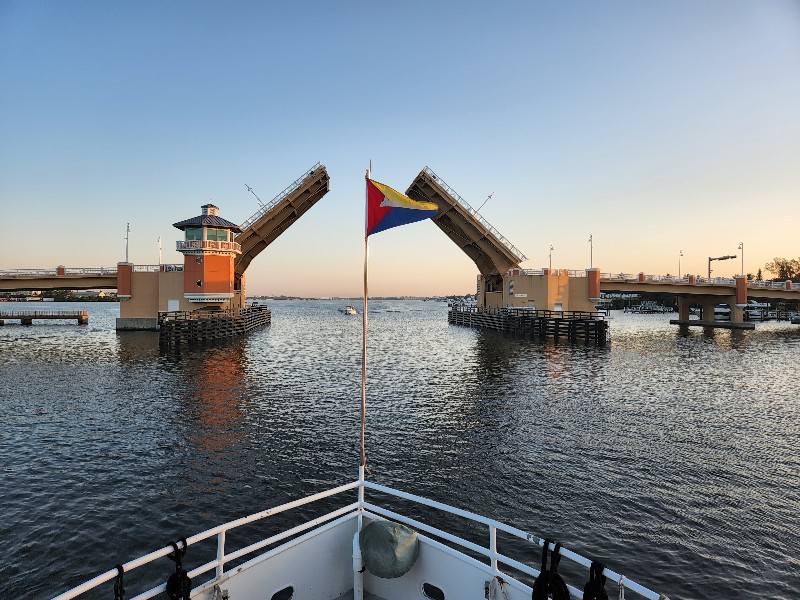 Up early at 0630 to prepare to leave by 0730... we were just below the Lantana Bridge which we needed an opening... bridge opening on hour and half hour so first opening during daylight was 0730. We pulled the anchor allowing just enough time to be in position at the bridge for it's o730 opening. Plans for today were to go to Fort Pierce and anchor.
I had thought we were done dealing with bridges, but we had several more along our path today... most we could pass under with the mast and VHF antennas down, so I put them down after Lantana bridge and left them down until we went under the last bridge... Hobe Sound Bridge... from this point we had only high rise bridges... YAY! At least for today...


We arrived at our destination for the night at Fort Pierce. FL at approximately 1545 and were secure at anchor for the night at 1600. Our position for the night is N27°28.027', W080°19.008'. We traveled today for 8.5 hours covering 57.8 nautical miles averaging 6.8 knots.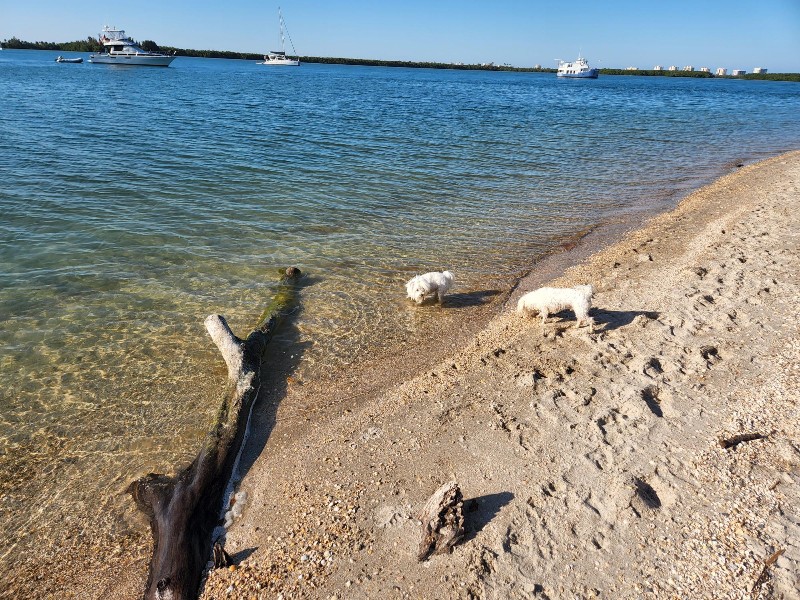 After we were settled and sure anchor was set we dropped the dinghy in the water and took the dogs to the beach on the small island we were anchored next to... spent an hour or so playing on the beach... Lily and Herman loved it.



Posted at 6:59 PM


FL to CT Day 9
Fort Lauderdale, FL to Lantana, FL

Been a while since we had anchored in Lake Sylvia and we had a calm and peaceful night on the hook… it was so calm that we slept in… neither of us waking until about 0800… had wanted to get an early start… oh well. We pulled anchor and were underway at approximately 0915.
The day was so SLOW… SO VERY SLOW… bridge after bridge after bridge… far more idle speed no wake zones than yesterday… most of the day we were running at 5 knots of less… makes for a very long day… had planned to make it North Palm Beach area but it was not happening today…


We arrived at Lantana Bridge, and we were going to have to wait for an opening… that was it… a nice anchorage to our port side… looked like a great spot for the night.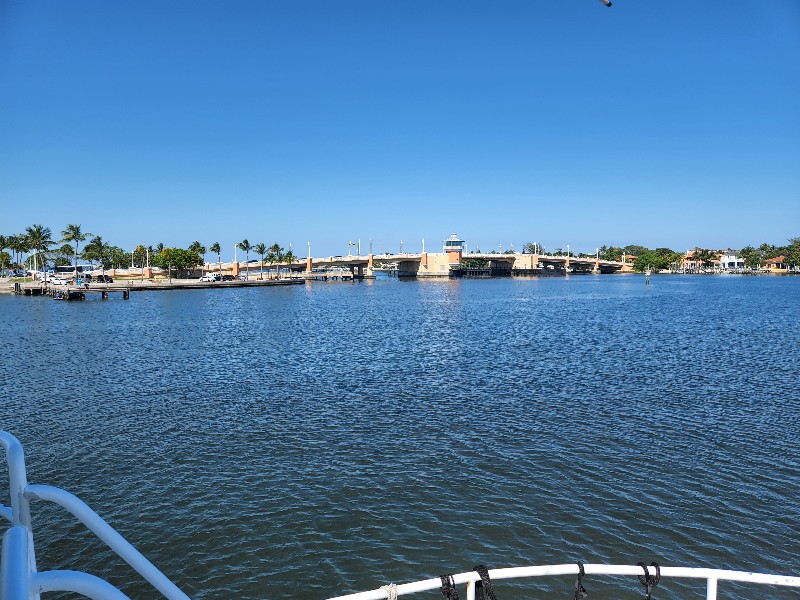 We arrived at our destination for the night at Lantana, FL at approximately 1445 and were secure at anchor for the night at 1500. Our Position for the night is N26°34.956', W080°02.846'. We traveled today for 5.75 hours covering 61 nautical miles averaging 6.0 knots.




Posted at 3:34 PM


FL to CT Day 8
Key Largo,FL to Fort Lauderdale, FL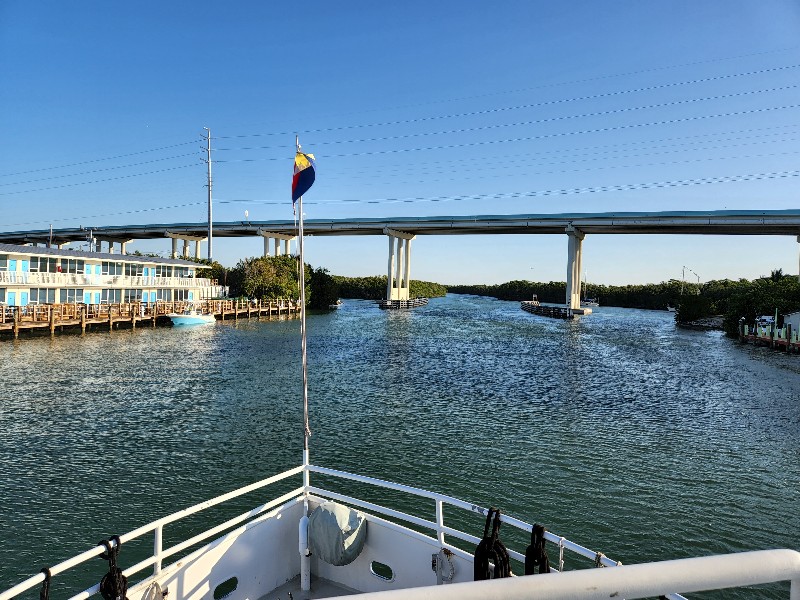 We had a great stay at the Anchorage Resort and Yacht Club In Key Largo… had a great late lunch at the Blackwater Siren next to the resort and spent a couple hours lounging in the resort pool… we really enjoyed the short time we were there. We left at approximately 0830 and headed north up Jewfish Creek… still very shallow water but not leaving trail behind us today.
The forecast was for 10-15 knot NE winds light chop… started out this way but soon the forecast changed, and the CG was announcing small advisory on the radio… 15 to 20 knot winds with gusts to 25 knots… moderate chop. Was not bad at all to travel in but would just love to have a nice calm day of cruising… been windy since we left a week ago.
A lot of boats out which was expected being a Sunday… nothing terrible until we reached Miami… then the crazies came out and it seemed like hundreds of them going every direction possible… stopping dead center of the channel… waking us as they plowed by… it was total chaos. The boat traffic really did not stop all day… a few slower areas but most were crazy busy… sand bars were packed with boats anchored or beached on the sand bar.
This coast has so many bridges.. once we reached Miami, we were in no wake zones most of the time… we don't go that fast to begin with but idle speed is a whole lot slower… and the police boats were out and pulling people over for speeding… saw dozens of them… so we kept it slow.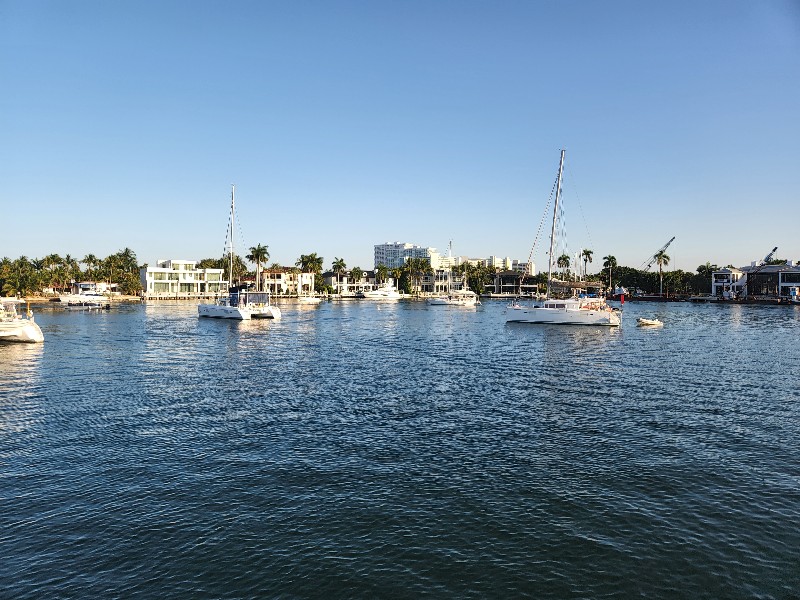 We were happy to arrive to our destination for the night… Lake Sylvia in Fort Lauderdale… was not as many boats here as I was expecting and we were able to find a nice spot with adequate space from the other boats.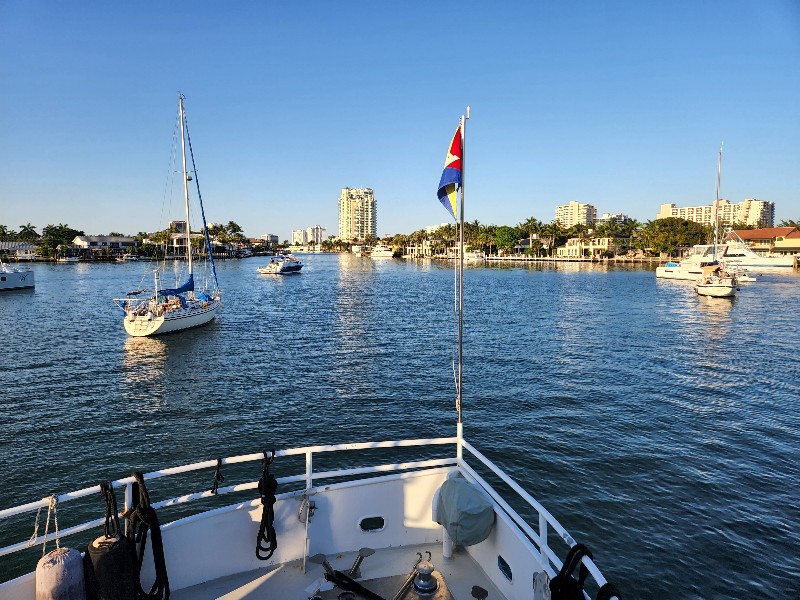 We arrived at approximately 1815 and were secure at anchor for the night at approximately 1830. Our Position for the night is
N26°06.268', W080°06.731'
. We traveled today for 10.0 hours covering 61 nautical miles averaging 6.0 knots.


Posted at 7:45 PM