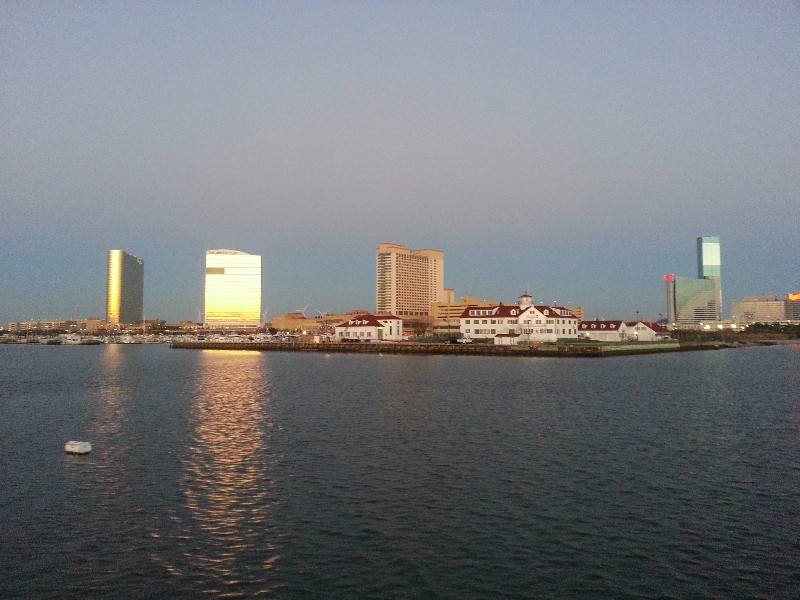 Weather for today… NOAA reporting 3-5 seas mainly in a SE swell with an 8 second period…NOT GOOD. Beach surf reports for the beaches between Atlantic City and Cape May reporting 1-2 surf… GOOD. We departed from Atlantic City this morning at 0630 just before sunrise banking on the surf reports being correct and NOAA being wrong. We had NW winds 15-20 knots which was good… so we planned to cruise as close to the coastline as possible staying in the lee of the land and any waves the NW wind would cause.
Clearing Absecon Inlet we turned to the SW on our normal course that would take us straight to a waypoint that would take us to just off Wildwood Beach. The seas state was pretty calm with only a slight SE swell that was maybe 1 foot… so much for the NOAA report of 3-5 SE swell... ? I decided to abandon cruising the coastline and head straight for our normal waypoint. The NW wind did end up producing some 1-2 waves but they were barely noticeable and we had a pleasant ride all the way to Cape May, NJ.
NOAA forecast for Delaware Bay NW winds 10-15 knots with 1-2 seas diminishing to 1 foot in the afternoon. 1-2 seas would not be an issue and we anticipated a nice cruise to the Cohansey River where we intended to stop for the night.
It was approximately 1130 when we passed through Cape May and exited the west side into Delaware Bay and the 1-2 seas... NOT EVEN CLOSE... The pleasant ride changed abruptly... ? We had 4-6 waves directly on the bow and they were piled up on top of each other. SAILS could handle the seas but Susan and I were not enjoying it very much… my ice water tipped over dousing Beecha with ice cold water… a few other loose items went sent flying here and there. As we hit each wave water pounded the pilothouse windows as if someone had thrown a bucket of water on us... it was not pleasant to say the least... To somewhat ease the brunt of the waves I tacked for a couple of hours back and forth across our NW course.
The forecast NW winds of 10-15 knots was close... they were out of the NW but at 20-25 knots and I saw gusts over 30 knots quite often. They winds as forecast did settle down around 1330 to the 15-20 knots and the waves settled down very quickly to 2-3 foot and I abandoned the tacking and was able to maintain a straight course.
We had a favorable current boosting our speed from the moment we left Atlantic City. Even with the higher seas we would arrive at our waypoint to turn into the Cohansey river well ahead of what we had planned. I checked the currents ahead of us and it looked like we would have this favorable current all the way to Chesapeake City if we continued. We decided to make the decision when we reached our waypoint for the Cohansey River.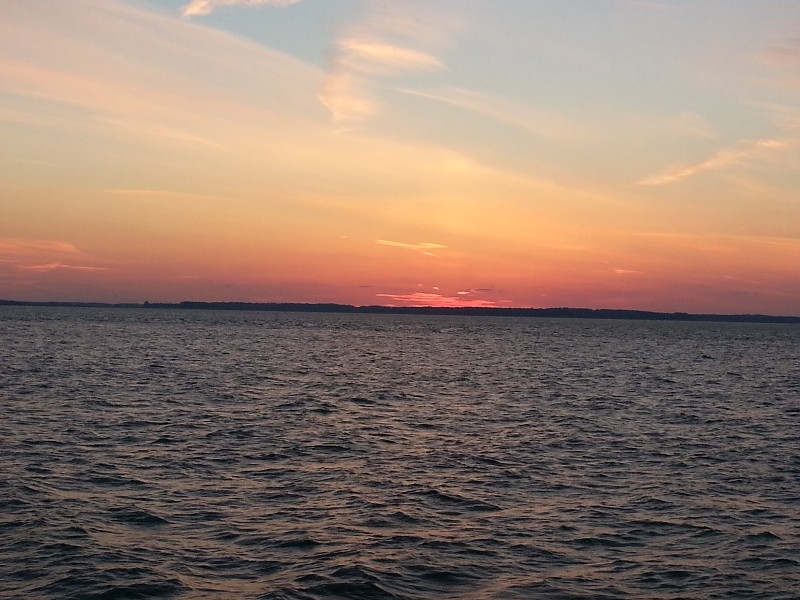 At approximately 1600 we reached the Cohansey waypoint with the current pushing us at almost 8 knots and per the current predictions on the chartplotter would continue to boost our speed. Approximately 4 hours to Chesapeake City with 3 hours in the dark… Continue or not... ??? We decided to continue... new course set 4 hours and 5 minutes to go.
About an hour and half later after sunset we had just reached the SALEM Nuclear Power Plan when the port engine suddenly drops in RPM and I hear a horrible thumping noise... I pulled both engines out of gear and went to check what the problem might be… all kinds of crazy things go through your head when something like this happens… I went to the engine room to see if the transmission had blown apart or what... I find nothing wrong… the shaft on the port engine is turning slowly from the forward momentum we still had... I hear Susan yelling something from above me... I run to the salon and she is out on the rear deck... pointing and saying... "we hit a crab pot".. she saw the what was left of the trap's float drifting away behind us. Hitting a pot was a relief to my mind compared to all my other crazy thoughts... although we did have a bad experience with a crab pot in this same area a few years ago with a steel bar from the trap wrapping around our shaft and wheel.
I returned to the pilothouse and put the port engine in forward gear... no noise... no vibration... nothing seemed wrong... I engaged the starboard engine… no noise or vibration... I brought both engines slowly up to cruising RPM… no noise or vibration... we were soon back to 7.5 knots and speed still increasing... all was good… ?
Just before the mouth of the C&D canal we came upon a dredging operation that spread out for about a mile... a large dredge and two pump stations for his dredge line... the dredge line was very poorly marked with lights and a little confusing as to exactly how to navigate past safely... communicated with the dredge via VHF and we could pass either side of him running either the far port or far starboard side of the ship channel. We managed to get by safely however we proceeded very slowly using the spotlight to be sure we stayed well clear of his dredge line.
Once we made it to the C&D Canal we were home free... it is well marked with lights marking the shoreline and strobes indicating each turn in the canal... and we had the current now pushing us at over 9 knots... We turned basin at Chesapeake City at 1945. There was one boat tied to the docks and not in the most ideal location... there was maybe 60 feet in front of him and a lot space behind him but behind him there was no 50 amp power... so it was in front of him we aimed for... starboard side to the dock... piece of cake! NOPE... as I approached I discovered that this near the end of the dock there was an eddy formed from the strong current that had been helping us and it twisted the stern of the boat out and away from the dock as we approached. Only thing to do was to abort and switch to a port side tie. I continued into the basin past the sailboat. It was a catamaran and very wide so we had to pass out him farther out toward the center of the basin entrance. This is not good as this area is shoaled in and we were soon churning a lot of mud up as we passed sliding across the mud bottom. We made it past and spun around and came back port side to… got a bow line on the dock and swung stern in to the dock. We had 5 feet to spare between us and the catamaran…. My estimate of 60 feet of space was a little off but we were in and secure at 2000.
Our location for the night...
N39°31.642', W075°48.666'
. We traveled today for 13.5 hours covering 101 nautical miles averaging 7.5 knots.